The Chicago Teachers Union is digging in its heels over contract negotiations with the school district. Find out how far they're willing to go over what the union calls a 7 percent pay cut proposal from the city. Brandis Friedman has the details.
---
Contract negotiations between the Chicago Teachers Union and Chicago Public Schools are underway, with both sides making headlines. CPS is facing a $1.1 billion deficit and recently proposed steep cuts for its capital budget for fiscal year 2016. Late last week, CPS said it would not offer an optional fourth year of its existing contract, asserting it can't afford the $105 million in raises guaranteed in that deal, according to the Chicago Sun-Times.
Earlier this week, CTU said the school district asked teachers to take a 7 percent cut in take-home pay by asking them to pay more into their pension fund. CTU President Karen Lewis called the proposals "reactionary and retaliatory," and the union vowed to fight back.
"These are opening positions and offers by both parties. I tell students in classes on collective bargaining that opening positions and opening offers are designed to do one thing: to induce cardiac arrest to the other side," said Martin Malin, professor of law and director of the Institute for Law and the Workplace at IIT Chicago-Kent College of Law who has written extensively on all aspects of labor and employment law. "Opening offers never look like anything near where parties ever end up."
While the current contract expires June 30 and negotiations won't get into the "nitty-gritty" until late summer, both parties are trying to set a tone now.
"Both parties are posturing at each other right now to set a tone to give [their] party more leverage when real negotiations are taking place in the summer," Malin said. "The CTU and CPS negotiations are very, very visible. They have a major impact on the community, and both parties are vying for community support. To a large extent, the degree to which a party succeeds in attracting community support, it puts a lot of pressure on the other party. The opening salvos are aimed as much at the community at large as it is at each other."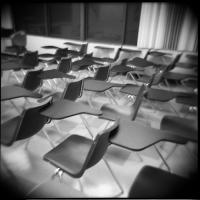 "The other wrinkle here is, back in 2011, the legislature amended the Illinois Educational Labor Relations Act with a Chicago only provision that says for a strike to be lawful it must be authorized by 75 percent of the entire union membership, not just the people who vote. And the CTU did a very smart thing last time and held a strike authorization before the end of the school year rather than wait until things are really getting down to the nitty-gritty in late summer, because it would be very difficult to get that 75 percent membership vote when a large part of your membership is not back from summer recess yet."
That said a strike is not inevitable.
"It's maneuvering. It's just part of the process. There isn't much of anything we can infer from at this early stage," he said when asked about the possibility of a strike. "It's just the very beginning. From the union's perspective, the economics is all one package, and that's why the union characterizes the 7 percent as a pay cut. It's not a cut in gross wages. It's a cut in take-home pay. The CPS, I think, is maneuvering to focus public attention on pensions, because they've made a calculated decision that they're more likely to get public support if it's a dispute over pensions rather than a dispute over economics in general."
As for claims that the district's proposal is political payback for CTU endorsing Cook County Commissioner Jesús "Chuy" García, that's all for show, according to Malin.
"It's part of the union's appeal for public support. The union will argue to the public that everything the CPS and the mayor are saying you shouldn't take with a grain of salt but a bushel of salt. They'll say [CPS and the mayor] have no credibility and that it's just retaliation for endorsing [Emanuel's] opponent."
In addition to stressing pensions, CPS will focus on its finances.
"CPS is going to be using their financial situation in an appeal for public support to put more pressure on the union to moderate its position at the bargaining table," Malin said.
On Wednesday, CTU filed a complaint against the Board of Education, which Malin said will be the first of many.
"I'm sure between now and when the contract is resolved both parties will file numerous complaints," he said. "They will all get dismissed once a contract is approved. For now, they're just pressure points."