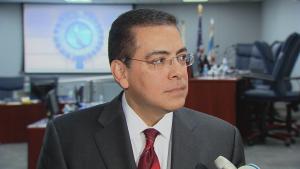 Citing the district's $1.1 billion deficit, Interim CEO Jesse Ruiz announced that the district is proposing a $160 million capital budget for fiscal year 2016 -- a significant decline compared to FY2015's approved budget of $509 million.
Ruiz says this proposal is a "bare minimum" plan. 
"This capital budget reflects difficult choices amid a dire fiscal reality," he told reporters during a conference call. "Our financial limitations have forced us to shift the focus of our five-year capital plan from the balanced plans of previous years to more urgent structural and safety concerns for buildings that are, on average, more than 75 years old."
The district says the $160 million includes $113 million from CPS and $47 million from the City of Chicago, the Federal e-rate program and other sources. Previous commitments made for multi-year projects will be met and the district will prioritize roof and chimney repairs, as well as other basic building needs. But the proposal includes limited plans to relieve overcrowding or make technology upgrades where needed. 
Chief Financial Officer Ginger Ostro explains that CPS's $113 million portion will be funded through issuing new bonds throughout the year.
Ruiz and Ostro emphasized the need for support from the state, and they say that an operating budget won't be unveiled until the district has a better idea of what relief, if any, they can get from state lawmakers in Springfield. 
CPS's operating budget must be approved by August 31, just before the new school year begins on September 8.