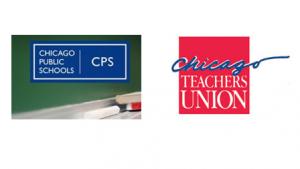 The Chicago Teachers Union is back at the bargaining table with the city and Chicago Public Schools to negotiate a new contract for the union's 30,000 members. The current contract expires at the end of June, and today the union shared its formal list of demands.
CTU and CPS representatives have been meeting very informally over the last few months, but today was the first formal meeting.
During the last negotiation, talks failed and CTU President Karen Lewis led members on an eight-day strike.
Today, there was no strike, but a rally outside the Thompson Center with educators, parents, students, and community members, during which the union announced some of these demands.
"Because community organizations all over the city of Chicago have said Chicago would no longer be a choice district, Chicago would become a community school district—a sustainable, community school district. We are not going to sit up here and let education hustlers continue to invade our neighborhood," said Jitu Brown, executive director of the Journey for Justice Alliance.
CTU admits this list is not typical of what the union usually asks for -- better pay, better benefits, etc.
They say, this time, they're recognizing that what happens outside the classrooms in the community influences what happens inside the classroom.
It's all based on a report that the union released last month, called A Just Chicago, and many of these new demands are reflected in that report. 
Among them, CTU proposes the district ensure that every school has an adequate number of support staff, ranging from clinicians to restorative justice coordinators to art, music, and PE teachers.
Contract demands the CTU proposes include:
1. Establish lower and compulsory class size limits in all schools.

2. Ensure that every school has: the necessary clinicians and a school counselor and nurse; a truant officer, restorative justice coordinator, librarian and playground instructors; and art, music, physical education and other teachers to create robust and effective educational programs.

3. Restore adequate preparation time and enforce paperwork limits for teachers.

4. Dedicate resources previously committed to Teach for America to the Grow Your Own Program instead to develop a more diverse and local teaching force directly from CPS student graduates.

5. Engage in legal action against big banks to retrieve upwards of $1 billion for our classrooms; end contracts with these same financial institutions that refuse to renegotiate excessive fees and penalties.

6. Return diverted revenues from the tax increment financing (TIF) program to the schools.

7. Place a freeze on charter school expansion, school closings and turnarounds; allow for union rights for teachers at charter schools and legislative advocacy for an elected school board.

8. Expanded pre-kindergarten (Pre-K) for parents at 300% of the Federal Poverty Level.

9. Reduce significantly the number and duration of standardized tests; prohibit tests entirely for students in Pre-K through 2nd grade.

10. Establish 50 sustainable community schools and strive for policies to achieve increasing integration of students and increased access to curriculum which reflects the experiences and identities of our students.
The union also proposes the district redirect funds from Teach for America, and instead invest in the Grow Your Own Teachers program, which is a nonprofit that helps low-income, minority teachers earn bachelor's degrees in education.
CTU has frequently argued that the district should file legal action against banks to get back almost $1 billion and stop working with banks that refuse to renegotiate excessive penalties and fees.
The group wants the number of standardized tests students take to be reduced, and to establish 50 sustainable schools.
On whether they mean to replace or re-open the 50 schools that were closed two school years ago, CTU says not necessarily. They want all schools to be sustainable, community schools. But they chose 50 as a symbolic number and as a starting point.
These requests are coming at a time when the district is facing a $1 billion budget shortfall.
There's been no word from CPS yet on their initial reaction to the CTU demands.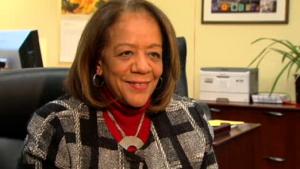 But we did catch up with CPS CEO Barbara Byrd-Bennett when she announced the launch of Parent Universities within CPS this morning.
She says the district is all out of options. They've done as much cutting and trimming as possible. Now, she says it's really up to the legislature to do two things: solve the pension crisis and overhaul the way we fund schools.
Certainly, the teacher's contract will also have an impact on the current budget situation.
"Well, we are in contraction negotiations now. We've had conversations with members of the CTU. They're well aware of the problems as well, and I think none of us, you know, got blinders on to say there's no problem that exists. And obviously, when you negotiate a contract, any collective bargaining contracts, you know, finances are important," said Byrd-Bennett.