A little more than 600 votes separated the two top vote-getters in Lincoln Park's 43rd Ward contest. Incumbent Ald. Michele Smith was unable to secure the 50 percent plus one margin of victory in the February election to avoid a runoff with Caroline Vickrey. With nine debates, the battle over the aldermanic seat has become particularly bitter, especially over the controversial redevelopment of the Children's Memorial Hospital site. The candidates bring the debate to WTTW.
---
Click the dots in the image below to read candidate bios.
---
43rd Ward
Ward Dynamics
This north side ward covers parts of the Lincoln Park and Old Town neighborhoods. Its boundaries were largely unchanged in the ward remap taking effect this year. The area is predominantly white, and many of its residents are young professionals, recent college graduates, or young families. The 43rd Ward contains some of the city's most expensive real estate.
This ward is a hotbed for restaurants, bars and shops. Along Armitage Avenue are several upscale retail shops and boutiques. Clark Street is home to quaint cafés, ethnic restaurants, and hip stores. The celebrated Lincoln Park restaurant Alinea had the distinction last year of receiving its fifth-consecutive three-star rating from the Michelin Guide. Alinea is only one of two restaurants in Chicago to receive this rating from the prestigious publication.
Lincoln Park
A hallmark of this ward is the vast Lincoln Park, from which the adjacent neighborhood got its name. At 1,208 acres and stretching 7 miles north to south, Lincoln Park is Chicago's largest public park. It offers several recreational amenities, including 35 tennis courts, 15 baseball areas, six basketball courts, a target archery field, a golf course, and many more facilities. The park also has its own zoo, conservatory, history museum, natural museum, lily pool, and theater. The park attracts 20 million visitors per year, making it the second most visited park in the United States behind New York City's Central Park.
The park was origina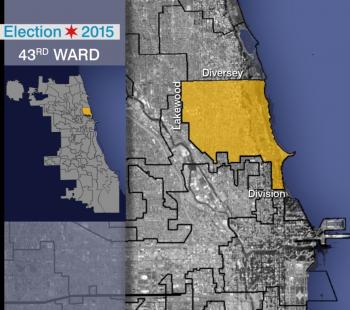 lly named Lake Park in 1860, but was renamed after President Abraham Lincoln on June 12, 1865, shortly after his assassination. Sections of the park served as the city's primary cemetery from 1843 until 1864, when City Council voted to relocate the cemetery due to health concerns raised by Dr. John Henry Rauch. Ira Couch, one of the city's earliest innkeepers, is still interred in a mausoleum behind the Chicago History Museum. The Great Chicago Fire of 1871 destroyed many tombstones, making it difficult for city workers to extract all human remains from Lincoln Park. In 1998, the Chicago Historical Society hired an archaeological research company to conduct "shovel tests" on the soil before the construction of a new parking facility. Eighty-one skeletal remains were unearthed in the process, proving that the park still contained some remnants of its cemetery past.
The popular Lincoln Park Zoo is open year-round and is free to the public. The 35-acre zoo is home to a diverse collection of animals, including big cats, gorillas, polar bears, monkeys, penguins, reptiles, and more. All in all, the zoo contains around 1,100 animals belonging to some 200 species. The zoo participates in conservatory and breeding programs for endangered animals, like the Puerto Rican Parrot and the Black Rhino.
DePaul University
The ward's youthful population owes itself in part to DePaul University, nestled in Lincoln Park and home to the school's Colleges of Liberal Arts and Social Sciences, Science and Health, and Education. The schools of Music and Theatre, along with the John T. Richardson Library, are located here. The private, not-for-profit university also has a campus in the Loop and several suburban campuses in O'Hare, Oak Forest, and Naperville. The 36-acre Lincoln Park campus is the school's largest and oldest site and provides students with a traditional college campus setting. Approximately 2,400 students live in its 12 residence halls.
DePaul University was ranked 121st in U.S. News & World Report's 2015 rankings of national universities. The university has been recognized for their pedagogy program, which focuses on the method and practice of teaching. For over a decade, U.S. News & World Report has recognized the school for their outstanding use of service-learning, an educational approach that applies formal instruction to volunteer work within the community. This hands-on approach, coupled with the school's goal to enroll first-generation college students from disadvantaged backgrounds, makes DePaul University a vital asset to some of the city's underprivileged youth.
---
Both candidates were sent questionnaires to fill out and send back to us. Read the unedited responses below.
Michele Smith

Age: 60

Place of Birth: Ogden, Utah

Current neighborhood: Lincoln Park

Family:  Daughter and son-in-law Rachel and Matt, Granddaughter Kaylie

Occupation: Alderman (part-time arts consultant)

Previous political experience: Ran for Alderman 2007, became Committeeman 2008, Became Alderman 2011

What is your vision for the 43rd Ward?

I want to see a Ward with a healthy economy and happy families. I am looking forward to the groundbreaking of the Children's Memorial Hospital re-development project to bring in new jobs and to become a vital crossroads in the heart of the community.  New housing, retail shops, senior housing, and public open space. There will be free parking for teachers, new bike lanes and underground parking and loading docks. 

This new development will anchor the continued revitalization of all of our commercial corridors.  While progress has been made, we need to attract visitors to our cultural attractions and shopping areas to make sure our local restaurants and shops have enough customers to keep them in business.

One of my primary goals as Alderman is to keep families in our city, so strengthening the schools has been key. In four years, we've expanded Lincoln Elementary while preserving LaSalle Language Academy. We're building the Alcott Elementary Field of Dreams and we've built a new playground at Newberry Academy. And I look forward to embracing our newest addition to 43rd Ward schools, Oscar Mayer.

My goal for the next four years is to make Lincoln Park High School the place that everyone want to go to.  I lobbied successfully for LPHS to receive the wall-to-wall IB program.  This important step raised overall academics at the school. Now we are addressing the capital and other needs of the school. 

What is the most pressing issue in your ward?

Economic Development and high property taxes are the most pressing issue in the 43rd Ward.  The Children's Memorial Hospital Re-development project is one part of the solution, to partly replace the lost foot traffic from when the hospital closed.  Additionally, we will be rolling out a draft plan for economic development focusing on our key strengths – the huge number of cultural and culinary institutions in our neighborhood - to attract tourists and visitors to the 43rd Ward because many restaurants and shops draw 75% of their business from out of neighborhood patrons.  Attracting more customers is key to filling the remaining vacant storefronts in our area.

Unfortunately, my opponent fails to understand the link between visitors and the health of the shops and restaurants in our area, by proposing the tax on incoming cars to our area.  Such a tax would devastate our local economy.  And she's willing to back property tax increases and wants to propose taxes on everything from garbage and recycling pickup to the LaSalle Street tax that will make it more expensive for people to live in our neighborhood. 

What is your plan for fixing Chicago's financial situation?

The main issue is the grave financial issues facing our city.  If we don't reform our pensions liabilities, property taxes will be completely unsustainable.  We need an alderman who can understand and handle these difficult challenges.

First and foremost, the city must tackle its pension costs. These costs pose an immediate threat to the solvency of our city and our tax base.  The city must determine the level of liability which it can afford, and then meet that level by a combination of reductions in benefits, primarily COLA reductions, increased employee reductions and then, and only then revenue.  The Mayor and the municipal employees and laborers unions have shown they way by the historic pension agreements reached last year, and those should be the roadmap to future agreements.

Second, the city must stabilize and then reduce its debt.  Our borrowing problem can only be solved by a systematic effort to control costs and further reduce the structural deficit. I support steps the city has taken to avoid the riskiest transactions, such as swaps. Each of the programs for which funds were borrowed should be audited and evaluated. If poor investments were made with these bond programs, we should cut back on those programs to stop the bleeding. In addition, we should seek reports on the use of proceeds for bonds, in the manner developed by the Tribune in its report. More of this data should be put online in the City's data portal so that it can be analyzed by both good government groups and City Council.

Third, the city must continue to reduce its costs. I applaud the unglamorous work done by City departments to reduce costs on such items as worker's compensation and long-term disability. For example, CDOT has reduced its duty disability costs 48% since 2011, resulting in $5 million in savings.  I support zero sum budgeting, which builds a departmental budget from the bottom up to eliminate inefficiencies and wasteful spending, and make department heads more accountable. I believe that zero sum budgeting will create substantial cost savings to the City. Better management of our legal liabilities and our compliance responsibilities can dramatically lower costs due to judgments.

Finally, the City Council needs more information to provide better oversight of the City Budget.  That's why I co-authored the ordinance to create a City Council Office of Financial Analysis, modeled on successful programs in San Diego and New York City. The ordinance tasks the office with identifying cost savings measures, analyzing the city budget and reviewing significant transactions, like public-private partnerships.

How do you think the city has handled the severe weather this winter?

In general, well.  I do think we need to improve the way in which we plow our streets to improve pedestrian access. 

Do you support Mayor Emanuel or County Commissioner Garcia in the mayoral race?

I endorse Mayor Emanuel and he endorses me because we agree on the critical steps that need to be taken to solve the city's financial crisis.

What is your favorite restaurant in Chicago?

No fair. There are too many good ones in the 43rd Ward.  My long-time local favorites are Simply It and Pars Cove.
Caroline Vickrey

Age:  46

Place of Birth:  Chicago

Current neighborhood:  Lincoln Park

Family: Husband, three kids, 20, 18, and 15

Occupation:  lawyer, not practicing currently;  been involved in community service for 22 years 

Previous political experience:  4x elected Local School Council Member at Lincoln Elementary

What is your vision for the 43rd Ward?  

To bring cohesiveness, transparency and progress to our ward's planning and development, to make our retail corridors more vibrant through a Community Development Corporation and a ward wide retail attraction strategy, and to improve our schools by making financially wise decisions to ensure that we continue to have excellent teachers, programming and facilities at all of our schools.

What is the most pressing issue in your ward?

Our development process is broken and needs to be fixed.

What is your plan for fixing Chicago's financial situation?

The 43rd Ward Alderman should not be passing  $7 billion budgets without questions, debate or amendment. Even the Mayor has said there is fraud, waste and inefficiency in our City budget. I also would vote against the scoop and toss practices which are only increasing debt for future generations, and the questionable TIF deals like the $55 million Marriott deal. Mayoral ally Carrie Austin says the a property tax hike is inevitable. Before going there, I would call for the Mayor to work with the Council to root out the fraud, waste and abuse in the 2015 budget.

How do you think the city has handled the severe weather this winter?

We had a particularly heavy and dense snowfall this winter.  Plows did a decent job of getting out, but parking was a mess for a good few weeks, without much in the way of leadership about how to handle it.  I do not think there has been enough of an effort at the local level to instill a good old fashioned sense of civic spirit to get people to shovel the walks in front of their own homes and businesses.  There were pockets of communities helping each other and I really love that spirit, but I would love to offer blocks snow removal if they got together to shovel out their block at the same time.   

Do you support Mayor Emanuel or County Commissioner Garcia in the mayoral race?

I am supporting Mayor Emanuel.

What is your favorite restaurant in Chicago?

Tarantino's.  We have had many wonderful family dinners in that space.
---
Click on the map below for vote percentages in all 50 wards.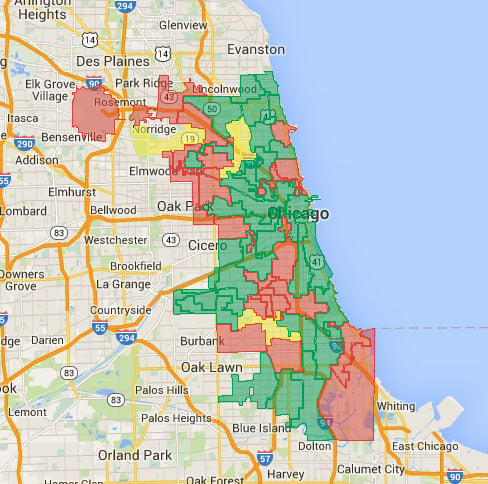 Click the dots in the image below to learn the percentage of votes each candidate received in the Feb. 24 election.
-- Graphics by Kristen Thometz and Linda Qiu; Yasmin Rammohan contributed