The standard story of Frank Lloyd Wright's early years are that his mother laid the foundations for his future success by telling him he would be a great architect, and buying him educational building blocks she'd seen at a World's Fair. But musicologist David Patterson believes it is William Carey Wright, the architect's father, who was the real shaper of the man who created masterpieces like the Robie House and Fallingwater.
William was a musician and composer who taught Frank music, a huge influence in Frank's work. William loved nature, a source of endless inspiration to his son. And he left his family when things got rocky in the marriage, as Frank would later leave his. Pianist Kuang-Hao Huang performed a number of William Carey Wright's pieces in Frank's Oak Park Home & Studio. In February 2013, "The Music of William C. Wright: Solo and Vocal Works 1847-1893," was released by Permelia Records.   
---
The Frank Lloyd Wright Trust was established 40 years ago, and the not-for-profit organization works to "engage, educate and inspire the public through architecture, design and the legacy of Frank Lloyd Wright, and to preserve the Trust's historic sites and collections." Many activities are provided through the Trust, including tours, workshops, teacher training, family activities, multi-media programs, a restoration center, library and archive, and reference and rotating collections. 
As the Trust celebrates 40 years, 2014 also marks the 125th anniversary of the Frank Lloyd Wright Home and Studio, which Wright designed and built in 1889 in Oak Park. 
During the 20 years he lived there, Wright revised the design of the building many times. Wright chose to use bold geometric shapes to define the exterior of his home, separating his home from what he called the "candle-snuffer roofs, turnip domes [and] corkscrew spires," of surrounding homes.
The interior of Wright's home illustrated his desire to liberate space; he created a suite of rooms arranged around a central hearth and inglenook. Wright decorated the interior of his home with unique furniture, Oriental rugs, potted plants, statues, paintings, and Japanese prints.
In 1895, Wright began a major renovation of his home in order to accommodate his growing family. A new dining room and children's playroom were added, doubling the floor space. The original dining room was converted into a study, and the new dining room replaced the former kitchen.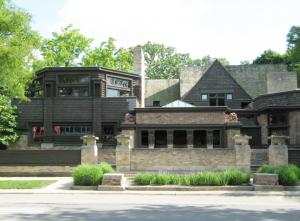 Three years later, Wright built a new studio wing which was connected to his home by a corridor. The exterior of the studio was consistent with the earlier home, but the long horizontal profile, a key feature Wright's Prairie Style, set it apart. Wright also decorated his studio with artwork.
Wright's Home and Studio was the birthplace of his vision for a new American architecture, and he designed more than 150 projects in his Oak Park Studio.
In 1974, the Trust was founded as the Frank Lloyd Wright Home and Studio Foundation to acquire and preserve Wright's Home and Studio. That same year the Trust began giving public tours of Wright's Home and Studio, while the Trust worked to restore the Home and Studio. 
Over the years, the Trust became responsible for maintaining other Wright buildings as well as acquiring sole ownership of the Home and Studio. The Trust now has five locations: Frank Lloyd Wright Home and Studio, The Rookery, Unity Temple, Frederick C. Robie House, and Emil Bach House.