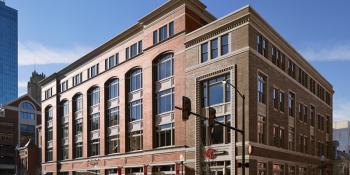 How did a guy raised in Los Angeles who loves to wear sandals with his suits end up rebuilding downtown Fort Worth, Texas while operating out of an office in Washington, D.C.? Geoffrey Baer's latest documentary exploring the career of the winner of the Richard H. Driehaus Prize at the University of Notre Dame is Street Smarts: Architect David M. Schwarz.
The prize is awarded annually to an architect who, in the words of the jury, "embodies the highest ideals of traditional and classical architecture in contemporary society, and creates a positive cultural, environmental, and artistic impact."
Schwarz is the urban planner and architect behind the 30-year transformation of downtown Fort Worth, Texas from a depressed and depleted post-urban renewal landscape into a vibrant district anchored by a new public gathering place, Sundance Square, which opened in 2013. Schwarz's goal in Fort Worth was to create a place that would make Texans get out of their cars and take a walk around town.
Baer talks with Schwarz about his career, his work, including Bass Hall, a marble clad multi-purpose performing hall that some have compared to European concert halls of the 19th century, and his thoughts about the city, pedestrianism and the future of humanity.
The documentary airs on Thursday, March 19 at 8:00 pm on WTTW11.
---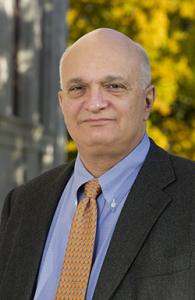 Read an interview with Michael Lykoudis, the Francis and Kathleen Rooney Dean and Professor of the University of Notre Dame's School of Architecture. 
Can you tell me a little bit about the history of the Driehaus Prize and how it came about?
We've been giving the prize for 15 years. It started with Richard Driehaus wanting to contribute something to the building environment. He had discussions with our advisory council; in fact, with Matthew Walsh of Chicago. Matthew suggested Richard might develop a prize. [Richard said] 'Well, where would we get a prize? How would we give it out?' Matthew said, 'There's a school of architecture in the next state over that deals with the values and principles you espouse in classicism and traditionalism. Go over and see all about it, and if it works out, then perhaps we can work together.'
Richard Driehaus came to the school, toured the studio, met with faculty and students, and talked to the then-chair. We developed the Millennium Gate competition, which was to be presumably erected in Washington, D.C. That competition was also juried, and it was a success. We achieved a certain level of discussion among the ranks of architects and urbanists, and I think he was pleased with that. And it got bigger.
When I came to the administration of the school, he and I talked about how to develop the Driehaus Prize more. We selected another jury, and the prize would go to an architect devoted to traditional principles in architecture and celebrate their work to bring a greater level of discussion to what was in the mainstream profession and academy.
How are recipients chosen, and what is the selection process like?
Online, there is a nomination form that people can fill out and can self-nominate. The jury has been selected based on their knowledge of the architecture world, particularly of classicism and traditionalism, but also more broadly. The list is compiled every year, and from that list the discussion narrows to focus on a particular set of issues. This year, [the focus] had to do with the public realm and dealing with modernity's need for public space, for big buildings, for how to deal with the cultural issues surrounding our cities. This led to a discussion of why David Schwarz would be a good laureate for this year in terms of the architecture prize. 
Why was David M. Schwarz chosen as the recipient of the award this year?
David's work has had a very broad impact within American cities. His buildings have reinvigorated downtowns or helped reinvigorate downtowns. He's helped with public spaces in Fort Worth. In Carmel, Ind., there's the building of the Palladium, which is a new concert hall. He's dealt with particularly modern buildings—arenas, the American Airline Center—buildings which convey a sense of place. It's also well-scaled; such a big building has openings, windows, doors, and other elements that break down the scale of such a large building to make it more kind to the surrounding site. The breadth of his work, the tenacity with which he approaches modern problems with often traditional solutions was remarkable, so we gave it to him.
Can you tell me about the Driehaus Prize book? 
There are two books. One is the handbook for the jury. Each of the candidates has several pages of their work and descriptions to make the playing field even. The other Driehuas Prize Book is for every laureate. We publish a book which includes an essay from the laureate, an essay from a juror, and an essay of the laureate's choosing about the laureate's work and describes the work of the laureate.
Is the book unique to the Driehuas Prize? Or is it common in terms of awards and prizes in the architecture world?
I don't know if it's unique. We thought it was important because we want to have a record of why the recipients were selected, their value and relevancy to the time they were selected. Ceremonies and speeches come and go, but publications remain. The most resilient form of communication with the future is in a printed artifact, so we decided to do that.
Is there anything else you'd like to add?
I think the Driehaus Prize, aside from being a convening of fellowship from around the world every year, it engages our students in the profession. It allows them to see where the bar is and where we expect them to be as future architects. And in a very real way, it brings Notre Dame to the world and the world to Notre Dame. And we exist so we can teach tomorrow's leaders about something they might need to know to practice. The Driehaus Prize is a valuable event in their lives as students.
Interview has been condensed and edited.