Many of Chicago's favorite places are out in the open -- Millenium Park, Michigan Avenue, and Wrigley Field. But we also like to show you the hidden treasures, even if they're hidden in the woods. Jay Shefksy brings us to The Garden, home of Chicago's dirt jumps.
---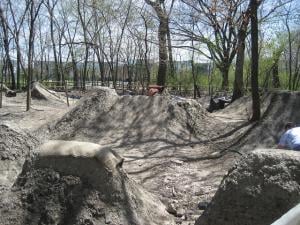 Among the most famous and beloved landmarks in Chicago's past, was Riverview - -- exotic side shows, the parachutes, and, of course, roller coasters.
After Riverview closed in 1967, much of the land became a shopping mall, but part of it went back to woods. And hidden in those woods today are new wild rides. 
It's called The Garden—a  homemade haven for people who like to fly. 
They used to have to keep it a secret.  Not anymore. 
Now one of The Garden's creators, Jeremy Kawka, is happy to show us around.   
"This is The Garden bike park in Chicago," Kawka said. "This is our more beginner-intermediate section."
It doesn't look so "beginner," the way they ride it, but they assure me that anyone on a mountain bike or BMX bike can handle this section. 
This part's called a pump track --because you pick up speed not from peddaling mostly, but from the up and down "pumping" motion that propels the bike forward. 
"It's an incredible work out," Kawka said "After one lap, you will be incredibly winded. I guarantee you. And you can get going really fast on this thing-- really fast."
Jeremy Kawka is obviously not a beginner. 
To see one of those, stick around. I might be convinced to give this track a try, but not this next one.  
"Ok, this section of The Garden bike park is the more advanced/intermediate area," Kawka said. "These are the dirt jumps and the table lines. We have about 23-24 jumps total here with a lot of talented riders."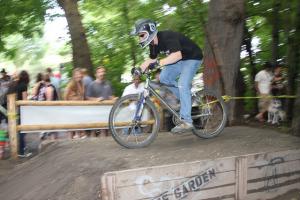 In this section, riders start by climbing up here. Since there's no real hills around here, they covered a storage container with dirt. And it gives them enough speed for jumps like these. 
After Riverview closed in '67 this area wasn't developed or maintained. Trees grew, hiding trash, homeless people, and eventually some bikers. 
"There has always been something here, as far back as I can remember," Kawka said. "I'm a Chicago native, born and bred, lived here my whole life. Riding bikes, you know, we used to always come back here as kids and there was one or two little jumps."
Then about 10 years ago he says the scene exploded and more and more riders secretly built more and better jumps. 
"The city got really mad at us," he said "They threatened to plow us."
But Jeremy and several other rogue dirt jump builders hooked up with CAMBr - the Chicago Area Mountain Bike Group - to try to convince the city to turn this into an official city bike park. 
"A couple months later and a lot of meetings, later they were like-yeah we can totally do this," Kawka said.
The city provides the land and a sign at the entrance, but no money, no people, no materials.
It's still a labor of love.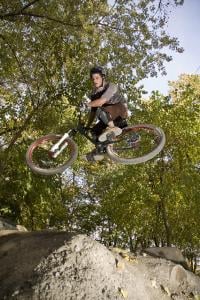 "Everything that you'll see here today has all been hand built," Kawka said. "No machine work at all. It's a lot of sweat, blood and tears, and the love of biking to build a place like this. Anything that you see that we have purchased is all purchased through fundraising."
Matt Van Aker has been digging bike jumps since he was a kid and has been working here since the beginning. 
He's particularly happy about this load of clay they just scored from a contractor building a pool. Most of their dirt is much sandier.
"This is like a trail diggers dream basically as far as dirt goes," Van Aker said. "Basically, you sculpt it like pottery. Wet it down. First you stack it up, wet it down, then you form it into the obstacle that you want."
There is a core of five guys that build and maintain the place. Regular riders come out once or twice a month for organized work days. 
And it needs regular maintenance and a close eye on the weather.  A little water is good but not a lot.  
"You've noticed all the tarps lying around? That's erosion control," Van Aker said. "Whenever it is about to rain, we want to make sure everything is tarped because it saves us hours and hours of work."  
The water would erode all of their jumps.
The jumps are all built from soil. Some are 6 feet tall and riders can fly 14-15 feet in the air. 
Safety of course is a big concern. But other than strongly encouraging helmets, it's ride at your own risk, and expect to fall now and then.  
"Yeah, people do get banged up," Kawka said. "I mean it is the nature of the sport. The way we look at it is if you're not crashing, you're not progressing. Every now and then you go down, it happens to the best of us. Trust me. So we just call 9-1-1 and bring the ambulance and load 'em up, and get 'em outta here.
While we were there, one guy did fall. Turns out he's got a shoulder injury from another fall so his arm pops out of the socket now and then, like in the middle of that last jump. 
But he keeps riding.
"Oh yeah; no reason to stop," Stefan Fahy said. "Gotta go fix my bike though."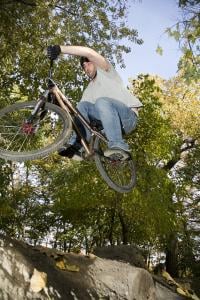 All these guys were born after Riverview closed, but the beauty of that history isn't lost on them. 
"This used to be an amusement park, yeah, with rollercoasters and water rides and all sorts of crazy stuff so we thought for a great homage to the place we named the lines after a lot of the roller coasters," Kawka said. "So we have wild mouse, which is the easiest one, and there is aero stat, comet, and blue streaks."
I asked Pawel Bronkowski what he liked about park.
"Just, I guess the thrill you get out of it," Pawel Bronkowski said. "You know, you've got adrenaline pumping the whole time, and you kind of scare yourself half the time, and that's fun to me I guess."
There are public bike parks in some other cities, but the guys that built The Garden are particularly happy to bring it to Chicago. 
 "Chicago is a super bike friendly city, I feel, it's so easy to get around here on a bike," Kawka said. "So why not have other aspects of cycling. Because a lot of people don't know what this kind of stuff is.  
Well and what we don't have here is a lot of hills.
"Yeah, we have zero hills," Kawka said. "So, if you want some elevation you have to build it or travel."
So they make it for us.
"Hey Jay, want to go for a ride?" Kawka said.
Now, I've done a lot of biking in my life, but as my nervous laughter might suggest, never anything quite like this.
And it turns out Jeremy was right; even as a tentative beginner, it's a good work out.  Now I'm happy to sit back and watch these guys.