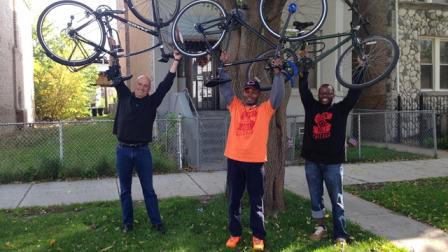 Slow Roll Chicago founders with Jay Shefsky.
Dozens of cyclists took part in a tour of the South Side neighborhoods of Roseland and Pullman on a chilly, rainy day last fall. 
"It was an amazing ride. We had adults, young people, all racial and ethnic backgrounds, from all different parts of the city," Olatunji Oboi Reed told Chicago Tonight's Jay Shefsky.
Reed and longtime friend Jamal Julien founded Slow Roll Chicago in an effort to change the way they believe cycling is perceived in their community.
"There's a perception in our community that biking is something white people do on the North Side, that crazy people do in the winter, or that poor people do when they don't have a car. We're responsible for this cultural shift that needs to take place in our community to turn biking into something that's cool and interesting and fun," Reed told Shefsky.
Reed and Julien expressed several immediate goals for Slow Roll Chicago: to get more local African-Americans riding bikes; give residents of other neighborhoods a fresh look at the South and West Sides of Chicago; and to have a real impact on some of the existing problems in their community.
"We're not naïve about the condition of our communities," Reed said. "We recognize that crime is a challenge and that violence is a challenge. As a cyclist, though, our contribution to improving the condition of our community is Slow Roll Chicago."
"We believe that increased biking in our communities can contribute to improving the condition of our communities and can have an impact on reducing violence," he added.
Inspiration came from what may have seemed, at the time, a surprising place for a cycling event: Detroit.  
"Our first time seeing Slow Roll [Detroit] we were watching a video on Facebook. We were blown away. It was so many people and the group was so diverse," said Reed.
Slow Roll Detroit was averaging about 4,000 cyclists per weekly ride last fall. And its success caught the eye of another, larger entity: Apple. The tech company featured it in an iPad commercial.
Watch the Apple commercial featuring Slow Roll Detroit:
Reed and Julien reached out to the organizers of Detroit's event in an effort to bring it to the Chicago area.
Slow Roll Chicago's first ride, in September 2014, included 25 cyclists. The second – which Shefsky participated in – drew 75 people.
Rides are slow moving so that it's easy for everyone to participate and get to know each other. Riders are frequently greeted by people along the route.
"It's not often you see a diverse group of people 50-75 strong riding down the street, and people are blown away," said Reed. "They're like, 'Whoa.'"
But Reed and Julien also want to be noticed by the city.
"Our communities require protected bike lanes; safe, paved streets that we can ride down to feel comfortable, and feel safe. It requires more Divvy stations," explained Reed.
He added, "We're hoping that we can create a partnership with the policy makers so we can do our part in our community to turn biking into something that's cool and interesting and our people are interested in doing and that the city is open and can see the idea of the vision of a bikeable South Side and West Side, just like we see a bikeable North Side."
Watch the video about Slow Roll Chicago that aired in November 2014 on Chicago Tonight:
Upcoming events
This summer, Slow Roll Chicago features a "beautiful bike Chicago" theme during a dozen rides from June through August. Each ride begins with a photography workshop (5:00-6:00 pm), followed by a meet and greet (6:00-6:30 pm). Rides begin at 6:30 pm.
Meeting locations for upcoming rides with Slow Roll Chicago are listed below.
July 22: Douglas Park, 1401 S. Sacramento Drive
July 29: West Pullman Park, 401 W. 123rd St.
August 5: Austin Town Hall Park, 5610 W. Lake St.
August 12: Hamilton Park, 513 W. 72nd St.
August 19: Marquette Park, 6734 S. Kedzie Ave.
August 26: Piotrowski Park, 4247 W. 31st St.
Please note that dates and times are subject to change. Get the most up-to-date information by calling 708-831-3570 or emailing [email protected]. All workshops and rides are free and open to the public.
---
Read an interview with Mike MacKool, co-founder of Detroit Bike City/Slow Roll Detroit.
Can you tell us more about Slow Roll Detroit's founding?
Me and my partner Jason Hall, we started it off as a small bike club.
We formed a group of guys that wanted to ride together. From there, we just wanted to be more involved with the cycling community and the city of Detroit in general.
We started with 10 guys doing weekly rides. It kind of just developed from there—a very natural evolution. It went from "Hey, we're a bike club" to an organization that does community events and sort of builds a community amongst itself.
Four years later, has the mission or goal changed?
Absolutely. Initially, it really was just an excuse to ride bikes with friends, but this natural evolution kept taking place. Each year, there was a new step or challenge we overcame.
At the first year, we had 40 members max. And we realized we were doing something more than a ride: taking people to new neighborhoods and experiencing the city in new ways.
In year two, when people came back with friends, we recognized the potential of 100 people. There was a lot of impact going on. There was a stark realization of the benefits for both the riders and the communities we were riding through.
We really wanted to cultivate what we were building and growing. It's our ride that we started for everyone. We cultivated the meaning and the feeling. We created an all-inclusive atmosphere and really ran with it. The third year is when it blew up, going from 140 riders to 1,700.
As the size of the rides grew, how did that change the experience?
Internally, we had to cultivate what we were doing and create rules. We couldn't have a loose system, but a structured order of operations. We had to decide, do we let this run as its own thing? Or do we cultivate a sense of responsibility for the riders?
With the growth, we had to adapt to what kind of ride it was and make it as safe and smooth as possible. And it really opened our eyes to what kind of impact we were having, like with traffic.
From the rider experience, we ride less miles. A group of 1,700 can do 12 or 15 miles. With 4,500, it just takes a really long time to leave from a spot and get to another spot. Now it's shorter distances, about 10 miles.
Do you work with organizations in other cities to help establish their own Slow Rolls?
We have about 12 established cities all over the world. There are about 100 cities waiting in line. Our process is based on people contacting us, showing interest and motivation. It's a long process.
With the Apple commercial, since then we get emails all over the world, people wanting to get involved. It's just a long process, figuring out who's serious and who's just writing to say "Hello." But we're knocking them down. We're working with each of them.
Any words of advice for Slow Roll Chicago?
Those guys are doing a great job. They really understand the meaning of what it can be for a city or community.
The biggest word of advice: Instill a strong sense of ownership, pride, and responsibility for the people on the bike ride. Because the more people love it, the more they're going to work for it. That's how you build a team of volunteers.
Interview was originally published in November 2014.