Earlier this spring, Jay Shefsky visited a Chicago family that has added goats to the chickens, ducks, and bees in their backyard farm. We revisit that story. 
View a behind-the-scenes slideshow.
---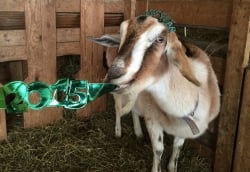 Why did the chicken cross the road? To get to the city.
Just a few years ago, urban livestock rearing was a "weird eco habit," but it's a movement gaining traction in metropolises across America.
The exact number of people raising chickens and goats in Chicago is hard to gauge but most likely in the hundreds, urban livestock experts say. The Chicago Chicken Enthusiasts group counts 570 members, while the third annual Urban Livestock Expo saw around 200 attendees.
"It's growing every year," said Billy Burdett, co-director of Advocates for Urban Agriculture, a coalition that helped organize the expo. "Many keep chickens in their backyard, goats are a lot less common, but chickens and bees are becoming more and more widespread."'
The profile of the average urban livestock farmer is—well, what you'd expect, experts say: the crunchy granola, homesteading do-it-yourselfer who's interested in issues like food security and animal welfare, and has a college degree and disposable income. But there's a subset of goat and chicken keepers outside of the stereotypical community.
"There's a whole slew of people who don't network or don't speak English or don't use computers," said Martha Boyd, program director of Angelic Organics Learning Center's Urban Initiative. "They're immigrants from different places. In Chicago, it's Central and South American immigrants, African immigrants, Polish immigrants."
While urban livestock rearing isn't solely a rich man's sport (if you are, there's this $100,000 coop), self-styled chicken consultant Jennifer Murtoff acknowledges that barriers do exist. Specifically for chickens, the costs of constructing a coop and feeding the birds mean it may be cheaper to buy a carton of eggs.
Watch a video of Lexi Staswick talking about her family's farm.
On the other hand, chickens eating worms and roaming around in your backyard may produce more nutritious eggs, Boyd points out.
 "The question is, 'Can I actually over the long haul cut down some of our other things like health care?' That's a harder one to budget or show the direct cost differential," she said.
For this reason and others, Boyd and Burdett are optimistic that urban livestock rearing is more than just a passing fad (see: 1800s hen fever).
"Some people pick it up for a moment but a lot of people are doing it thoughtfully and integrating into a city sustainably," said Boyd. "Animals have always been a part of cities. A lot of people now are looking at the city and asking have we stepped too far from the path? Managing animals in cities is actually how urban planning came to be. " 
"We point to World War II's victory gardens, in their heyday," said Burdett. "Chicago was actually a big leader in that. About 40 percent of the country's food was produced by victory gardens at their peak. It was this quick mobilization because of and in spite of war. The opportunity is ripe to have that kind of mobilization."
Other than a noise ordinance and slaughter ban, there are no restrictions for raising animals in Chicago. But livestock keeping is not for those quick to balk at a "bawk," says Murtoff.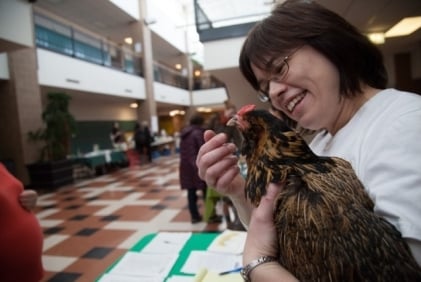 "It's a lifelong commitment for them and a six- to eight-year commitment for you," said Murtoff, who managed "an avian empire" of 200 birds in her childhood home in rural Pennsylvania. "Don't jump into it and then decide that I'm not cool with them and move on to urban turtle keeping or something,"
It's a commitment that goes beyond your own backyard, Murtoff emphasizes. She tells her clients that they are "chicken ambassadors," the face of urban livestock rearing for their neighborhood.  
"So talk to your neighbors, share eggs, know the local laws, keep the coop clean, don't let them run amok," she said. "Generally, just be respectful."
For those who want to test drive the coop, temporary chicken-keeping is an option. Rent-A-Chicken and other companies will take the bird off your hands when it's not producing eggs, usually during winter and when the chicken ages.
"They're saying, 'We will deal with the other phases of her life cycle,'" explained Boyd, who once kept a rooster named Chicken as a pet. "Anyone doing this commercially retires a hen at two or three. Then she usually becomes a soup or stew chicken. People doing this in their backyard, by that time, they've fallen in love with their chicken, and there's no way to turn her into stew."