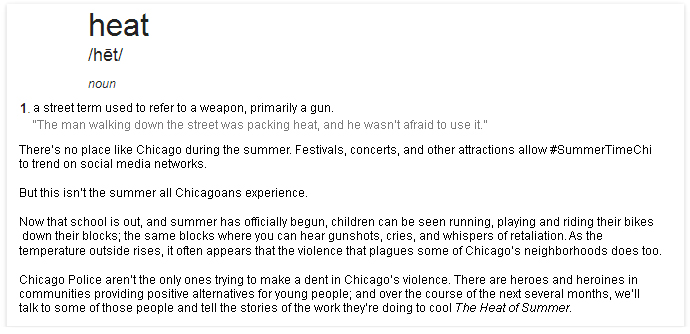 A lot has changed for Diane Latiker since March 2010. 
The last time we visited Kids Off the Block (KOB), the youth were still crunched up, meeting in her home. Now they have a facility next door and a full basketball court across the street. 
"Mayor Daley sent some donors in July of 2010 to look at our program," said Latiker. "There were so many kids here, they couldn't get in my house; they were standing out on the front porch. So they made the decision to pull their money together to rent us the space next door."   
Over the past several years, the organization she founded to provide Roseland youth violence prevention resources have grown tremendously in size. KOB provides services such as tutoring, family services and mental/emotional health advising. 
Latiker says being a mother to children outside of her own eight is the most rewarding thing she's ever done in her life.
"It just kept growing, and kids just kept telling other kids about the lady that could help them," she said. "To see a kid who was hopeless in their eyes and a year later you see them and they're out of the gang, back in school, have a summer job and are now thriving and seeing them spread that to their peers, that's why I do what I do."
Latiker realized early on youth needed someone to listen to them and be there for them. That's what she did for Walter Williams.
When asked about a success story that stands out the most to her, she describes Williams as being the epitome of success.
When Williams started attending KOB in 2005 at the age of 14 he was involved in gang activity, struggling in school, and was under pressure to be "the man of the house." He and his younger brother were living with their grandmother, who at the time was struggling to keep a roof over their head.
By the time he graduated high school, he had a full scholarship to attend the University of Wisconsin at Madison, where he majored in rehabilitation psychology. He graduated college this past May, and says he doesn't know where he would be if it weren't for KOB. 
Latiker said Williams plans to invest in his community by mentoring youth and opening his own business, and she looks forward to him being able to hire members of the community. 
Investing in the communities is something she believes this city is lacking. 
"I was at a meeting with Mayor Rahm Emanuel and heads of all the government security departments. They want to invest in bringing the National Guard in, millions of dollars. You mean to tell me you rather invest in bringing the National Guard than investing into those communities with jobs, training centers for those who are unskilled, health facilities, trauma centers and schools," she said.
"There's nothing that says we believe in this community, we're going to invest in this community, and this is how we're going to do it, and we think enough of the people that work in that community to invest in them. There's nothing."
Investing in the youth is what Latiker will continue to do. 
"We need investing in our communities, especially in the young people," she said. "So when I'm gone and people like me are gone, this community will thrive for its children. If they bring the National Guard, when they leave, what will they leave this community?"
Latiker has great hopes for the future of KOB. Within a few years she hopes at least another community in Chicago will have a KOB location to serve its youth. And within five years, she hopes the program will serve youth across the country. 
"I didn't realize how what I was doing was affecting kids that weren't my own," she said. "Now that I do, I would do whatever I could to help them."