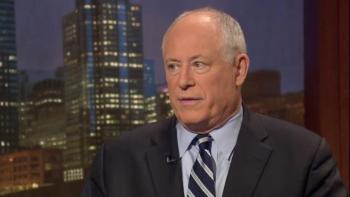 Mayor Rahm Emanuel says a last minute change to the Chicago Pension Reform measure should solve the concerns of Gov. Pat Quinn and other lawmakers. Earlier today, the governor issued a significant blow to its prospects. When asked whether he'd support the bill, his answer: "no can do."
"The idea that you're just going to relegate property taxpayers to higher and higher property taxes over and over again, that's not the way I'm going," Quinn said.  "They got to do a lot better with whatever plan they come up with."
It wasn't the vote of confidence the mayor thought he had. Earlier in the day, he sounded assured the governor would get on board.
"I think he sees how important getting pension reform is to the 60,000 who require it," the mayor said.
Today's newly filed amendment to the pension reform bill tackles the issue lawmakers had been running away from. Several admitted that they do not want to be blamed for property tax hikes, so they didn't like the fact that there was a mandate to fund the pension stabilization through an increased property tax levy.
The new amendment removes any mention of property tax hikes, saying in essence Chicago has free reign to change pension benefits but will alone figure out how to pay for it. The amendment also gives employees new funding guarantees – if Chicago fails to pay the appropriate dollars into the fund every year, the state will withhold funds and those funds will have the right to sue the city.
And it also gives new protection to retirees earning a pension of $22,000 or less, assuring that their annual increases will never be lower than 1 percent.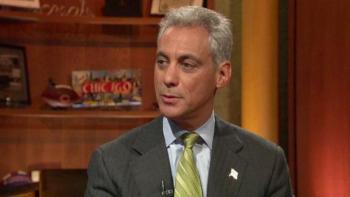 Mayor Emanuel says he knows the heavy lifting of raising taxes will rest solely with City Council.
"It was never anyone's intention to have Springfield deal with that; that's our responsibility," the mayor said. "But I do think you need reform and revenue, and we'll deal with our responsibility."
The unions that had supported the pension reform measure said they would drop their support if the bill lost the 'property tax' language. They are worried City Council, without a mandate to act, will fail to raise property taxes.
And now, that City Council support is no sure thing. Last week, the mayor's floor leader indicated marshaling aldermen to raise property taxes would be an uphill climb.
Fiscal watchdog Laurence Msall of the Civic Federation says the governor's opposition to raising property taxes doesn't hold water.
"It flies in the face of reality," he said. "Property taxes predominantly fund the pensions for municipal, labor, police and fire employees."
The mayor's pension reform proposal attempts to stabilize about half of the city's pension funds. If a subsequent effort isn't made to stabilize police and fire pensions, the city could be faced with a $600 million payment next year. The mayor has warned that that could lead to massive service cuts and property taxes rising by 175 percent. Read Emanuel's full statement below.
Statement from Mayor Rahm Emanuel: 

Working with legislative leaders, bill sponsors, the Governor, and our partners in labor, we have addressed their concerns and can now move forward to save the retirements of nearly 60,000 city workers and retirees in Chicago. I reject the false choice between allowing the pension funds to go belly up, delivering thousands of pink slips to city workers, or enacting a massive property tax increase. This plan will secure these pension funds while ensuring the taxpayers don't have to shoulder the burden alone. 

​BACKGROUND -- Amendment to Chicago Municipal and Laborers Pension Reform Legislation (SB1922)

After consultation with the legislative leaders, bill sponsors, the Governor, as well as our partners in labor, revisions have been made to SB1922 that will ensure it continues to meet the goal of securing the City's municipal and laborer pension funds with a balanced plan of revenue and reform.

This legislation is similar to the parks plan that was passed with bipartisan support and remains an honest compromise that provides certainty for nearly 60,000 city workers and retirees that the retirement system they paid into will be there for them, and certainty for our taxpayers that they will not have to shoulder the burden alone.

1)      Eliminates all tax provisions: This amendment eliminates any reference to a new tax or increased taxes that were part of the previous versions of the legislation to make it explicit that this legislation does not increase any taxes. 

There is no additional pension levy under this amendment.  Any decisions on revenue are left up to the City's discretion under the current traditional levy structure.
The Mayor has been publicly explicit about his plan for a phased-in property tax increase as part of a reform and revenue balance that ensures everyone gives something so no one has to give everything.  This revenue will be achieved solely through the City's action and not through State legislation.
As is the case under current law, the City may fund pensions through its traditional, existing levy or through other revenue sources as allowed under current law, without any additional State-mandate. 

2)      Provides a revised "trigger"/"offset" to ensure the fund is paid:  The offset mechanism has been strengthened to ensure the funds and retirees both have real security that pensions will be funded both today and in the future.  The City must pay the fund what it owes every year with two mechanisms to ensure compliance:

Offset of state funds: If the City fails to make its annual contribution, the State can withhold funding from the City.  This revised offset is no longer time limited to five years (or tied to revenue) and will remain in place for the life of the fund.
Pension funds' right to sue:  If the City fails to make its annual contribution, the funds have the right to sue the City to force payment (no change to this provision).

3)      Adds additional protection for low income retirees:  This amendment adds additional protection for lower income retirees by giving any retiree with an annuity of $22,000 or less a guaranteed simple increase of at least 1% of their original annuity every year, regardless of inflation.

This 1% floor will apply even during the 3 pause years so smaller annuities will continue to rise every year.