For nearly half of the eight months that Gov. Bruce Rauner has held office, Illinois has had no budget. Rauner argues the budget standoff with the Democrat-controlled General Assembly constitutes a state of emergency. 
That's his rationale for utilizing an obscure rule-making procedure to cut spending and set up stricter eligibility requirements for social services that benefit children, the elderly and disabled, according to a report by the Chicago Tribune. State law permits the governor to apply permanent rules to agencies without approval if there is a threat to public interest, safety or welfare.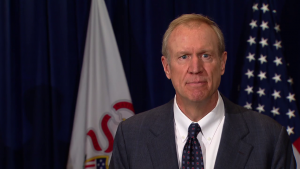 Among the most criticized cost-cutting measures are those affecting child care. At the start of the 2016 fiscal year on July 1, Rauner introduced stricter eligibility guidelines and higher child care copays for the state-subsidized Child Care Assistance Program.
Mayor Rahm Emanuel estimated these changes would deny roughly 90 percent of low-income families access to affordable child care. Emanuel included $9 million into Chicago's 2016 budget to provide daycare services to 5,000 previously ineligible children. He implored the governor to reconsider these cuts.
Both the young and old are in Rauner's budget crosshairs. Lower income limits were set for in-home services provided to the elderly. Rauner's administration is projecting to save $151 million by doing this, which doesn't sound like much compared to the state's staggering multibillion-dollar budget deficit.
He's hoping the federal government will limit its qualifications for disability and elderly services as well as lower the level of care needed. Adding insult to injury, Rauner's plan makes it more difficult for ineligible people to reapply for these services.
Influenced by tax incentives offered by the governor, the major food manufacturer ConAgra announced today that it will move its headquarters to Chicago. Juxtaposing that news with the groups hardest hit by Rauner's budget plan, it's starting to look like the governor is targeting the least fortunate while offering big breaks to businesses. 
Rauner and his supporters argue these are tough-yet-necessary calls to make up for a severely underfunded budget with no signs of inter-party compromise visible in the near future. Others argue that Rauner's changes will severely affect the state's most disadvantaged citizens while making up for a negligible amount of the enormous budget gap.
"Chicago Tonight" Springfield reporter Amanda Vinicky joins us to discuss the governor's budget plans.
---
'Chicago Tonight' stories on the state budget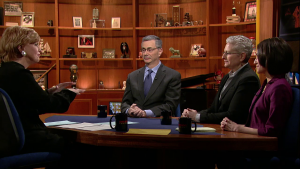 Gov. Rauner Unveils His Budget
In February, the governor unveiled his budget for fiscal year 2016, which included proposed spending cuts as well as reforms. The day after Rauner's budget was released, Carol Marin discussed his priorities and the likelihood of the Democratically controlled General Assembly supporting him with Diana Rickert, Madeleine Doubek and Ralph Martire. Revisit our conversation and listen to legislative leaders' initial reactions to Rauner's proposed budget.
---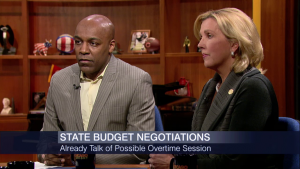 Lawmakers on 2016 Budget Negotiations
In late March, the Illinois Legislature passed a stopgap budget fix to plug a $1.6 billion deficit and avoid running out of money before the end of Fiscal Year 2015. Carol Marin spoke with Sens. Kwame Raoul and Sue Rezin about the legislators' work refining the proposed budget by Rauner.
---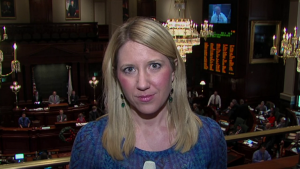 Springfield News with Amanda Vinicky
In May, "Chicago Tonight" Springfield reporter Amanda Vinicky updated us on the budget proposal unveiled by House Speaker Michael Madigan that's at least $3 billion short.
---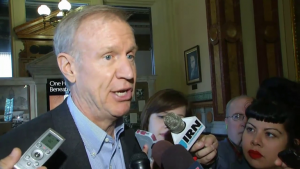 Budget Battle Rages on in Springfield
Gov. Bruce Rauner and Democratic lawmakers were unable to agree on a budget plan for the state by the deadline for the spring legislative session. Powerful House Speaker Michael Madigan said his chamber plans to be in "continuous session" this summer to address the state's $6 billion budget shortfall.
---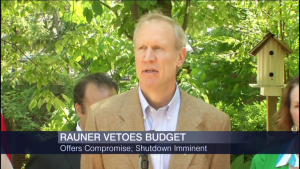 Gov. Rauner Vetoes Budget Bills
Lawmakers and the governor are now back to square one on the state budget, just five days before a potential state government shutdown. Gov. Bruce Rauner vetoed all but the education portion of the budget sent to him by the General Assembly, saying it was $4 billion out of whack. The governor's veto came on June 25, just days before the beginning of fiscal year 2016.