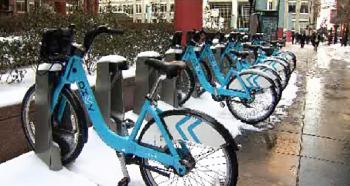 Frigid temperatures or not, Chicago officials say residents are still using the new Divvy bike share system. The city reports more than 20,000 rides taken so far in December. Not surprisingly, the rate of use is down significantly from the warmer months, but Divvy officials say the program has been a smash. So much so, they're asking residents to determine where up to 175 new bike stations should go. Will Divvy survive the long brutal winter? We got an exclusive, behind-the-scenes peek into the heart of the Divvy operation.
Though the temperature has dropped, Chicago's new bike sharing system is still open for business. Yet Chicago's blue Divvy bikes have been rather lonely in recent days, sitting under piles of snow -- waiting for the brave winter rider to come along.
In warmer days, city officials proclaimed Divvy a hit, where commuters by and large bought into the system of checking out bikes for a fee and docking them somewhere else.
The city and the tourists, as well as the residents, have taken to it in a very successful way," said Mayor Rahm Emanuel.
It had initially been criticized as a transit tool for downtown commuters and more affluent north side residents.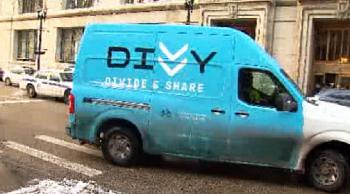 "We have to start in the densest areas and fan out, just like all transit services or car sharing. That's how everything starts," said Chicago's former transportation commissioner Gabe Klein. "But we actually are more geographically dispersed than really any other system in the United States, and probably Canada as well."
Come spring, the system is expected to add 50 new stations, including some in Englewood, and Chicago transportation officials say it will soon be the largest bike share in the country.
"We're giving people another way to get around at lunch or for meetings, and the great thing that I like to talk about is that it's fun," said Klein.
And riders can thank the federal government for funding Divvy's startup costs to the tune of $25 million. But Klein, who oversaw Divvy's implementation, says the system won't need the government's largesse for long.
"There's been a lot of thinking that went into making the system self-sustaining financially, and I think it'll be profitable in its first year based on the numbers that we have," he said.
Divvy does have some overhead. A staff of around 100 workers travels to each station, making sure there are enough bikes and enough empty spaces to return them.
"Operations supervisors have a dashboard that they use to measure the fleet and measure the stations in real time. We know which stations usually get full at a certain hour, which stations get empty at a certain hour, so it's a mix of technology and intuition, and really just understanding the system," said Divvy Deputy General Manager Elliot Greenberger.
And if there is a problem with a bike, Divvy sends the bike ambulance.
"Let's say you're riding a Divvy bike and you get a flat; you would take the bike to the closest station and click it in. You hit that wrench, a red light comes on, and instantaneously it sends an alert to the ops team so they know when I go to that station next, there's a bike that needs service," said Klein.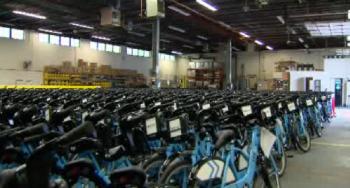 If the van is the bike ambulance, the bike hospital is a non-descript warehouse on the west side where all broken or unused bikes live, and where maintenance teams are constantly working on them.
"As we reduce the fleet for the winter, most of the bikes will be stored here. We also have a storage unit elsewhere in Chicago where we keep bikes just for the winter," said Greenberger. "But they'll all live here and stay here until we put them back out for the summer."
Not all bikes, however, will hibernate during the winter.
Divvy says they'll keep about half the fleet on the street to accommodate those hard-core cyclists that don't mind riding in the elements.
Mayor Rahm Emanuel says he doesn't worry about the safety of the bike system, so long as the city's new bike lanes are plowed, and riders take care of themselves.
"Winter, spring, summer or fall, you have to ride safely," said Emanuel. "So I understand the conditions are rough out there, so you have to use your own caution, your own guidance as it relates to that."
Klein says the system will remain viable throughout the winter, unless conditions get severe.
"We're very ready for winter, so whether it's the technology, being able to remotely shut down the system which we'll have built in soon, or whether it's making sure every truck has shovels and brooms and salt, we're ready," said Klein.
But is Chicago ready to become a year-round bike city? Mayor Emanuel says check back in a few months.
Divvy has also announced it will expand into Evanston next year. And, one official with the city says they are close to inking a contract for a corporate sponsor for Divvy that could be worth eight figures.
Klein recently resigned his post as transportation commissioner to return to the private sector; a replacement has yet to be named.