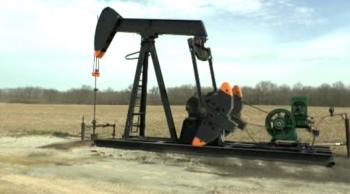 A bill that paves the way for high-level horizontal fracking in Illinois cleared an important hurdle.
After months of debate and negotiations, a House committee voted unanimously to pass the legislation that sets taxes, fees, and environmental regulations on oil and gas companies that want to frack here. Fracking is a controversial method of extracting oil and natural gas by blasting chemical-laden fluid to crack a layer of rock miles beneath the surface.
Gov. Pat Quinn lauded today's action, saying the bill sets a "new national standard for environmental protection and job-creation potential."
"Today, I commend the members of the Illinois House Executive Committee who voted to put this proposal on the path to becoming law in Illinois," said Quinn.
A coalition that includes labor, business, and environmental groups also supports the legislation.
A significant portion of Southern Illinois sits atop rock that geologists believe could contain billions of barrels of oil and cubic feet of natural gas. Many residents are concerned that fracking could deplete water supplies, pollute underground aquifers, and disrupt the landscape.
"It's a very sad time for Illinois," said Tabitha Tripp, a member of a group called Southern Illinoisans Against Fracturing Our Environment. "We have to fight our own government to keep our children and grandchildren safe from harm."
Watch our story on "The Fuss over Fracking" below: