The Chicago Housing Authority faces questions about its billion-dollar mixed-income experiment.
WBEZ's Natalie Moore reports for Chicago Tonight.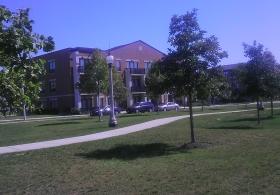 Verna Phillips-Koger once lived at Stateway. She moved out, only to return in 2008. Between her exit and return, the place was transformed. For one, CHA demolished Stateway and replaced it with a new development called Park Boulevard. Before her move Phillips-Koger had lived among poor people, but when she returned (she was the first on her block), the agency had altered the development's mix of people, too.
The change was due to a new operating philosophy: To create stable communities, CHA attempted to have families of different income live with one another. So in addition to new swaths of open green space, a new Starbucks and new locally-owned businesses, Park Boulevard has a mix of people with a mix of income.  
Phillips-Koger pays $284 a month in rent for her public housing unit, but people nearby sometimes pay more. They're referred to as affordable housing renters.
"When they decided to move people here from the CHA, they took the best of the best," Phillips-Koger said. "They took some who wouldn't make any problems. Fastidious people." 
"It's great here," she said, adding that her neighbors get along. 
There are no people in Park Boulevard who rent at full market rates, but there are market-rate homeowners. This mix of income is purposeful, the hook being that CHA tries to hit a specific ratio: a third public, a third affordable and a third market-rate housing.
This is a tactic CHA uses in its broad, billion-dollar Plan for Transformation. The plan's the most ambitious in the country, and it involves breaking up concentrated poverty. 
But a WBEZ analysis shows CHA isn't always living up to this idyllic mix, as some developments skew too heavily towards one of the income levels. At some developments, one level of income may be missing entirely.
"Those were numbers kind of picked out of a hat, or thought up as a nice balance," said D. Bradford Hunt, a professor at Roosevelt University who studies CHA. "It was not a scientific idea. No one ever tested this before. It was a giant experiment, really."
Another development on the South Side where CHA's applied its mixed-income philosophy is Oakwood Shores, which replaced the Ida B. Wells development at 39th Street and Cottage Grove. The newly-minted Oakwood Shores is not hitting the stated target of equal parts public, affordable and market rate units because it has too many public housing rentals. 
"It's a little bit too much on the rental side at Oakwood Shores and that's why we're really refocusing or focusing on the other types of opportunities," said John Gerut, interim Executive Vice President of Development at CHA.
The housing agency thought the one-third, one-third, one-third arrangement might prevent any single development from crowding poor people together.  
Are they sticking to that?
"We're not anymore," Gerut said. "I think that as we move forward we really need to look at what works in our communities. Some communities might be able to absorb a little bit more public housing and it might be that we need have a little bit less."
CHA may have been working uphill when it came to this ideal ratio, anyway. The Plan for Transformation's gone on for 14 years, and it's been hard to keep more well-off people in CHA developments.
Take the example of Daphne Islam Gordon, who moved into Oakwood Shores in January. She pays market-rate rent.
"I definitely wish there was more of a mix in terms of the market renters. And I think you'd have more of a balance. Right now I don't see that being the case, so I think that's pretty much the problem," she said.
Gordon said this experiment didn't work for her and she's moving out of Oakwood Shores next month. She cites illegal activity, noise and lack of upkeep. She's quick to say that she does not blame the problems on all public housing residents.
CHA's had other problems in keeping to its mixed-income philosophy. Some developments don't have, say, market-rate rentals. And CHA expected there'd be market-rate homeownership in the mix. One reason for the failure is that Chicago's housing market collapsed, forcing CHA to be creative. On top of that, Chicago needs more housing for low-income and working families.
Hunt weighed-in on our findings and whether CHA's failure at the one-third mix means CHA's failing in general.
"We don't really know if that's the right balance or what balances are possible," Hunt said. "Maybe you can do 40 percent of the housing or 50 percent of the housing for low-income housing and 50 percent for working-class families." 
The question is whether leaning one way or another — toward or away from purely public housing — leads to a healthy, vibrant community.
-Natalie Moore