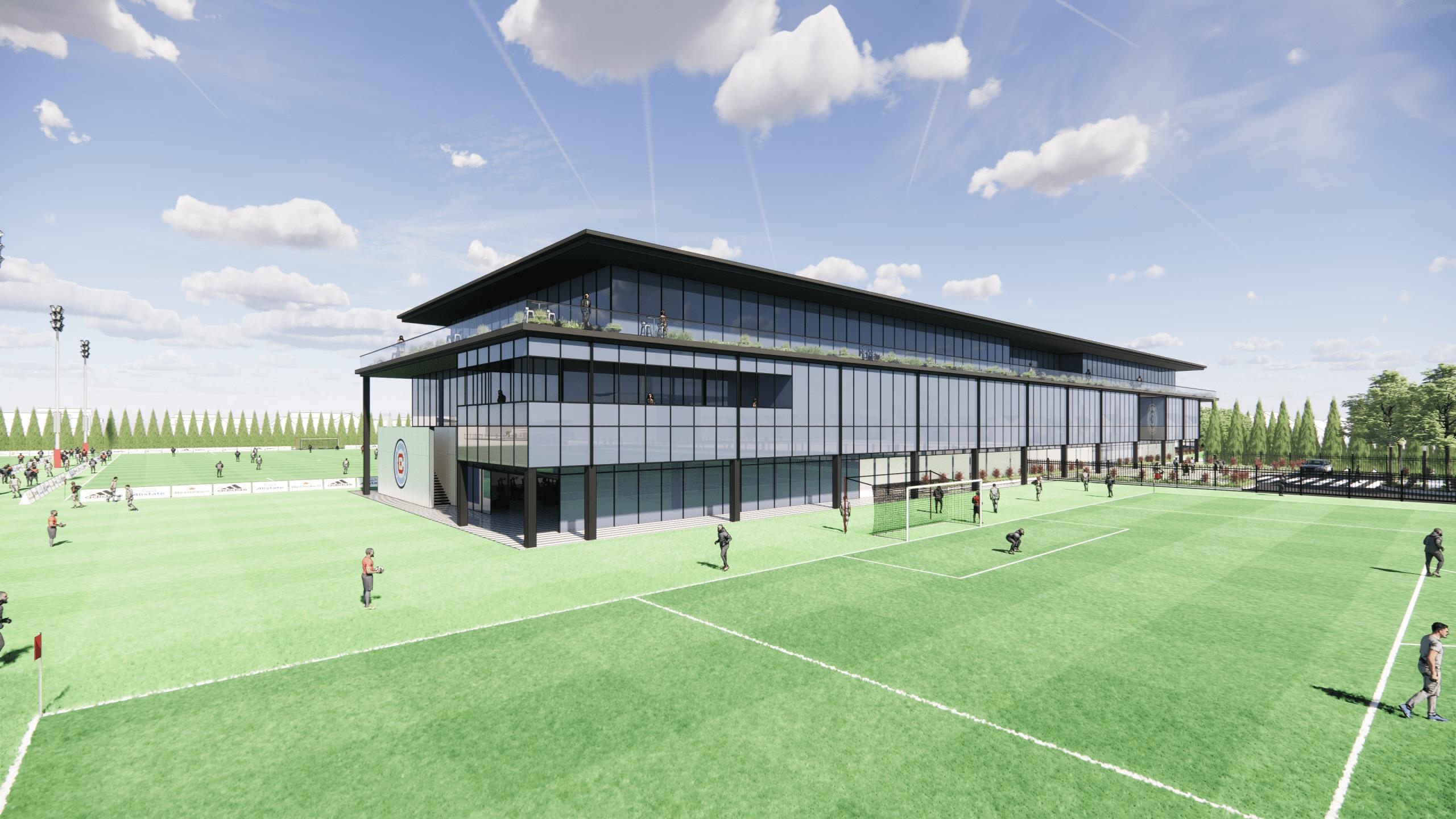 A rendering of the proposed training facility for the Chicago Fire on the city's Near West Side. (Provided)
Mayor Lori Lightfoot should be investigated for accepting a $25,000 contribution to her re-election campaign from Chicago Fire owner Joe Mansueto, according to a complaint filed Wednesday with the Chicago Board of Ethics and the Chicago Inspector General's Office.
That donation came 57 days after the Chicago City Council approved a proposal Lightfoot backed to turn over some 26 acres of Chicago Housing Authority land to the Chicago Fire Football Club.
The complaint was filed by Ald. Raymond Lopez (15th Ward), who is running for re-election to the City Council after dropping his bid to oust Lightfoot from the mayor's office. He has long been a thorn in Lightfoot's side.
"The appearance of impropriety is overwhelming," Lopez told WTTW News, adding that he sees it as a particularly egregious example of pay-to-play politics and the "Chicago way" that Lightfoot vowed to end.
Records filed by Lightfoot's campaign with the Illinois State Board of Elections show the Lightfoot for Chicago campaign committee received Mansueto's donation on Nov. 17 and reported it on Nov. 23.
Mansueto, a billionaire, is one of Chicago's wealthiest business leaders and a frequent contributor to the campaign funds of local elected officials. The Nov. 17 contribution marks the first time Mansueto has financially supported Lightfoot's campaign.
In a statement released by his office, Mansueto "is committed to making a significant investment on the historically underfunded West Side." 
"Joe believes in investing in historically disinvested parts of Chicago, a vision he shares with Mayor Lightfoot as a way to lift up the city as a whole," according to the statement.
Lightfoot campaign spokesperson Christina Freundlich told WTTW News that Lightfoot, who faces 10 opponents in the Feb. 28 election, was proud to have the support of Mansueto, whom she called "a socially responsible leader in Chicago's business community" and praised him for "investing in our neighborhoods and supporting a range of philanthropic initiatives."
"Government decision-making is firewalled from political campaign activities, and our team executes a rigorous vetting process on every contribution to ensure we have complied with all campaign finance rules and laws," Freundlich said.
Companies and people doing business with the city are limited to contributing $1,500 to any candidate for elected office in Chicago per year, according to the city's Governmental Ethics Ordinance.
The Chicago Board of Ethics has determined those limits apply to "any matter that was pending before the City Council or any City council committee in the six months prior to or after the date of the contribution if the matter involved … zoning matters."
The Chicago City Council voted 37-11 on Sept. 21 to grant the soccer club the zoning change it needed to build the $80 million complex on now-empty land that was part of the massive CHA complex known as the Addams-Brooks-Loomis-Abbott homes near Roosevelt Road, Ashland Avenue, 14th Street and Loomis Street.
The controversial proposal would not have passed had Lightfoot not exercised the full power of her office after the City Council's Zoning Committee initially rejected the proposal. At Lightfoot's demand, the committee reconvened less than 24 hours later to advance the proposal, setting up the vote by the full City Council hours later.
In most elections, state law limits individual donors to no more than a $6,000 contribution to a single campaign in most races. Businesses can contribute no more than $12,000 and political action committees are capped at $59,900, according to the rules.
However, candidates for mayor of Chicago can now raise nearly unlimited amounts of cash for their campaigns, after philanthropist and businessman Willie Wilson contributed a total of $6 million to his campaign. State law lifts the caps on campaign contributions once a candidate contributes more than $100,000 of their own money to their campaign.
The law is designed to even the playing field between wealthy candidates and those who cannot self-fund their campaigns by allowing them to raise bigger amounts from contributors.
However, limits on campaign contributions imposed by city laws remain in place despite Wilson's contributions.
Chicago's ethics ordinance holds both the person or firm making the contribution as well as the elected official who accepted the contribution responsible for any infractions, which can trigger penalties of $20,000 per violation, or three times the amount of the excessive contribution — whichever is greater.
After thousands of families were forced to move out of the ABLA Homes public housing complex two decades ago, Chicago and federal leaders promised they would be able to come back to new housing and a revitalized community on the city's Near West Side. New homes that were to have been built on the land now slated for the training facility will be built on other land nearby, officials said.
Lightfoot and Chicago Housing Authority officials defended the deal with the Chicago Fire because it would provide funding to fix up aging ABLA properties and recreational facilities while offering job opportunities for residents. 
Contact Heather Cherone: @HeatherCherone | (773) 569-1863 | [email protected]
---