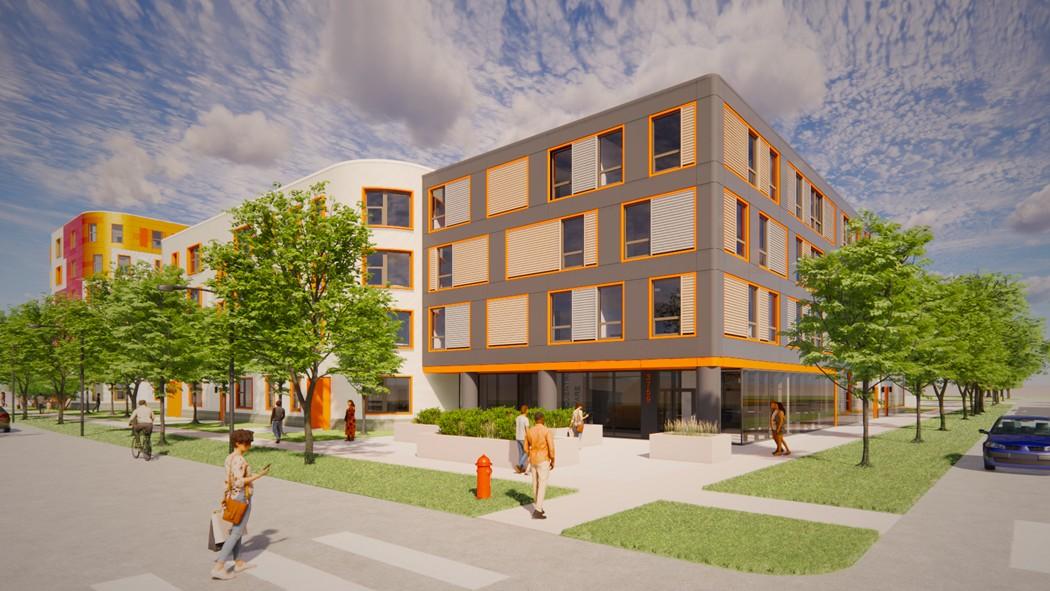 A rendering of affordable housing development Encuentro Square at 3759 W. Cortland St. in Logan Square (Canopy / architecture+ design)
Construction is underway for a new affordable housing development in Logan Square that aims to provide families and longtime residents with 89 affordable housing units in the rapidly gentrifying neighborhood.
The two-building, multi-family development Encuentro Square is aimed at those with a household income no more than 60% of the Chicago Area Median Income. For a family of four, for instance, that amount is $66,180.
The development will be located near the western edge of the neighborhood bordering Hermosa and Humboldt Park at 3759 W. Cortland St. and 1844 N. Ridgeway Ave.
It also sits near the Bloomingdale Trail, an elevated recreational trail that opened in 2015 at the 606 Park. The trail runs through Humboldt Park, Logan Square and West Town.
"Gentrification pressure in the Logan Square community has resulted in a significant reduction in naturally occurring affordable housing stock for the area, leading to changes in demographics that have accelerated over the past decade with the development of the 606 Trail," the city's Department of Housing Acting Commissioner Jim R. Horan said in a statement.
A groundbreaking ceremony was held Wednesday for the development, in which 55 of the 89 units will receive rental assistance from the Chicago Housing Authority. Construction is expected to be completed in fall 2024.
Logan Square and Avondale experienced the largest decline in affordable housing in the city in recent years, according to a recent report by the Institute for Housing Studies at DePaul University. The report found that the share of affordable units in the area went down from 40% in 2012-2014 to 25% in 2019-2021.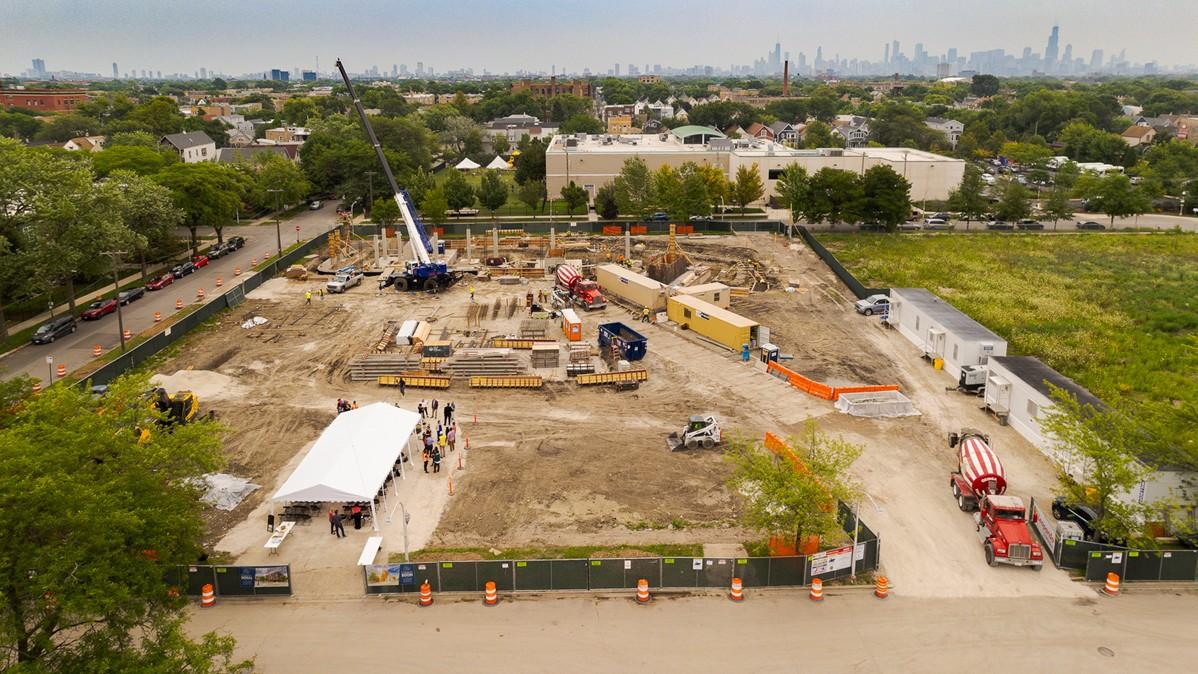 Construction is underway for a two-building, multi-family affordable housing development, Encuentro Square. Construction is expected to be completed in fall 2024. (Department of Housing / Chicago Housing Authority)
"Logan Square is starting to become known as this place of really expensive studios and condos," said Gary Jimenez, housing organizer at Palenque LSNA, whose organization supports the Encuentro Square development.
"We're forgetting that Logan Square used to be the forefront of these three-unit buildings," Jimenez continued. "When we look at that, we have to connect that with the kind of families that used to live there. A lot of the time it's Latino families because we're known to live with our families."
In addition to housing unaffordability and concerns of displacement, Jimenez said longtime Logan Square residents tell him they feel they're losing a sense of community as their friends and family move out of the neighborhood because of higher rent.
As more affluent people move into the neighborhood, Jimenez said, longtime residents have also said they have more difficulty finding places to shop as it brings in new businesses that aren't geared toward them.
Ways to further address housing affordability in the neighborhood include building more affordable housing and creating policies to avoid more teardowns in the neighborhood for the creation of single-family, million-dollar homes or expensive condos, Jimenez said.
Contact Eunice Alpasan: @eunicealpasan | 773-509-5362 | [email protected]
---