"I love my apartment," said A.H., a longtime Chicago Housing Authority resident who lives in scattered site housing in the West Ridge community.
"My children like it here. Pretty safe, quiet. The library's right here," she said.
WTTW News agreed to use only her initials due to concerns about retaliation and the stigma associated with living in public housing.
A.H. said she's been a CHA leaseholder for more than 20 years, and lived in her current unit for more than a decade.
But the neat brick home A.H. and her children live in could soon be up for sale — the only one of CHA's more than 2,800 scattered site units that's potentially on the block.
Those scattered sites are affordable homes owned by the housing agency, either individual units or small clusters of properties.
In a June letter, the CHA said it expects that the possible disposition of A.H.'s unit will require her and her family to be permanently relocated from their longtime home. To A.H., selling her home is the latest escalation in her long-fraught relationship with the CHA and the management companies who have overseen her unit.
"I fought to make sure that they kept it up, and if I didn't, it would have been falling apart," A.H. said.
A.H. said the potential sale is part of a longtime pattern of neglect and retaliation from management companies and a failure of proper oversight from the CHA — a pattern echoed by claims from four other leaseholders or resident advocates in neighborhoods around the city, whose units are overseen by two different property management firms.
Those companies, Manage Chicago and Hispanic Housing Development Corporation, have been embroiled in other controversies in recent years related to their management of CHA properties.
Frequent Requests for Maintenance
A.H. files frequent maintenance requests and emails staff from both the CHA and the firm Manage Chicago, which holds the property management contract for the scattered site units in her region of the city. She thinks that demanding the upkeep her home deserves has made her a target of retaliation — and now may force her to move away from the community she calls home.
Maintenance records obtained by WTTW News show staff reporting multiple instances of A.H. refusing workers entry or describing hostile interactions with her. An email conversation among CHA staff includes references to the "obscene amount of money" spent to "appease" A.H., describing many of her complaints as "unfounded" and saying her moods often change and that she is "uncooperative."
"Leaseholders have a right to advocate for the upkeep of their home without fear of retaliation, harassment, discrimination, slander, all of which have happened to me," A.H. said. "If that's the case, then why is this happening? Why sell a home where a family live at when there is nothing wrong with it?"
In response to a request for comment, a CHA spokesperson told WTTW News that A.H.'s unit is "a unique situation in CHA's portfolio."
"CHA only owns one unit in the condo building and there is no active condo association maintaining the common areas of the building," the statement reads. "Over the past 5 years, CHA has responded to hundreds of work orders at this unit, representing a significant financial impact to the agency. This far exceeds the number of work orders at other CHA units, and the nature of the repairs needed often require CHA to obtain permission from other owners in the building in order to proceed."
Among the repairs to common elements is recent work done on A.H.'s roof, with the agency telling WTTW News that "the lack of a functioning condo association makes maintenance difficult and it is not feasible to do a roof replacement without this entity."
The CHA said in its statement that roofs should be inspected annually. In response to a Freedom of Information Act request regarding work on A.H.'s unit, the agency only provided WTTW News with records related to the work performed earlier this year, not any annual inspections or maintenance in years prior.
But the agency contends in its statement that the volume of the requests is no longer feasible.
"By way of example, there were 80 work order requests for this unit in 2022 alone compared to 14 work order requests for a similar-sized condo," the CHA said. "Ultimately, we determined this is not a financially sustainable situation."
A.H. told WTTW News she regularly asks maintenance staff who come to her house to see their professional licenses and won't allow them to perform work if they aren't properly credentialed. She provided pictures of subpar work and maintenance issues she said she's faced in recent years, including a flooded basement, a damaged living room ceiling from plumbing work in an upstairs bathroom, and what she fears are rat burrows outside her home.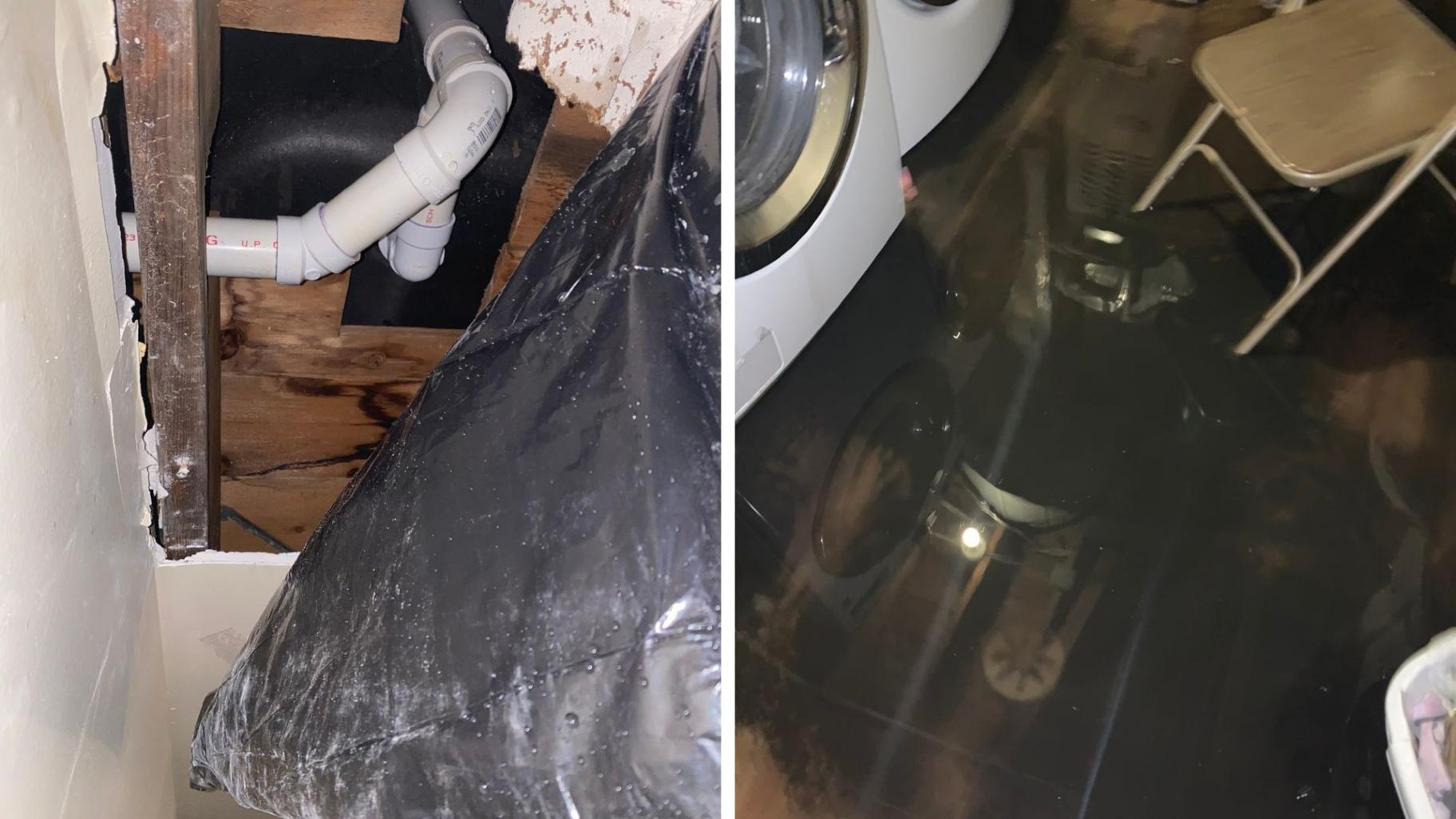 Longtime Chicago Housing Authority resident A.H. said she's faced subpar work and maintenance issues in recent years, including a damaged living room ceiling and flooded basement. (Provided by A.H.)
"I'm not selling drugs. We're not tearing up the apartment, having people all outside the doors," A.H. said. "You want to relocate me for advocating for the upkeep of my home? How does that make sense?"
The CHA said in its statement that all contractors who work with the agency are licensed and insured, and that workers who perform "basic maintenance" are union certified, which "defines what level of repairs can be conducted with this license and our property management companies abide by this (examples: they can rod or replace a toilet but not replace plumbing lines. They can change a fuse, but not install electrical lines.)"
M.V.S., a longtime advocate for CHA leaseholders who also asked we only use her initials, said she thinks the explanation for selling A.H.'s unit is "untrue."
"If they had been keeping that apartment up, she wouldn't have to be calling so many work orders in all at once," she said. "The only thing (A.H.) is trying to do is keep that unit in good condition, which is the right thing to do, because if you don't keep the unit up, it will fall apart. CHA does not monitor the management companies to make sure that they're doing their job."
Asked about those companies, the CHA told WTTW News that it "relies on these firms to oversee 13,000 public housing units on our behalf. We monitor these property managers closely and take all reports of unprofessionalism seriously and will investigate accordingly."
Manage Chicago did not respond to requests for comment.
Organizer Threatened With Ousting
The environmental justice and tenants' rights nonprofit People for Community Recovery was founded in 1979 by the late Hazel Johnson, a well-known activist and Altgeld Gardens resident. The group has long pushed companies and government officials to clean up pollution — including successful campaigns to get the Chicago Housing Authority to mitigate land filled with toxic chemicals.
Hazel Johnson's daughter, Cheryl Johnson, now runs the organization, with the nonprofit's office housed in CHA's Altgeld Gardens community for the last 12 years. That public housing project, like A.H.'s scattered site unit, is also overseen by Manage Chicago.
Earlier this year, Johnson said she was shocked to be called into a meeting and told her nonprofit had 60 days to vacate so CHA could turn the "offline" unit being used as an office back into housing.
When she asked why, Johnson said she was told "because we just want you out." But Johnson told WTTW News she insisted on getting written notice and following proper legal protocol, refusing to simply vacate.
"I said, well, you know, that was just a little intimidation and thinking I was just going to leave based on her verbal (notice)," Johnson said.
Some four months later, Johnson received a letter notifying her that PCR needed to vacate its office. Once again, Johnson said she informed management that "until I go through the normal due process and be notified about it by the court system or the sheriff's department, I'm not vacating this unit."
Johnson told WTTW News later that month, staff tried to use a pass key and drill to enter PCR's office without notice until one of the nonprofit's staff members arrived and questioned what they were doing.
After the eviction threat made the news, spokespeople for Mayor Brandon Johnson and the CHA told the Chicago Sun-Times they'd look into the matter and that Cheryl Johnson's group would be allowed to stay put. Johnson said she's now in the process of negotiating a lease with the CHA, which the group previously did not have.
Johnson said Manage Chicago doesn't have the proper expertise to manage public housing units, and said people who speak out face "harassment and intimidation … it's intolerable."
"They're not dictators. … I do what I'm supposed to do and pay my rent on time every month," Johnson said. "If I have any concern, you need to address it. I need repairs, get those things repaired. But don't come to me like you my God."
The CHA said Johnson's situation is "entirely different" from the potential sale of A.H.'s home.
"People for Community Recovery is a non-profit occupying a residential unit, and they are not being asked to leave. CHA has taken steps with PCR to ensure that the organization can remain in its space and continue its work at Altgeld," the agency's statement said.
Senior Building, Other Scattered Site Residents Cite Similar Problems
Obrey Jones said he's lived in a mid-rise senior building in Uptown for 21 years. For the last decade or so, Jones told WTTW News, the management companies in place haven't properly kept up the building.
"These are our seniors, (they're) on their last leg right now. They should be able to live in dignity," Jones said.
Last year, Jones and other residents rallied to highlight problems with flooding, insect and rodent infestations, and having no working washing machines, Block Club Chicago reported. In February, they rallied again, adding problems with heating to their list of problems.
Jones said these days, there are usually just one or two working washers and dryers in the 200-plus unit building.
"These seniors, they can't get out and go around and look for a laundromat. Most of them are on walkers," Jones said. "They don't seem to care."
The building in which Jones and his neighbors live is managed by the Hispanic Housing Development Corporation. That firm faced legal action after three seniors died in a Rogers Park building the company managed during a hot spell in May of last year.
Delores McNeely, 76, Gwendolyn Osborne, 72, and Janice Reed, 68, were found dead on a day when temperatures climbed into the 90s. Staffers were reportedly warned to turn off the heat and turn on air conditioning to combat the extreme temperatures. Earlier this year, the company agreed to pay a $16 million settlement to the women's families.
In addition to charges of dangerous heat, the Sun-Times also found that 15 Hispanic Housing properties have racked up at least 107 violations of the city building code since 1996, including for insufficient heating during winter months.
Jones, who lives in the Uptown senior building, said problems there are persistent, including inadequate cleaning, outstanding maintenance requests, and residents not being allowed to use the building's balcony space during summer months. He thinks some of his fellow leaseholders worry about retaliation if they complain about conditions.
"Most of them are afraid to speak out," Jones said. "I keep telling them, 'They can't put you out,' but they're afraid."
A resident of a scattered site unit in Montclare also managed by Hispanic Housing who asked that we not use her name echoed those concerns, saying staffers "have everybody walking on eggshells." She said if leaseholders escalate maintenance requests to CHA after getting no response from the property managers, Hispanic Housing employees "show up unannounced, they just come in, out of the blue on any day."
"Not one worker, several workers," she said. "They'll knock on your door, … and if you don't open within a certain amount of time, they come and they start using their pass key."
The resident said more than once, her son has come out from taking a bath and been surprised to find staffers in their home. She added that she and other leaseholders whose homes are managed by Hispanic Housing have had problems with mold mitigation, plumbing issues and broken garage doors.
In response to a request for comment from WTTW News, a representative provided a statement from Hispanic Housing's President and CEO Hipolito "Paul" Roldan.
"We have a 47-year track record of successfully providing and managing affordable homes for Chicago residents across the city. In doing so, we are driven by our policy to treat every resident with the highest level of respect and dignity," it reads in part.
Roldan's statement said that while the company won't comment on specific resident complaints to "protect their privacy", he added that "our staff is highly qualified and sensitive to the needs of our residents. They follow strict protocol to respond to a resident's request in a timely and professional manner."
No Timeline for Potential Sale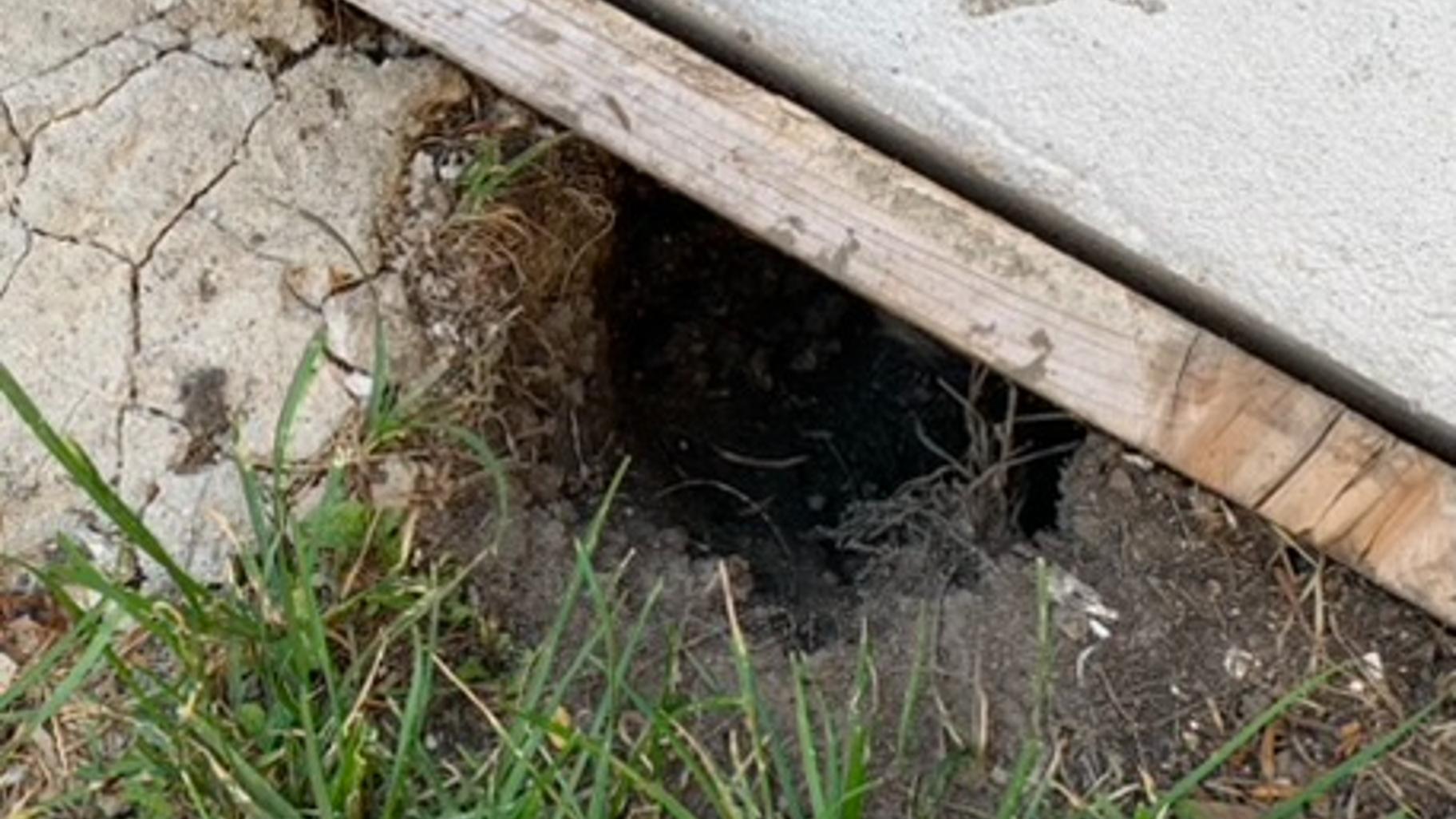 Longtime Chicago Housing Authority resident A.H. provided photos of what she fears are rat burrows outside her home. (Provided by A.H.)
M.V.S., the leaseholder advocate, said she wants to see A.H. and her family stay in their West Ridge home.
"I'm hopeful that they realize this is not the way to do things," she said. "What they're doing is railroading her and her family right out of this area so they don't have to deal with her."
In its response to WTTW News, the CHA said if the unit is sold it will "require the family to move to an improved, higher quality unit in the same area that can better meet their needs."
"The tenant has also been informed that the possible move is not imminent, and that CHA will give ample notice when and if this situation occurs," the statement continued. "We understand that moving is stressful and are sensitive to these concerns. We will continue to communicate with the tenant regarding the process and timing of any move and are committed to taking the proper steps to ensure that any move is as comfortable and seamless as possible."
The agency added that while A.H.'s unit is the only one in the entire city being considered for sale right now, "CHA is currently reviewing its full scattered site portfolio and will be making an announcement before the end of year."
Asked how it felt to learn her home might be sold, A.H. began to cry and took a moment to compose herself before answering.
"Oh, I was upset," she said. "They come against the tenants for speaking out, and that part is hurtful because — where will we go?"
Contact Nick Blumberg: [email protected] | (773) 509-5434 | @ndblumberg
---