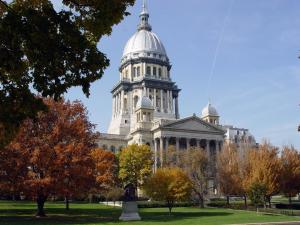 With just three days until the special legislative session in Springfield, lawmakers here are given even more sobering news about the state's pension hole. What's likely to happen Friday? We have the latest from the state capital on Chicago Tonight at 7:00 pm.
Gov. Pat Quinn's Special Session to resolve the state's pension problem is scheduled for August 17. Members of the Illinois General Assembly have had mixed responses to being called back. Senate President John Cullerton released a statement urging the governor to "withdraw his Special Session proclamation so taxpayers aren't hit with thousands of dollars in unnecessary expenses." Cullerton said he would call back the Senate to avoid additional costs to taxpayers. Quinn did not withdraw his proclamation.
Even though the Senate and House will be in session, there are no rules requiring them to vote on legislation. However, Speaker Michael Madigan has agreed to call HB 1447, a bill sponsored by Cullerton. The bill passed the Senate on May 31.
"House Bill 1447 would substantially change lawmakers' own pension system and that of state employees (SERS). The Illinois Senate approved the legislation in a remarkable bipartisan vote on the final day of the spring session," Sen. Cullerton said in a statement.
There are five pension systems in the state: teachers, university workers, state employees, judges and members of the General Assembly. HB 1447 would only affect General Assembly employees and state employees. Gov. Quinn and many Republicans are pushing for a comprehensive bill that impacts all of the systems.
On August 17 at 11:00 am, the Illinois House will vote on the future of Rep. Derrick Smith, who faces expulsion over federal charges that he accepted a bribe. The Special Session begins at 1:00 pm.
View our interactive graphic below to see how the Senate voted on HB 1447. And be sure to check our website on August 16 and 17 as we head down to Springfield for the State Fair and Special Session. You can follow our Twitter coverage of the session and check out web-exclusive videos and interviews.