We begin a three-part series on the amazing story of Vivian Maier, the Chicago nanny who took more than 100,000 photos during her lifetime but never showed them to anyone.
Now that she's gone, her photos have been discovered, and some say she may rank among the top street photographers of the 20th century.
In part two of our series, we explore the meteoric rise of Vivian Maier's popularity around the world. And in part three, we explore how the mystery of Maier's life and work has inspired people to learn more about her.
---
TRANSCRIPT
Jay Shefsky: We don't know much about Vivian Maier. We know that she worked as a nanny for families on the North Shore from the mid-1950s into the '90s.
She was kind of a loner. She spoke with a French accent. She had strong opinions about movies and politics.
And on her day off, she always carried a camera. 
Maier's employer: First thing in the morning, comes the camera around her neck, her hat on, her shoes on, her coat on and out she goes, and she would be gone all day.
Shefsky: Vivian Maier worked and lived in the Baelander's home in Wilmette from 1989 to 1993. They say they were happy with her work and that she accumulated a lot of stuff.
Maier's employer: We were not allowed into her room, not that we would have, but it was stacked up to the ceiling with papers and boxes and boxes in our storage area downstairs in the basement
Shefsky: Now, many of those boxes are here in an attic on the North Side of Chicago.
John Maloof: This is 1963, just 1963 through 1965 only.
Shefsky: Just two years?
Maloof: That's one box of negatives here. 
Shefsky: In 2007, John Maloof was a 26-year-old real estate agent. He was working on a book about his Northwest Side neighborhood and one day at an auction, there were items from a repossessed storage locker, including a box filled with negatives.
Maloof: I saw some of Marina Towers and I thought it was Chicago, so I said maybe we can use some of this for the book.
Shefsky: John bought that box for $400. There were 30,000 negatives inside. When he started scanning them, he didn't find anything for his book.
But what he found took his breath away.
Maloof: This is probably one of my favorite pictures. You've got this woman in the 50s walking up to a '57 Chevy and all you see really is her glow and the glow around her.
Shefsky: John also found self-portraits of the photographer. Who was this woman? He couldn't find her name anywhere in the boxes.
Maloof: I actually just wanted to meet the person and ask her kind of advice on photography. 
Some of Vivian Maier's cameras
Shefsky: John contacted the other people who had picked up her boxes at the auction and he bought those, too.
Now he has roughly 100,000 of her negatives—many of which have never been seen by anyone.
Maloof: All of this stuff hasn't been looked at.
Shefsky: All of this stuff here?
Maloof: There's 1-2-3-4-5-6-7-8- bins. And then you have a box of rolls undeveloped.
Shefsky: This is a whole box of stuff that hasn't been developed?
John estimates that up to a third of the negatives he bought were still on the rolls that came out of the camera.
Now the main task for John and his friend Tony Ridzen is to scan everything to get a good look at her work and archive it.
John says that when he finally found Vivian Maier's name in one of the boxes in 2009, a Google search turned up just one thing: an obituary from a few days earlier.
That led him to a family she had worked for, and then another, and finally a biography began to emerge.
Vivian Maier was born in New York in 1926 and lived in both France and New York growing up. By her mid-20s she was living permanently in the U.S.
She lived with one family as a nanny in Highland Park for 16 years. The children she cared for have been quoted as saying she was like Mary Poppins to them—eccentric, delightful, taking them on great adventures.
A later employer paints a more complex picture.
Maier's employer:  When I told neighbors and friends of ours about the interest about Vivian Maier, she said, "That awful lady?" She had terrible manners.  Very strong, very determined, don't intervene in my space kind of attitude, you know?
Shefsky: This is her own trunk here?
Maloof: Yeah, this is her trunk.
Vivian Maier's trunk
Shefsky: One of the families gave John many of Vivian's personal possessions.
Maloof: I don't know what to do with this stuff to be honest. It's kind of weird that I have it, but i'm not going to throw it out. It's kind of part of her history.   
Shefsky: In addition to clothing, there are about 30 binders of newspaper clippings, more binders of some color prints she had made and many of her cameras.
Maloof: Now, here's the Roloflex that she shot with for most of her life. She had a few of these, I only have one.
Shefsky: And there were book of other photographers. There's no evidence that Vivian Maier was schooled in photography, but it seems clear that she was aware of other artists.
As John uncovered more and more of Vivian's photos, he knew he had stumbled onto something extraordinary. But he didn't know enough to know how significant she might be.
Maloof: I didn't have any level of expertise to know what I was looking at.
Shefsky: The turning point came when he posted some of Vivian's photos on a street photography blog. He asked for opinions and advice, and by the next day he had 200 emails from around the world.
Maloof: I mean I had book offers. I had exhibition offers and a few different film, documentary film offers--everything. 
Shefsky: That was in 2009. The first exhibition was in Norway in 2010. Then in January 2011, a show at the Chicago Cultural Center.
Lanny Silverman, curator of the Chicago Cultural Center: This is a real find. There is definitely a lot there.
Shefsky: Lanny Silverman curated the exhibition of 80 photographs knowing that the vast majority of Vivian Maier's 100,000 photos have still not been seen by anyone.
Silverman: I have only looked at about a thousand and that is plenty enough, there is incredible stuff there. There are about 15 photos from the 80 that we're showing that I think rank up with anybody, any of the great names.
Shefsky: John and Tony put in four or five days a week on this project. And yet at the rate they're going, it will take them several years to just scan all of Vivian's work.
Maloof: There's so much work that I am doing. There's times when it's overwhelming to the point where I have anxiety about how much there is to do, and how little I have done with all the work I put in.
Sometimes there's quiet moments when I am just scanning by myself and I just think wow, it's amazing that I'm doing this. That someone like me is doing this. 
Shefsky: Who knows if art historians and collectors will eventually count Vivian Maier among the greats like Robert Frank and Walker Evans, but for now, John Maloof is determined to give her a shot at it.
Maloof: I've contacted big institutions such as MoMA and Tate Modern. I'm going to keep trying to do that, and I think a lot of people want to see her there.
Shefsky: Of course, John's efforts are not just altruistic. If Vivian Maier is fully accepted by the art world, he knows he could be sitting on a gold mine.
Maloof: I'm sure it's worth a lot of money. I don't know how much. I really haven't had time. It's been crazy and I've been working all day almost every day.
Shefsky: In fact, John has spent thousands of dollars of his own money on film processing and equipment.
It's clear that Vivian was a really private person.  How do you think she would feel about the fact that all of this is becoming so public? 
Maloof: I could say a couple things to that. I'll never know, of course.  I have audio tape that she recorded and she says a little tidbit about what she feels about, you know, what happens after you die and when somebody takes up after you.
Vivian Maier: Well, I suppose nothing is meant to last forever. We have to make room for other people. It's a wheel.
You get on, you have to go to the end and then somebody has the same opportunity to go to the end and so on. And somebody else takes their place.
---
Related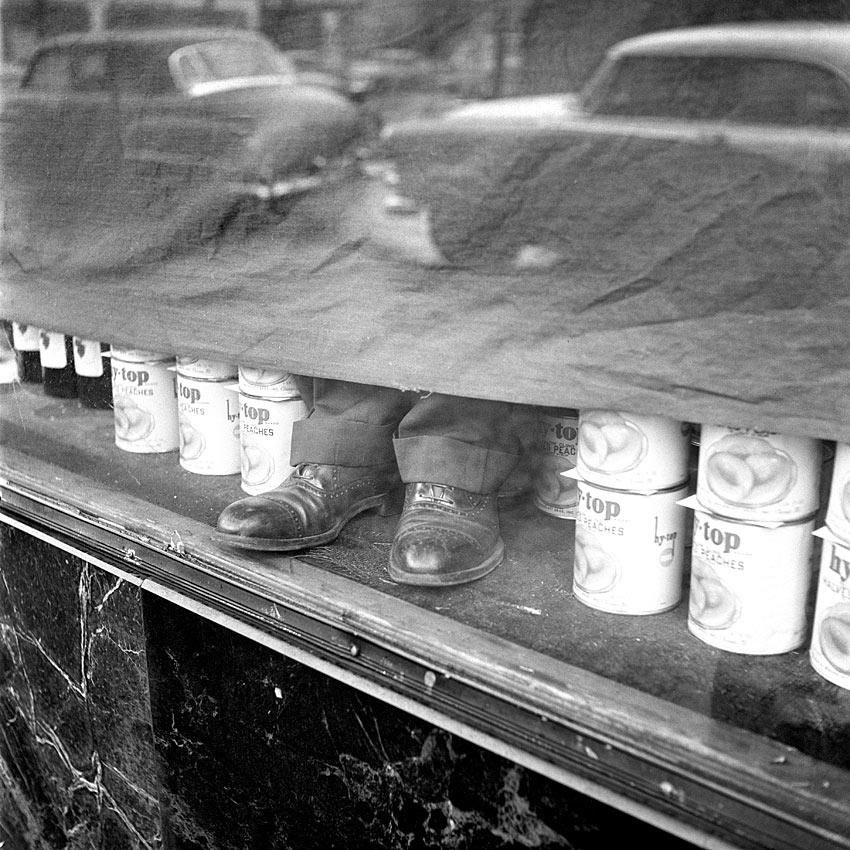 The Meteoric Rise of Vivian Maier
August 2012: In part two of our series on photographer Vivian Maier, we meet other owners of her remarkable archive and explore the international explosion of interest in her work.
---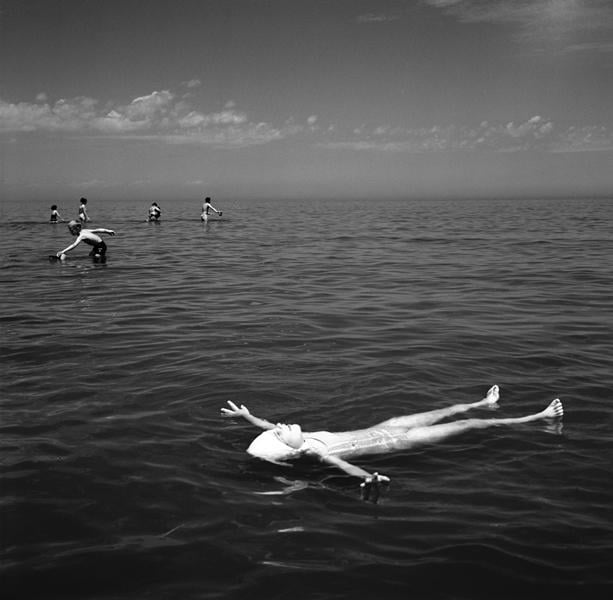 Vivian Maier | Courtesy of The Jeffrey Goldstein Collection Searching for Vivian Maier
August 2012: In part three of our Vivian Maier series, Jay Shefsky introduces us to several people trying to unravel the mystery of the celebrated photographer.
---