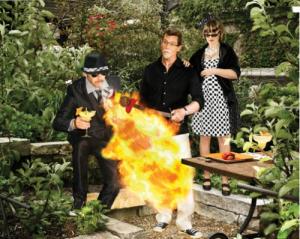 Looking to spice up his decades-long culinary career, chef Charlie Trotter announced this year he would close his namesake restaurant and seek a PhD in philosophy. Chef Rick Bayless, of Frontera Grill fame, is trying his hand at something equally out of character for a renowned chef: the romantic lead in a play.
Opening Wednesday at the Lookingglass Theatre, Cascabel, features acrobatics, dancing, and of course, Bayless' cuisine, which will be served to the audience and on-stage characters alike. Find out what Bayless is cooking up when we visit a rehearsal of his new show on Chicago Tonight at 7:00 pm.
The play stars Bayless as a nameless cook in a Mexican boarding house during the 1940s, whose food has a magical effect on his diners. But his culinary skills seem useless in winning back his long-lost love, Esmeralda (Chiara Mangiameli), who has no interest in the cook's cuisine.
Cascabel  is Mangiameli's first acting role in over a decade. Mangiameli, now a professional flamenco dancer, gave up theater to travel to Spain and train in the traditional dance.
"Fast forward to a decade later, and look at the play I ended up in," she said.
A guitarist friend who also performs in Cascabel persuaded Mangiameli to answer a casting call for actors who could sing and dance. After getting chosen, Mangiameli says Esmeralda's backstory was retooled to reflect her own history.
"My skill is flamenco, which doesn't really have anything to do with Mexico," she said. "But [Cascabel co-creator] Heidi Stillman incorporated flamenco into the play. Esmeralda and the cook are long-lost lovers. She went off to Spain and studied flamenco, and had this wonderful affair with the cook that her father disapproves of...It's very exciting and flattering to have someone work your skill into a play."
Throughout the play, the audience will get their own versions of the dishes the cook creates for Esmeralda. The goal is for the audience to feel the emotions Esmeralda is experiencing even more powerfully than acting alone could convey. Getting to taste Bayless' mole, for example, evoked a sense of longing she never expected, Mangiameli said.
"We actually rehearsed with food Monday night for the first time," she said. "It's very powerful. It's like when someone you're very close to passes away and you pick up something they used to wear. It smells like them and every emotion you felt comes back. Everything that was cerebral and was just words on a script made sense and felt real."