The video cannot be displayed.
Renée Fleming, Creative Consultant for Lyric Opera of Chicago, revealed details of the collaboration between the world-renowned opera company and Merit School of Music during a media conference at the school on Monday, Sept. 12.
The collaboration will benefit teens in a new Opera and Musical Theater solo voice major at Merit's Alice S. Pfaelzer Tuition-free Conservatory.
Since Lyric announced the Renée Fleming Initiative, plans have solidified for the long-term collaboration between Lyric Opera and the highly regarded community music school based on the Near West Side of Chicago. A large percentage of Merit students receive instruction tuition-free.
Merit School of Music currently serves 6,000 Chicago-area youth from infancy through age 18. It is regarded as a principal leader in providing extraordinary music education and life-changing experiences for Chicago-area children through music. Classes are held in Merit's Joy Faith Knapp Music Center, the 40,000-sq.-foot state-of-the-art main facility in the West Loop; and in more than 50 locations throughout Chicago and northwest Indiana. These include public schools, private and parochial schools, community centers, and homeless shelters.
"Of the more than 6,000 students participating in Merit's numerous programs, 375 have been selected by audition for Merit's advanced program, the Alice S. Pfaelzer Tuition-free Conservatory," Renée Fleming said. "These talented students receive intensive weekly education. The conservatory presents a rigorous learning experience where high expectations in the classroom yield high results. This environment makes it the perfect home for the Lyric-Merit program."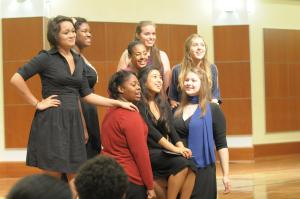 Last March, Merit School of Music auditioned and selected a dozen new high school students for its new solo voice major program.
"Participants may concentrate on opera and music theater or on jazz, through the American songbook," said Fleming.
There are now 46 students enrolled in the solo voice major program for Merit's 2011-12 school year, October through early May.
"Merit will provide ongoing weekly instruction for solo voice students, and Lyric will provide an extension of those studies through access to performances and professionals," Fleming continued. "Many of the learning opportunities provided by Lyric will also be made available to non-vocal students at Merit.  Young people won't just be attending performances; learning opportunities provided by Lyric through its education department will be integrated into their studies at Merit."
The soprano disclosed that she will work with Merit voice students via Skype three times over the course of the 2011-12 school year.
"Selected students will sing for me with their classmates listening in, and I'll be able to comment on their work and offer encouragement," said Fleming. "One of the great appeals of Merit is that it provides tuition-free instruction for so many of its students. Developing music skills is developing life skills: personal confidence, pride of accomplishment, problem solving and critical thinking, learning how to listen and work harmoniously in an ensemble."
Click on the image gallery below for a slideshow of photos.