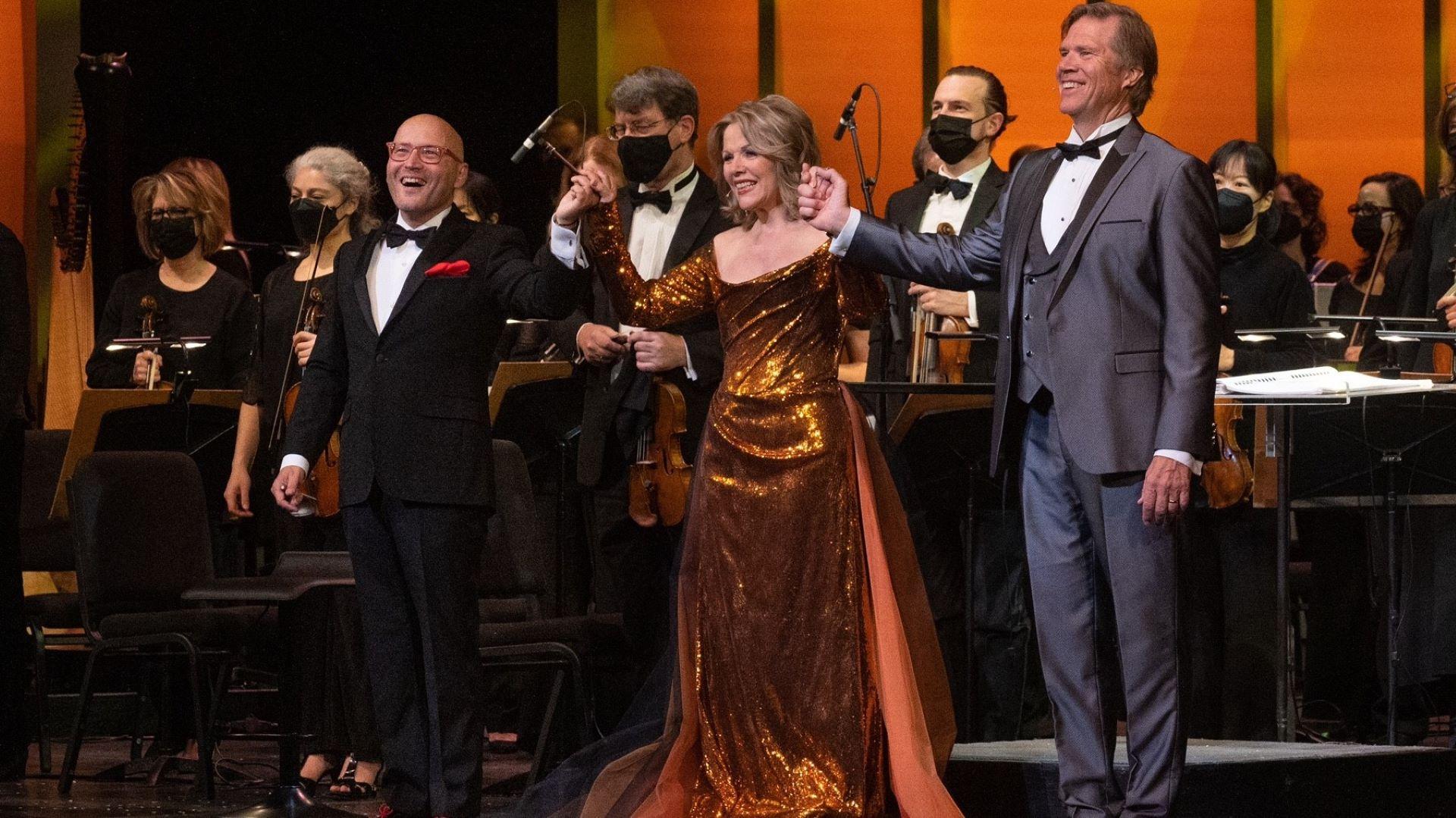 From left: Enrique Mazzola, Renee Fleming and Rod Gilfry. (Photo by Robert Kusel)
A love affair between two artists who share a gift for letter-writing. And then a wonderfully devised celebration of Broadway classics.
Talk about a study in contrasts. You could not have found a more ideal example of just such a pairing of personalities and styles than the unusual concert performed last week on the Lyric Opera stage by the golden-voiced soprano Renee Fleming and baritone Rod Gilfry, both of whom can shift easily between opera and musical theater.
Ideally backed by the outstanding members of the Lyric Opera Orchestra, the concert was led by Lyric's exuberant Music Director, Enrique Mazzola.
The first half of the evening was devoted to "The Brightness of Light," an exceptionally beautiful work with a libretto and music by the Pulitzer Prize-winning composer Kevin Puts that was first performed at the Tanglewood Music Festival in 2019. Puts' work, a most ingenious song cycle, draws on the extensive correspondence and the complex, tempestuous and largely geographically distanced love affair and marriage between Georgia O'Keeffe (the remarkable painter who has been dubbed "The Mother of American Modernism"), and Alfred Stieglitz, the renowned photographer who was the first to champion her work and helped catapult her to fame.
The handwritten letters between the two (collected in Sarah Greenough's two-volume book, "My Faraway"), were projected on a screen above the orchestra, along with pictures of many of O'Keeffe's magnificent paintings and Stieglitz's black and white photographs of the woman (more than 20 years younger than he, and a great beauty) whom he adored, and married in 1924 after divorcing his first wife. The two remained married until Stieglitz's death in 1946, although it is worth noting that from 1929 on, O'Keeffe spent most of her time living and working in Taos, New Mexico, the source of her greatest inspiration, while Stieglitz remained in New York. A telling aria titled "Faraway," and sung by Gilfry, captures this fact, as does an orchestral interlude that bears the title "The High Priestess of the Desert." Fleming and Gilfry also each sing "The Thing You Call Holy," another suggestion of the tension between the two, as well as the connection.
It all begins with "First Correspondence," the letter Stieglitz wrote to O'Keeffe in 1915 after seeing her charcoal drawings. And it ends with O'Keeffe, singing about both "friends" (and the complex meaning of that word, and its suggestion of loneliness), and the inevitability of "sunset." All in all, a beautiful work, winningly realized by Fleming and Gilfry, with ideal projection design by Wendall K. Harrington.
My only criticism of the staging of this first half of the program is that the ever-glamorous Fleming should not have worn a sparkling silver gown but instead captured the plain, almost nun-like black clothes O'Keeffe wore.
Of course it was perfectly fine that in the second half of the program — which embodied the glow of Broadway by means of a wonderful collection of nine musical theater classics and a few rarities — Fleming arrived in a spectacular gown of glittery gold that had the audience applauding loudly at first glimpse. (At one point Fleming even performed a wonderfully self-mocking solo by way of Andrew Lippa's song, "The Diva," that was written for her and Vanessa Williams, and premiered at the Kennedy Center in 2022.)
In addition to a lovely rendering of "Almost Like Being in Love" from "Brigadoon" (the wonderful, and all too rarely revived Lerner and Loewe musical), there were beautiful pairings of Fleming and Gilfry on "Till There Was You" from "The Music Man," and "People Will Say We're in Love" from "Oklahoma." And there was a truly unusual treat by way of "Hello, Stanley, Do You Mind?" from Andre Previn's rarely performed opera inspired by "A Streetcar Named Desire," in which Fleming starred during its 1998 premiere by the San Francisco Opera.
Gilfry also sang "You Should Just Know The Line," another song from that Previn work that either opera or musical theater producers should clearly consider staging. And he gave winning interpretations of "Some Enchanted Evening" from "South Pacific," and "Joey, Joey, Joey" from "Frank Loesser's "The Most Happy Fella" (another musical that deserves a revival). Fleming's impassioned performances of "Winter/Love and Love Alone" (from the Kander and Ebb musical "The Visit," based on the play by Friedrich Durrenmatt), also suggested a show worthy of a revival.
This second half of the program also served as a vivid reminder of the fact that the great American musicals of the mid 20th century were in many ways "the next incarnation" of the European opera tradition.
As for the best quip of the evening, it was during the Broadway segment when Gilfry playfully noted that Mazzola "could very well be a great musical theater conductor."
I would add that this concert could very well be a Broadway hit, although Fleming (along with Kelli O'Hara and Joyce DiDonato) is already set to star in the Metropolitan Opera's world premiere of Puts' "The Hours," adapted from the Michael Cunningham novel inspired by Virginia Woolf's "Mrs. Dalloway." It begins performances on Nov. 22.
Follow Hedy Weiss on Twitter: @HedyWeissCritic
---