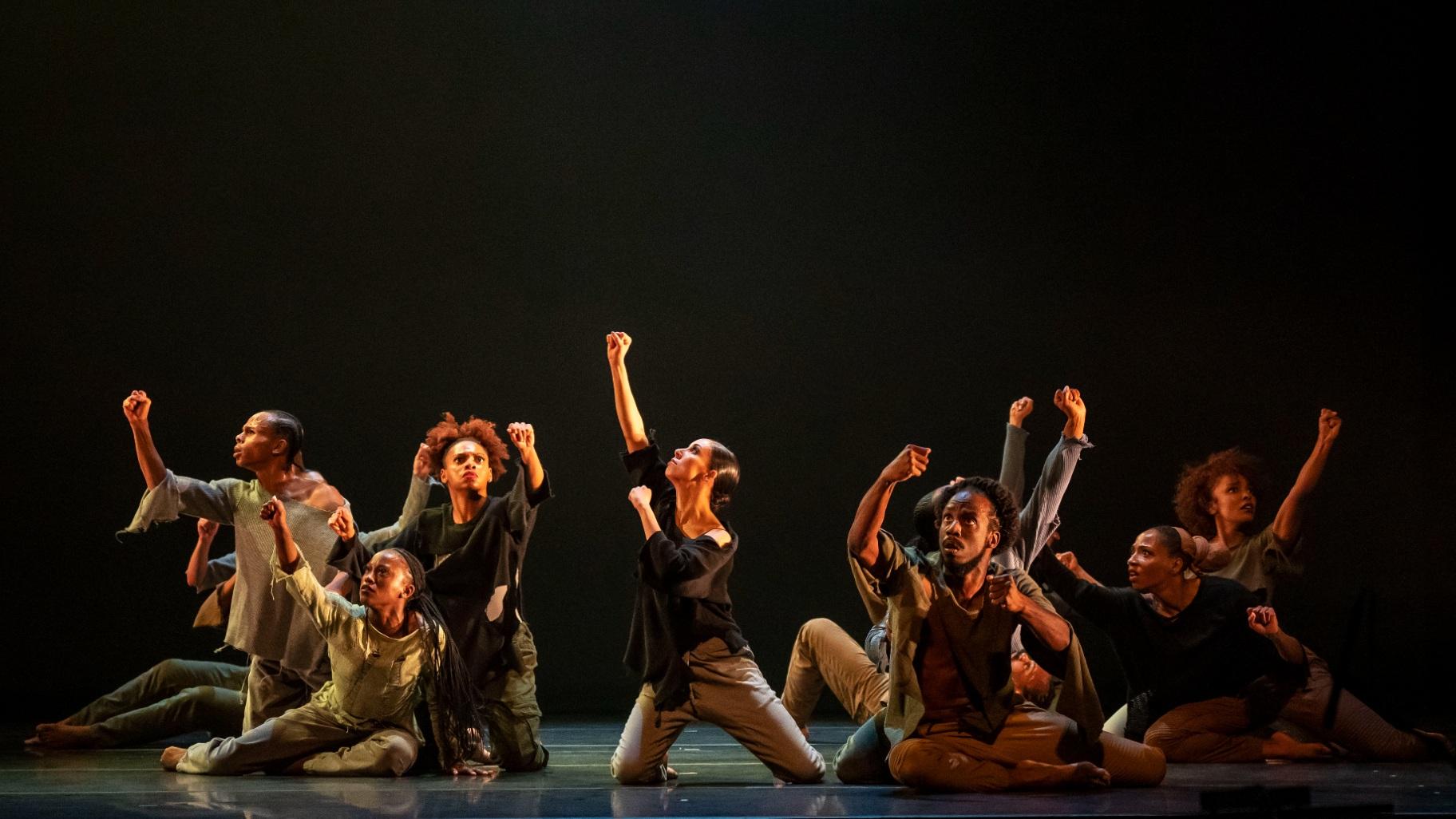 "Madonna Anno Domini" performed by Deeply Rooted Dance Theater company and company apprentice members. (Todd Rosenberg)
During the past couple of weeks, three of Chicago's most formidable contemporary dance troupes — the Hubbard Street Dance Company, Giordano Dance Chicago and Deeply Rooted Dance Theater — have turned in terrific performances on the stages of the Harris Theater and the Auditorium Theatre. Each troupe displayed a distinctive blend of modern, jazz and richly theatrical dance styles that was intensified by the sheer technical brilliance of the dancers.
I will begin with Saturday evening's absolutely sensational performance by Deeply Rooted Dance Theater that attracted a huge crowd to the Auditorium. The performance earned the company's 14 dancers and two company apprentices a standing ovation — and all the applause the company deserved for its thrilling performance of five very different works.
The program fittingly opened with "Juntos" (Spanish for "Together"), a 1990 work choreographed by Kevin Iega Jeff (the company's co-founder and artistic director emeritus, along with Gary Abbott). Set to exhilarating music by jazz master Pat Metheny, it had an intriguing, celebratory energy that shifted from a duet, to a quartet, to another duet, all expertly danced. Next came Abbott's "53 Inhale," a work for six dancers, set to music by Nico Muhly and performed with precision and intensity.
Then there was "Vespers," a mesmerizing work choreographed by Ulysses Dove (the late star of the Alvin Ailey company), set to an electronic score by Mikel Rouse. Inspired by Dove's grandmother and her connection to church, it featured six female dancers (Emani Drake, Taylor Ramos, Alyssa MacCullum, Heather Cagle, Rebekha Kuczma and Nyemah Stuart) whose remarkably dramatic interplay with rows of straight-back chairs was absolutely riveting.
The bravura Emani Drake opened the second half of the program with a breathtaking solo performance of Keith Lee's "Mama Rose," set to an intense jazz score by Archie Shepp. Drake's dramatic mood shifts and sheer endurance were simply phenomenal.
Closing the program was the world premiere of "Madonna Anno Domino," a feverish work for the full company choreographed by Nicole Clarke-Springer, Deeply Rooted's artistic director, and set to the music of Aretha Franklin, Culoe de Song, Sinead O'Connor and Alec Lenz. It opened with a recording from a speech by Barack Obama on the power of democracy (and all its challenges).
Finally, it should be noted that construction on Deeply Rooted's grand-scale, ultra-modern new home in Chicago's Washington Park neighborhood is set to begin at some point in 2024.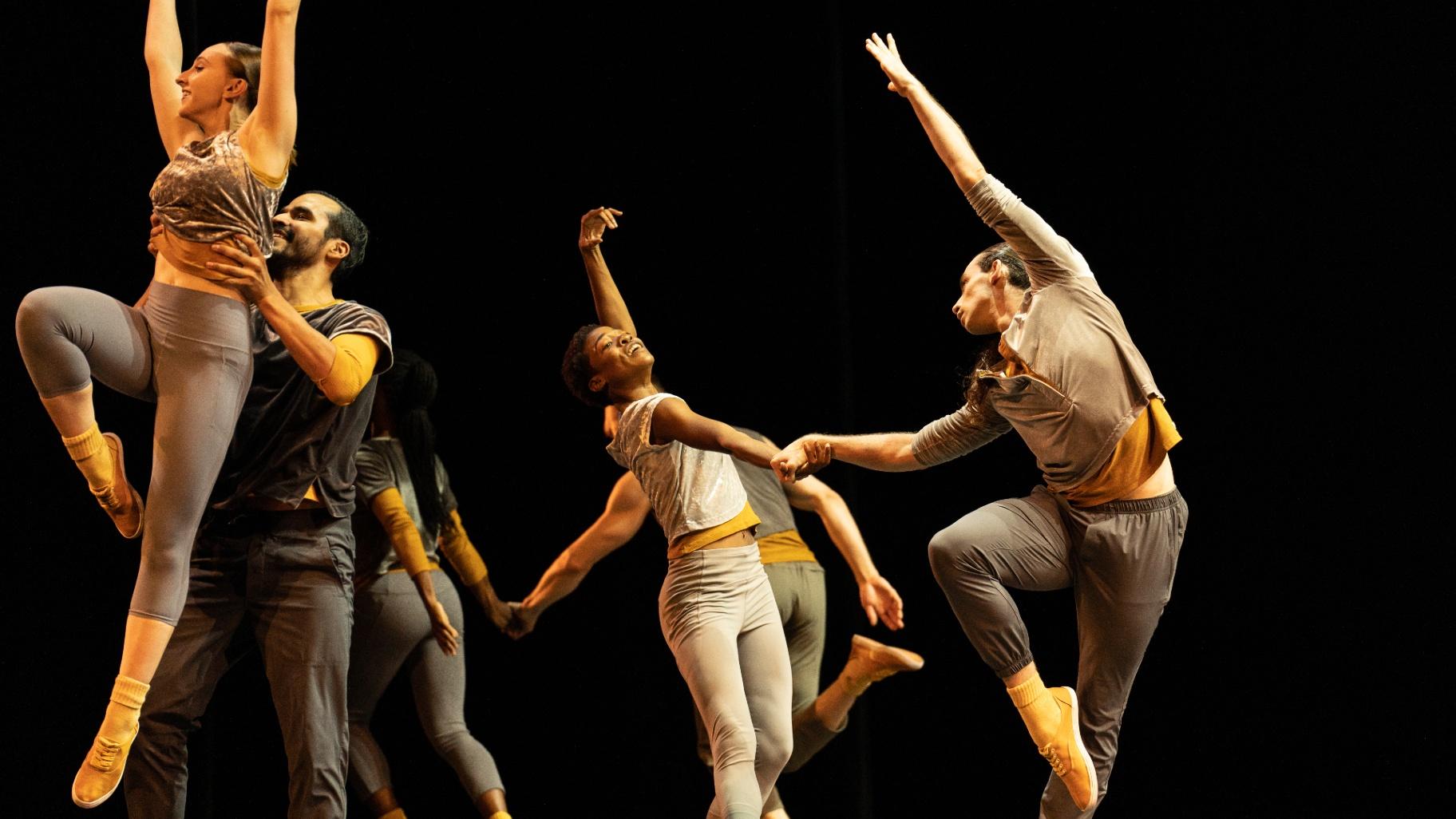 Hubbard Street Dance Chicago in "Coltrane's Favorite Things" by Lar Lubovitch. (Michelle Reid)
Next up: Hubbard Street (now in its 46th season), whose just completed four-day run at the Harris Theater featured three impressive works under the title "Of Peace." That certainly has just the right sound of wishful thinking given the current state of the world.
The company of 14 dancers is uniformly superb, but if I had to single out one pair it would be the ever-astonishing Shota Miyoshi and his partner, Alexandria Best, whose opening duet in Lar Lubovitch's 2010 work "Coltrane's Favorite Things" was a knockout. The work (which included an excellent quartet and trio of dancers as well), was set to John Coltrane's wonderful jazzy riff on the Richard Rodgers/Oscar Hammerstein II song, and was danced against a backdrop of a black, white and gray "drip painting" by Jackson Pollock, whose interlaced squiggles are a dance in themselves. As Lubovitch is quoted as saying, "I sought to draw a parallel between Coltrane's sheets of sound and Pollock's field of action." And indeed he did, as Pollock's abstractions became three-dimensional and richly evocative of human interaction.
Opening the program was choreographer Darrell Grand Moultrie's exhilarating 2022 work, "Dichotomy of a Journey." Set to a wide mix of music (by Ezio Bosso, Dmitri Shostakovich, V. Michael McKay, Nils Oliver Frahm and Donald McKay), its seven sections explored an array of human relationships suggesting "Vitality," "Connection," "Vision," "Community" and "Resilience." The excellent Michele Dooley (dressed in red), along with Jack Henderson and Miyoshi, led the company in the final sequence.
The last work on the program was the company premiere of "return to patience," a 2015 piece choreographed by Aszure Barton (who is now serving as the company's resident artist). Set to music by Caroline Shaw and expertly staged (as much of the work at Hubbard Street is, by Jonathan E. Alsberry), it was performed by the full company that arrived on stage in white outfits. Barton's work is abstract, yet at the same time it suggested emotional shifts between a group and individuals, with the company at times looking straight into the audience.
Gina Daugherty and Fernando Rodriguez in "Le Grand Futur is Here!" (Victoria Wesloh)
Now, on to Giordano Dance Chicago, which is in its 61st season. The concert, bearing the title "Unlimited," opened with Mia Michael's rousing "La Grand Futur is Here!" (set to music by Amon Tobin), in which five couples initially suggested they might have been a bit hungover. Next was a brief, teasing preview of a work-in-progress by Al Blackstone, set to music by George Gershwin. It was followed by Brock Clawson's "Sneaky Pete" with winning character work by dancers Erina Ueda and Adam Houston. And there was more Gershwin to be heard with Sherry Zunker's "The Man That Got Away," cleverly used as an homage to Michael McStraw, the company's longtime executive director (who recently stepped down) and danced by Ashley Downs.
Also on the program were Ray Mercer's "Tossed Around," and "Jolt," Autumn Eckman's wonderfully grand-scale and percussive piece for 10 terrific dancers.
And now, just one final thought: These were showcases of just three of Chicago's top dance companies. And along with the superb Joffrey Ballet (whose stunning recent production of Liam Scarlett's "Frankenstein" at the Lyric Opera Theater will soon be followed by its magical Chicago World's Fair-themed production of "The Nutcracker"), there is only one conclusion to be made. And it is simply that Chicago has become one of this country's true dance capitals.
Follow Hedy Weiss on Twitter: @HedyWeissCritic
---