Visceral Dance performs "Take" at The Space on Rockwell. (Credit: KT Miller Photography)
Enter The Space on Rockwell, the vast, high-ceilinged studio just a block from Visceral Dance company's main home, and you will immediately have the sense that something special is about to happen.
The massive walls are white brick, the floor is black and there are long, single rows of folding chairs set in place against the walls for the audience. A vast, cloud-like white curtain is suspended above one side of the studio. And then, as the music and lighting are synched, a woman in a sexy black leotard and boots arrives on the wide open stage and sets the choreography for "Take" — the creation of Nick Pupillo, the company's founder and artistic director — in motion.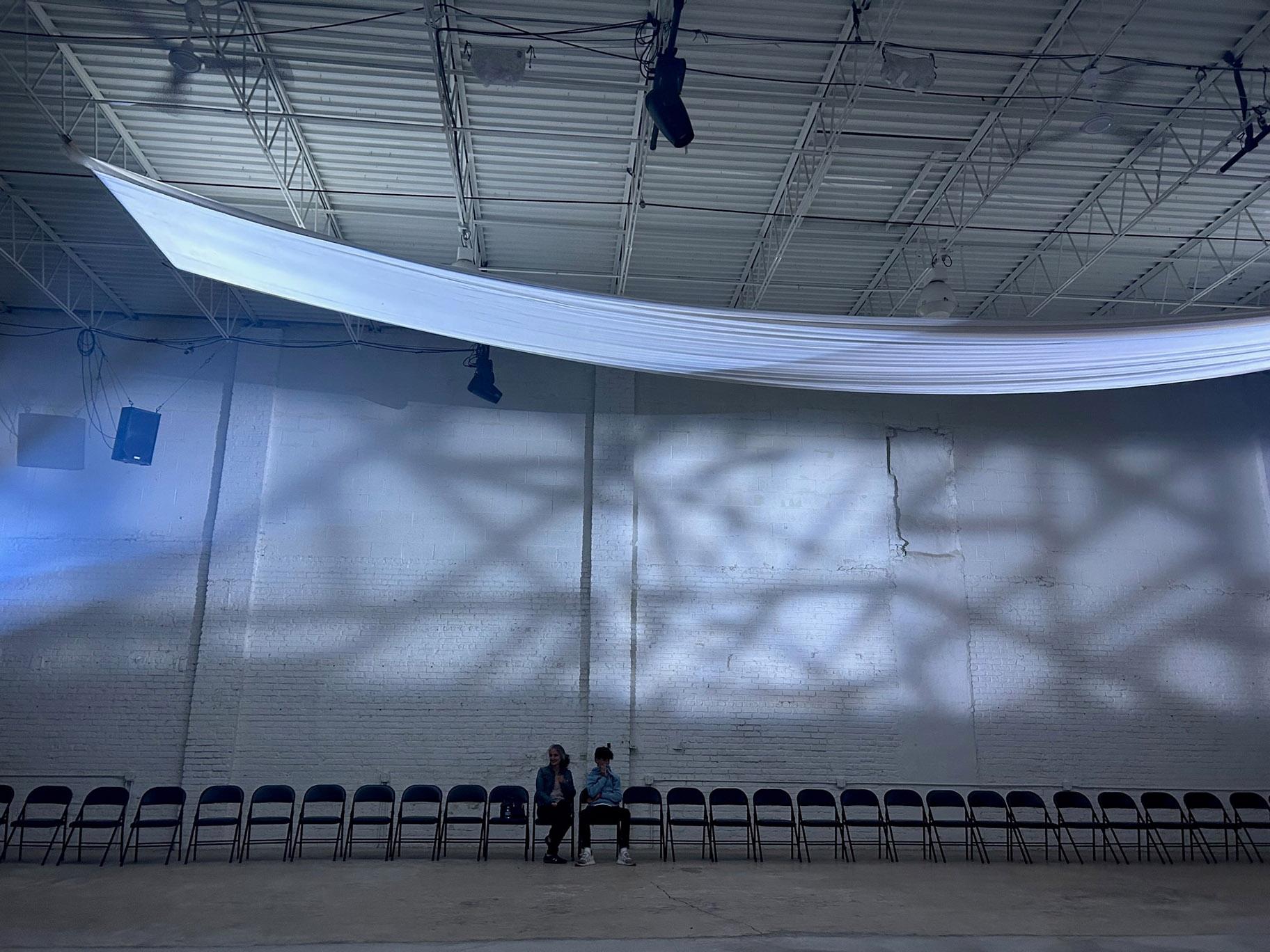 Visceral Dance performs "Take" at The Space on Rockwell, a vast open space pictured here. (Hedy Weiss / WTTW News)
This is just the start of the mesmerizing 90-minute work that first caught my attention at its premiere in November 2018, and that now is more riveting than ever with its cast of 13 intense, fearless, technically and emotionally outstanding dancers. And while much of the work is set to recorded music, one long section also features the live accompaniment of Magdalena Sustere Wester, an outstanding cellist.
At once abstract, often acrobatic, and driven by alternately intensely challenging solo turns, strongly varied and emotionally heated interpersonal relationships, and ensemble riffs that are technically demanding and expertly finessed — "Take" is performed to stunning effect. And it follows Pupillo's noted intention that "the artists are meant to give to the audience, and the audience in turn gives to the artist. I want the audience leaving this performance and 'taking' something with them from this experience that lasts … something they will keep with them."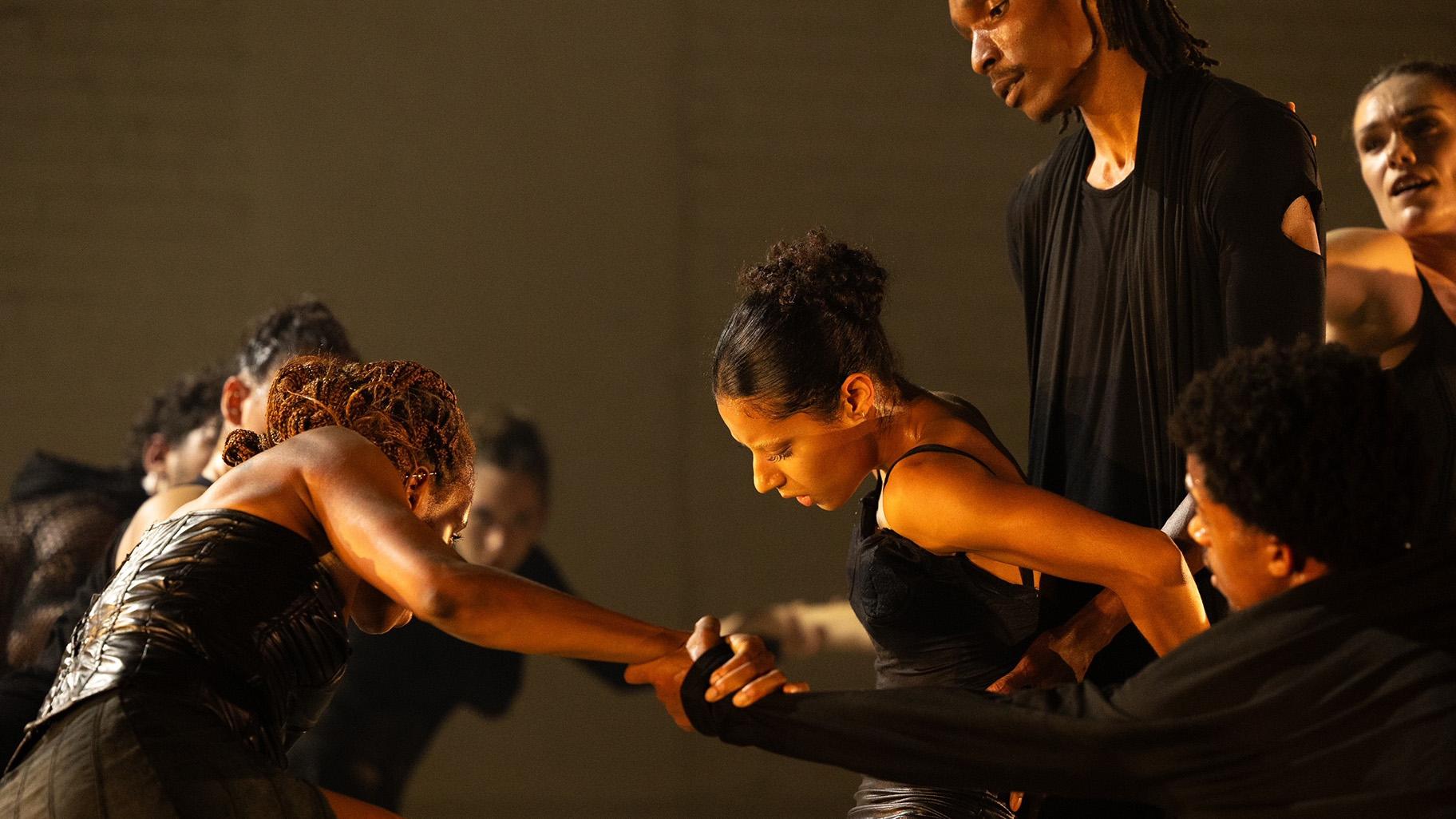 Visceral Dance performs "Take" at The Space on Rockwell. (Credit: KT Miller Photography)
At a few different points during the course of the piece the audience is called into the center of the stage to commune with the dancers. On opening night, a good portion of the audience was comprised of very young dance students from the Visceral school. And just watching their intense faces throughout the evening and at that point was enough to signal that they were, indeed, "taken." But so was every adult.
And the company's outstanding dancers deserve to be named here. They include six exceptional men (Tyler Kerbel, Javares Selby, Christopher Stansell, Tyson Ford, Montes Pirtle and Justin Bisnauthsing), and seven women (Laura Mendes, Nia Davis, Meredith Harrill, Leslie Marfil, Kaliana Medlock, Alessandra De Paolantonio and Erika Shi).
"Take" runs Oct. 12-15 and Oct. 19-22 The Space on Rockwell, 3031 N. Rockwell. For tickets visit: visceraldance.com or phone 773-772-1771.
Follow Hedy Weiss on Twitter: @HedyWeissCritic
---