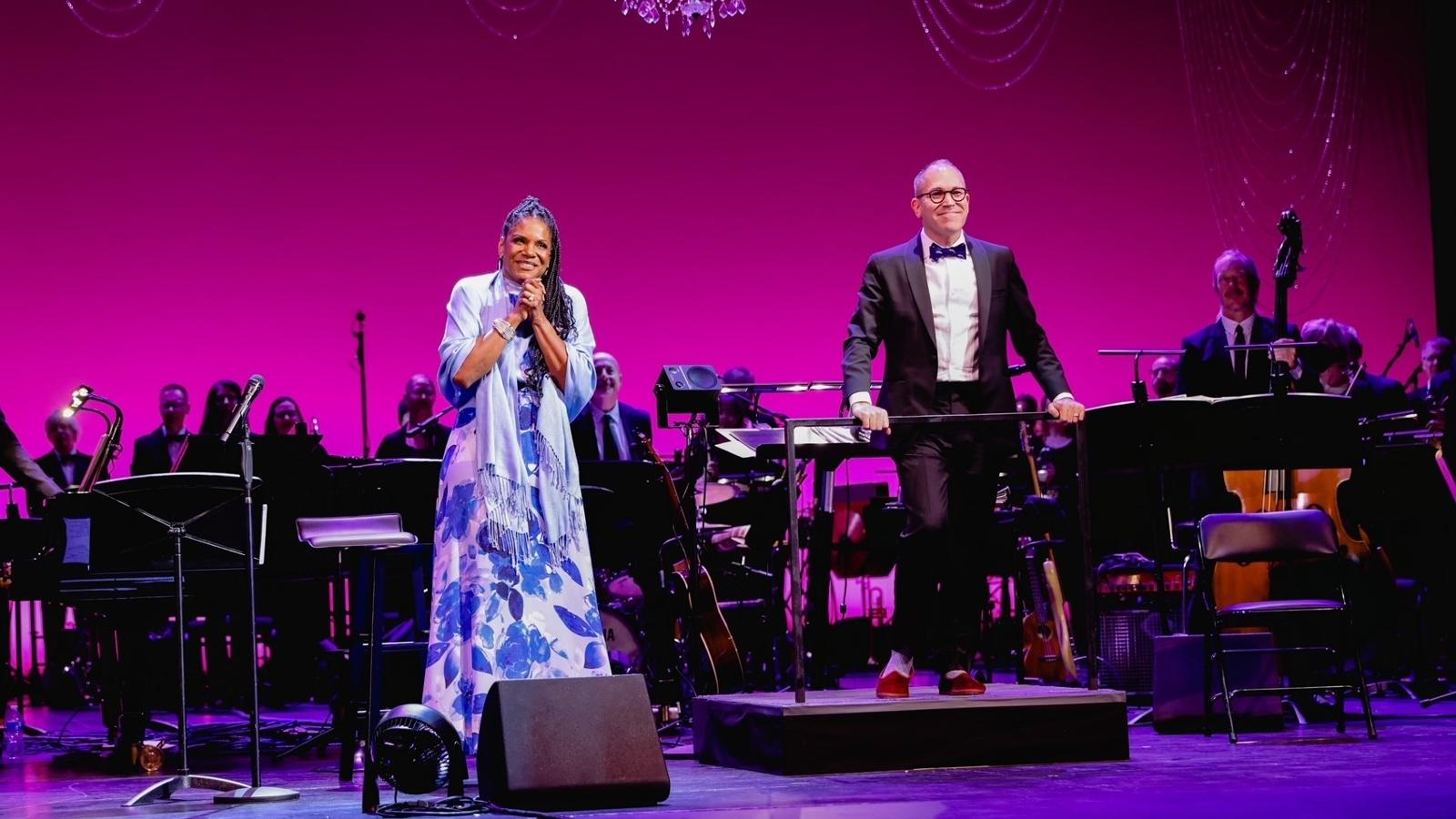 Audra McDonald performs with the Lyric Opera Orchestra on Oct. 6, 2023. (Credit: Kyle Flubacker)
This past Friday evening, shortly before Audra McDonald was to take hold of the Lyric Opera House for a solo performance backed by the Lyric Opera Orchestra, Anthony Freud, the Lyric's general director, walked up to a microphone and said that although she had been feeling somewhat under the weather that day, the show (the opening gala of the 2023-24 season) would go on. And the only change would be that the 90-minute concert, to be performed before a packed house, would not have an intermission.
But now, to get straight to the point: McDonald arrived on stage in a beautiful blue and white gown, with a shawl draped over her shoulders, and with silvery beads and chandeliers strung above the orchestra. Her glorious soprano voice sounded as beautiful and emotionally expressive as ever, and her delightful commentaries between each of almost 20 mostly classic Broadway songs were at once witty and revealing.
She gave what could unquestionably be described as a knockout performance.
There was absolutely nothing "iffy" about any of it, and McDonald's ability to connect with her audience of about 3,000 people came with a remarkable sense of intimacy and humor. She also was ideally supported by the Lyric orchestra (conducted with great zest by Andy Einhorn, who has a long list of Broadway, television and classical orchestral credits), with added panache by way of guest musicians Jeremy Jordan (on piano), Gene Lewin (drums), and Mark Vanderpoel (bass).
The orchestra opened the evening with "The Carousel Waltz," the rapturous overture to Rodgers and Hammerstein's 1946 musical classic. Then McDonald drew on her stellar voice and commanding personality to bring a sense of forceful drama to "I Am What I Am," the iconic song by Jerry Herman from "La Cage aux Folles," the first Broadway musical to make a forceful statement about homosexual identity, and a song that McDonald easily endowed with an even more universal meaning.
Next came a beautiful rendering of "Pure Imagination," the Anthony Newley/Leslie Bricusse song from the 1971 film "Willy Wonka and the Chocolate Factory." And then, in quite an about-face turn, she launched into the jazzy Duke Ellington/Irving Mills classic "It Don't Mean a Thing (If It Ain't Got That Swing)," with the orchestra swinging fully behind her. Another stunning about-face came with a truly operatic rendering of "Summertime," the classic aria from "Porgy and Bess" by the Gershwin brothers and DuBose Heyward. Talk about vocal and emotional versatility.
And there was more, with dramatic emotional shifts that ranged from an exquisite rendering of "I Could Have Danced All Night," the Lerner and Loewe classic from "My Fair Lady"; to a fiery take on "Before the Parade Passes By" from "Hello, Dolly!," to ideal interpretations of "Children Will Listen" (from the Stephen Sondheim musical, "Into the Woods"), and "You've Got To Be Carefully Taught" (from Rodgers and Hammerstein's "South Pacific"), each of which clearly struck a maternal chord. (McDonald is the mother of two daughters, and the stepmother of two sons.)
Winding up the concert was the title song from Kander and Ebb's "Cabaret," and an emotional homage to Leonard Bernstein. And for an encore there was "Get Happy" and "Happy Days." The rousing standing ovation that followed this finale was absolute proof that McDonald had made everyone a great deal more than happy. And the audience clearly cured whatever she thought was a vocal concern. Every note, every bit of commentary, and every sound was simply ideal.
Follow Hedy Weiss on Twitter: @HedyWeissCritic
---