Music director emeritus for life Riccardo Muti led the CSO in a performance of Strauss' "Aus Italien" on Sept. 28, 2023. (Todd Rosenberg)
Although Maestro Riccardo Muti will soon head to New York's Carnegie Hall and embark on a seven-country, 14-concert tour of Europe with the Chicago Symphony Orchestra (Jan. 11-29), his concert at Orchestra Hall on Thursday evening (the first of three performances) was an ideal example of the thrilling bond between him and the CSO's brilliant musicians.
The evening opened with "The Triumph of the Octagon," a world premiere CSO commission written by Philip Glass in the wake of last year's much heralded performance of Glass' "Eleventh Symphony" that marked the first time Muti conducted one of that composer's works. The seven-minute piece was inspired by a photograph of the unusual 13th century Castel del Monte in southeast Italy (a UNESCO World Heritage site with eight octagonal towers) that Glass saw hanging on a wall in Muti's studio during a Chicago visit in February 2022. But in a program note Glass explained that he was "not writing a piece about the Castel per se, but rather about one's imagination when we consider such a place." And he added that he has dedicated it to Muti "in honor of his many successes as conductor of the CSO and important contributions to the world of music."
And one's "imagination" surely does take off during the course of this hauntingly beautiful piece that creates the subtlest of moods as it moves from a lyrical opening played by the low strings, to the addition of the clarinet (via the outstanding John Bruce Yeh), to a slow build involving all the strings, plucked basses and harp (Julia Coronelli). This elegant build to a subtly heartbreaking passage that repeats the essential theme of the work is quietly seductive. And it then undergoes a subtle change as its sound intensifies with all the musicians joining forces. It soon grows quieter as it concentrates on the strings, and it ends with a sudden stop and silence. Overall, this work is an ideal example of Glass' unique style and perfect proof of why he has been widely dubbed one of the most influential composers of the late 20th century.
Next came a more traditional but richly animated 19th century work: Felix Mendelssohn's wonderfully exuberant "Symphony No. 4 in A Major (Italian)," which was written when this distinctly German composer spent two years in Italy.
This familiar work, with its exciting opening — a mix of high energy and lightness that draws on the strings, timpani, winds, French horns and other brass instruments — moves at high speed and with a celebratory feel both light and beautiful. It then goes racing, with timpani and all, and with Muti's subtle gestures driving it to a big build. The continual mood shifts and gorgeous singing theme lead to a finale in the first of the work's four movements. And then it's on to the more serious, contemplative, and at moments lightly teasing, second movement in which the basses and cellos serve as an undercurrent.
The familiar third movement begins with the singing beauty of the strings in what might best be described as a dreamy tone poem, and it then evolves with a frequently shifting intensity and gorgeous melody. A big opening blast marks the work's fourth movement, with Muti visibly stirring up the excitement, making the most of many tonal shifts from lightness to a decidedly forceful sound of great volume and a sort of rapid-fire fury.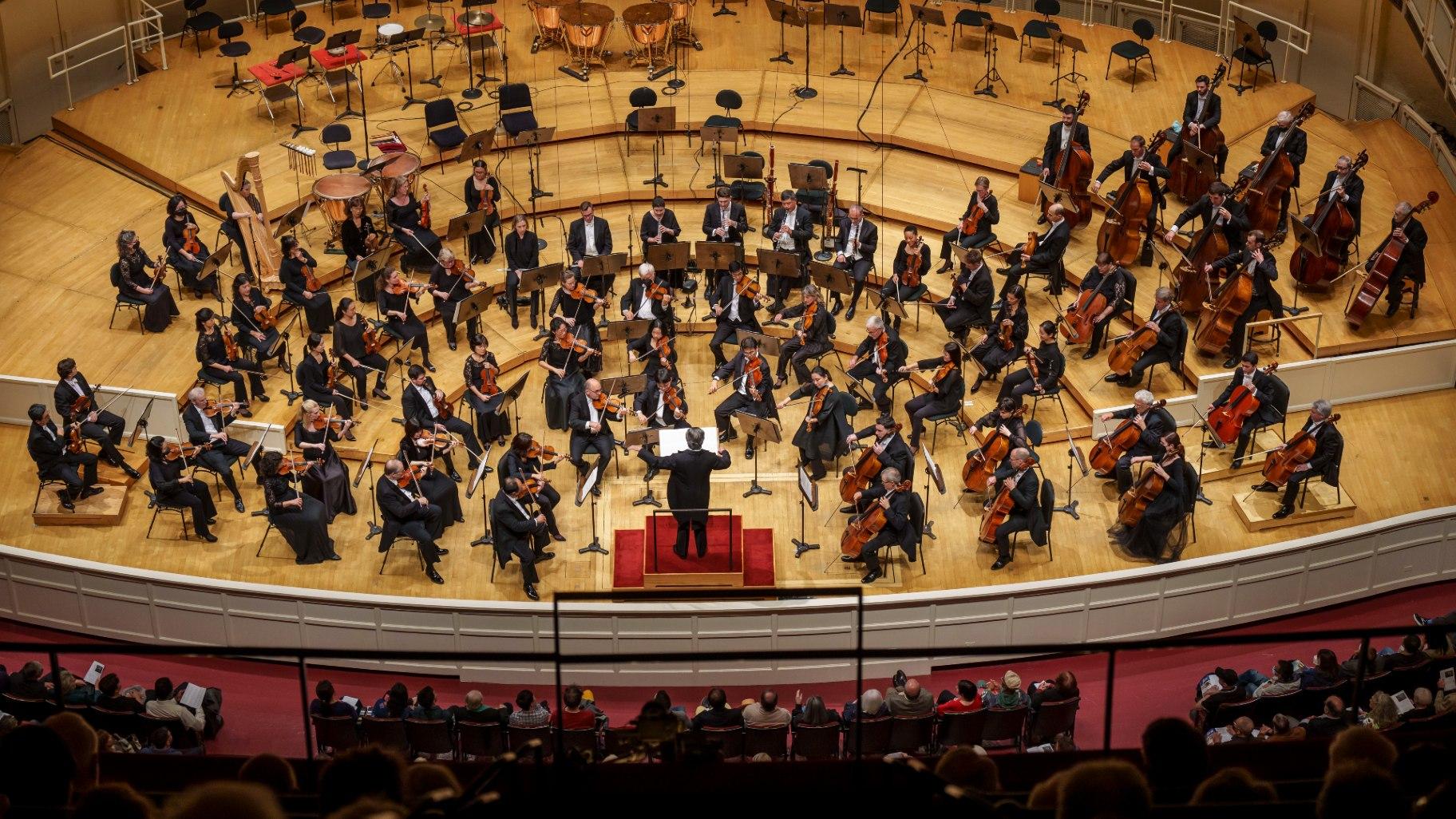 Music director emeritus for life Riccardo Muti led the CSO in the world premiere of "The Triumph of the Octagon," a CSO commission by composer Philip Glass, on Sept. 28, 2023. (Todd Rosenberg)
The concert's second half was devoted to "Aus Italien," the work of Richard Strauss, another German composer who was smitten by his first visit to Italy. (Muti's choice of both this symphony and Mendelssohn's are clearly a winningly playful homage to Muti's homeland.)
Strauss' work begins with a solemn, layered opening that suggests a storm is brewing. It then shifts to the lyrical with the immense orchestra delivering a richly lush and dramatic romantic melody and a big blast of sound from the timpani and brass. There also is a strong sense of mystery, grandeur and power here, as well as a singing beauty and theatricality supplied by the sound of the horns and the harp. And then comes a calm ending.
The second movement features the brass and clarinet and suggests with a feverish sound that something is coming. There is a certain grandeur and excitement to it all, with changes in temperament throughout, and a big blast at the end. Then, in the third movement, there is a lyrical, dreamy sound that winningly draws on each section of the orchestra as it plays beautiful melodies evoking the shores of Sorrento and conjuring a sense of mystery, romance and a dreamland vibe. Finally, in the fourth movement, dubbed Neapolitan Folk Life, excitement is generated by the percussion section. And there is a playful race leading to a big blast as the piece keeps shifting moods and as every section of the orchestra is tapped. Bravissimo.
This concert will be repeated at 7:30 p.m. Saturday, Sept. 30, at Orchestra Hall, 220 S. Michigan Ave. For tickets, visit cso.org or phone (312) 294-3000.
Note: Glass, now 86 (and a New Yorker), did not make another trip to Chicago for the premiere of this piece. But he will no doubt head to Carnegie Hall to hear it when the CSO performs it during its visit to New York on Oct. 4 and 5.
And a few final words: The CSO recently named Muti music director emeritus for life, and it must now do everything in its power to bring him back to the podium as often as possible beginning in 2024. Just ask anyone who heard Thursday evening's concert — and all the music that has filled Orchestra Hall for the past 13 years of his tenure there — and you will understand why that is essential to the cultural life of Chicago.
In addition, I think Chicago's Lyric Opera should plan to produce Glass' "Einstein on the Beach" and invite Muti to conduct it.
Note: This article was updated to correct the name of harpist Julia Coronelli.
Follow Hedy Weiss on Twitter: @HedyWeissCritic
---