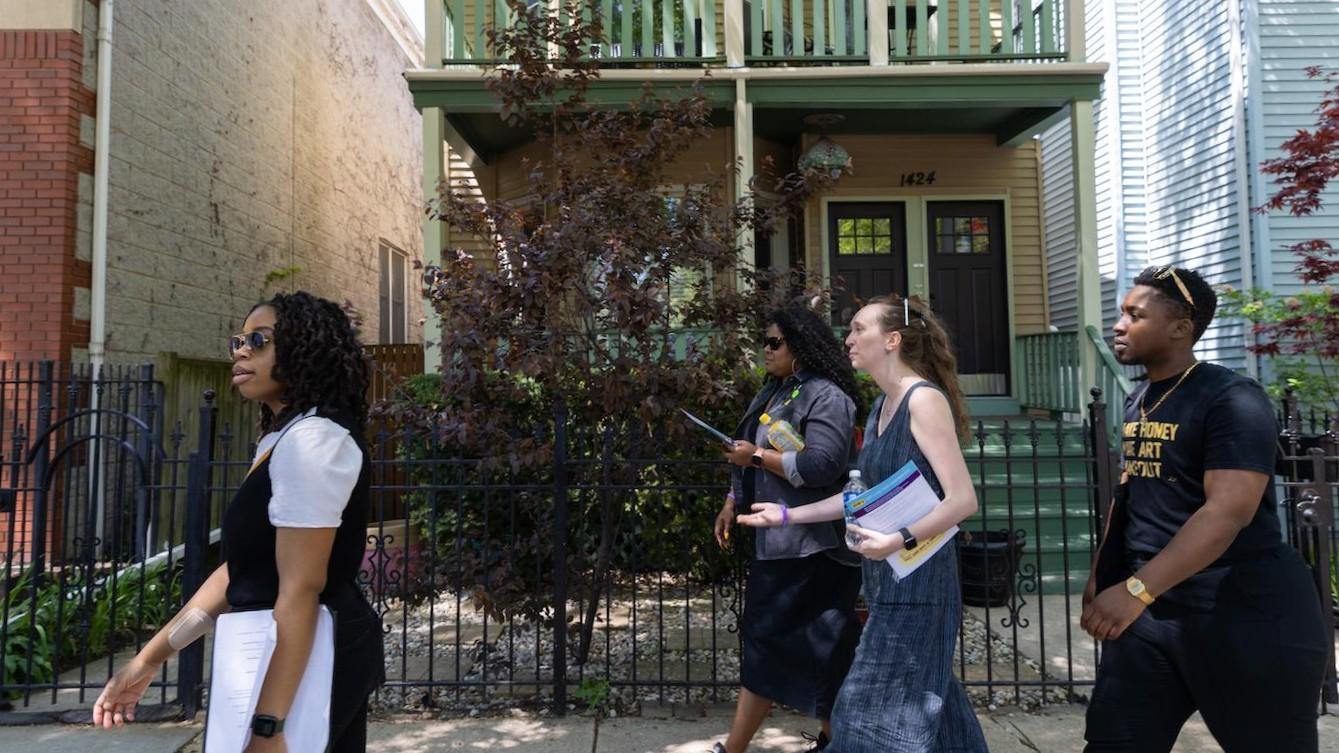 (Kristan Lieb / WTTW)
How do you feel in your neighborhood? How did you come to live in your neighborhood? What's missing in your neighborhood? What is your hope for the future of your neighborhood?
These are some of the questions the "Together We Heal" campaign asks residents to think about as part of a multi-step action kit meant to help Chicagoans explore the effects of segregation in the city and how it continues to perpetuate racial inequities.
A vital part of the campaign's work of encouraging people to be "segregation disruptors" is asking them to run errands in a neighborhood that is racially different from where they live.
The Folded Map Project, in collaboration with the city's Office of Equity and Racial Justice, is behind the creation of the action kit, which walks people through identifying a "twin" neighborhood, planning a trip and deciding what to do or take note of during the visit.
"We have to understand individual Chicagoans did not build systemic segregation, but we can come together to disrupt it," said Tonika Lewis Johnson, Folded Map Project creator. "The way that you do that is by learning about each other, learning about each other's neighborhood because once you learn about someone else, then you can start to care, and then you can start to allocate, and then you can start to demand."
The Folded Map Project, which debuted in 2018, is a visual investigation that explores segregation in the city through its grid system by comparing "address pairs" on the North and South Side, such as the 6900 block of North Ashland Avenue in Rogers Park and the 6900 block of South Ashland Avenue in West Englewood. The project brought together and fostered conversation among people who lived on different sides of the city, whom Johnson featured in the project as "map twins."
The idea behind the first iteration of the Folded Map action kit was born out of people aware of the Folded Map Project who also wanted to find their own map twin.
Johnson said the latest special edition version of the action kit that was released in collaboration with the city helps expand the kit's reach to people who may not even be familiar with the Folded Map Project.
The kit reminds participants spending time in a "twin" neighborhood to have a community member mindset as opposed to having a tourist mindset. Some examples of actions listed in the kit to help people get to know their "twin" neighborhood better include:
Walk around the produce section of a local grocery store. How is it the same or different from the one in your neighborhood?
Visit the nearest library. Who are the patrons, and how busy is it? Look at the community bulletin board — what kinds of things are on it?
Find an example of public art, a monument or a memorial in the neighborhood and take a picture of it.
"The assumption was that the action kit was created for White people to learn about Black neighborhoods, and I had to tell people: That narrow point of view is a byproduct of segregation," Johnson said.
Johnson continued, "To not even consider the fact that a Black person from a predominantly Black neighborhood on the South Side could learn and gain something from visiting a neighborhood that's racially, economically different than their own is a problem."
Tonika Lewis Johnson and Shermann "Dilla" Thomas hosted a bus tour to "disrupt segregation" in partnership with the city. (Kristan Lieb / WTTW)
People who complete the action kit by the end of September can enter a contest for a chance to win a free tour with TikTok Chicago historian Shermann "Dilla" Thomas.
The Folded Map Action Kit is part of a "Disrupting Segregation" campaign that Johnson and Thomas are doing in partnership with the city's Office of Equity and Racial Justice. They hosted several "Disrupting Segregation" bus tours this past summer as part of the broader campaign effort.
Johnson said that Thomas was a perfect addition to the effort to help tie ongoing segregation in the city back to Chicago's history.
"We're creating a tool for people to personalize and understand the historic impact of racist policies and systemic segregation today," Johnson said. "Once people begin to make that connection and understand that it's impacting our personal lives today, you still have to help people understand the history of neighborhoods."
To enter the contest for a chance to win a free tour with Thomas, participants must complete the action kit and share their experience on the city's interactive virtual healing map before Sept. 30.
Click here for more information about the action kit and how to enter the contest.
Contact Eunice Alpasan: @eunicealpasan | 773-509-5362 | [email protected]
---