Ald. Jim Gardiner (45th Ward) on the floor of the Chicago City Council. (WTTW News)
Ald. Jim Gardiner (45th Ward) retaliated against a frequent critic and political foe by directing a city employee to issue "unfounded citations" that could have forced the Jefferson Park man to pay more than $600 in fines, according to a report by the city's watchdog released Friday.
Inspector General Deborah Witzburg's determination that Gardiner violated the city's Governmental Ethics Ordinance is the "first-ever finding of probable cause in an inspector general ethics investigation of a sitting member of City Council," officials said.
The Chicago Board of Ethics ratified the inspector general's findings on June 12, and Gardiner now has an opportunity to contest the results of the probe at a future meeting of the board. Gardiner faces fines of $20,000 for each of two violations of the ethics ordinance.
In keeping with the rules governing the inspector general and Chicago Board of Ethics, Gardiner was not named in the report. However, sources confirmed to WTTW News that Gardiner is the subject of the probe.
Gardiner did not immediately respond to a request for comment from WTTW News.
Gardiner is accused of targeting Jefferson Park resident Pete Czosnyka, who has frequently criticized Gardiner and his ally Ald. Nicholas Sposato (38th Ward) both on social media and by filing complaints with the inspector general and the Board of Ethics.
Czosnyka, who was also not named in the inspector general's report, said he was pleased by the findings of inspector general, which caps a four-year odyssey. 
Gardiner should face the maximum penalty, Czosnyka said.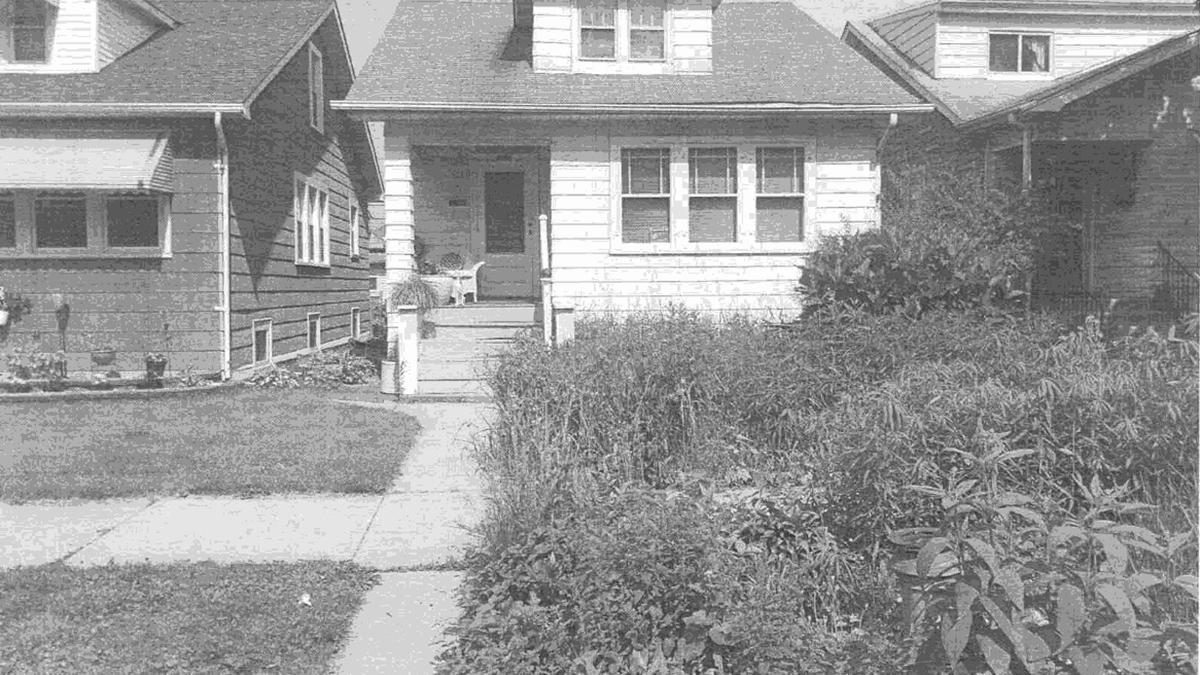 A black and white image of Jefferson Park resident Pete Czosnyka's front yard was included with an issued ticket. (Credit: City of Chicago)
Czosnyka transformed the front yard of his Jefferson Park home with insect- and environmentally-friendly native plants he purchased in 2011 from the city, including black-eyed Susans, hollyhocks, lemon balm and goldenrod.
In September 2019, the city slapped Czosnyka with fines totaling more than $600, alleging he had failed to maintain the parkway, causing rodent problems, and had weeds taller than 10 inches. Czosnyka challenged the tickets, and they were tossed out by a judge.
The inspector general's probe found that Gardiner "conceived the idea to issue citations" with two employees of the Department of Streets and Sanitation "at the alderman's ward office and proceeded with the plan even after being informed that plants at the critic's property were legal."
Gardiner, who was reelected in April, faces a number of investigations.
WTTW News reported in September 2021 that federal agents are probing whether Gardiner took bribes and demanded payments before taking official actions. He has not been charged.
In January, the Board of Ethics asked the inspector general to probe allegations Gardiner harassed a group of people collecting petition signatures for one of his opponents in November.
Gardiner apologized in September 2021 for sending profane and misogynistic texts to a former aide about Ald. Tom Tunney (44th Ward) and two women who work at City Hall.
Other texts obtained by WTTW News show that Gardiner obtained the criminal records of James Suh, a 45th Ward resident who organized a protest against Gardiner, and told his aide to "leak" those records. That prompted the Cook County Circuit Court Clerk to request that the office's watchdog probe how Gardiner got those records. 
Suh unsuccessfully ran against Gardiner in February's election.
In April 2022, Charles Sikanich, hired by Gardiner to oversee the 45th Ward, was charged with trying to sell an illegal machine gun while on the clock.
Sikanich's mother works in the circuit court clerk's office and would have easy access to criminal records.
Sikanich and Gardiner are also being sued in federal court by a man who alleges that the alderperson had him harassed, intimidated and falsely arrested after he'd picked up a cellphone that Sikanich left at a 7-Eleven. 
In addition, six 45th Ward residents sued Gardiner in 2021 for blocking them from his official Facebook page or deleting critical comments, in violation of their First Amendment rights.
One of Gardiner's ex-aides testified that the alderperson was focused on the commentary on his Facebook page, called his critics "rats" and vowed to rid the ward of them, according to the Chicago Tribune.
Contact Heather Cherone: @HeatherCherone | (773) 569-1863 | [email protected]
---