The watchdog for the Cook County Circuit Court Clerk has been asked to probe whether one of the office's employees improperly accessed court records and sent them to Ald. Jim Gardiner (45th Ward), who faces allegations that he has used his office to retaliate against political opponents, WTTW News has learned. 
Gardiner did not respond to a request for comment from WTTW News. 
"The Circuit Court Clerk's Office was recently made aware of an allegation that an employee may have accessed a court document and improperly used it for a non-clerk or court related function," according to a statement from Executive Clerk Patrick Hanlon. "The matter was referred to the Circuit Court Clerk's Office of Inspector General for an investigation." 
Text messages published by The People's Fabric, an anonymous blog that has targeted Gardiner with a series of articles and requests for records using the Freedom of Information Act, show that Gardiner obtained records showing that 45th Ward resident James Suh had been charged with unlawful use of a weapon in 2008.   
Suh said he was in possession of a "pocket knife."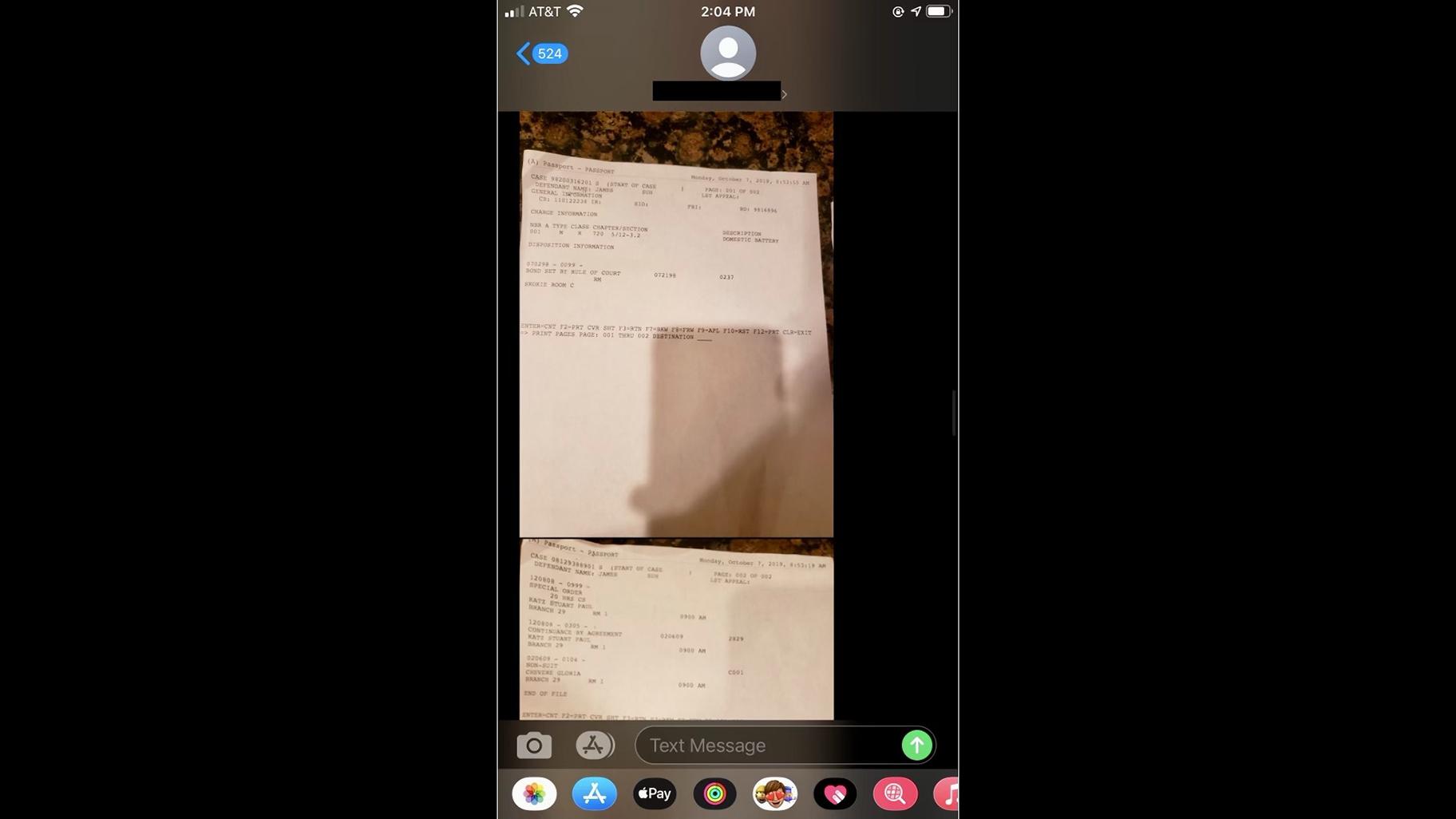 (Click to enlarge.)
Those text messages show that Gardiner urged a former staffer to leak those documents after noting that Suh had accused him of overstepping his boundaries. 
The messages were sent the morning after Suh helped organize a protest of Gardiner for blocking the approval of a proposed development near Six Corners in Portage Park. Gardiner also encouraged his former aide to locate a mug shot of Suh. 
Soon after he was elected to replace former Ald. John Arena (45th Ward) in February 2019, Gardiner blocked the approval of a 258-unit senior living facility. That left a huge hole at the heart of the shopping district at Irving Park Road, Cicero Avenue and Milwaukee Avenue, angering Suh and others. 
"Not very long after, in a semi-public forum, there was someone who made a veiled reference to knowing about my record," Suh said.
Suh, the owner of Car Care Auto Spa at 3618 N. Cicero Ave., was also critical of Gardiner on Facebook.
The circuit court clerk's office declined to identify any employees who are being probed in connection with the release of Suh. 
Charles Sikanich, who earns $101,000 annually as Gardiner's ward superintendent, is the son of a woman who works in the circuit court clerk's office and would have easy access to Suh's records. 
Sikanich could not be reached for comment.
The circuit court clerk's office is not required to respond to Freedom of Information Act requests. 
Suh was one of six residents to sue Gardiner in June after the alderperson blocked them from the Facebook page he uses in his role as an elected official. 
In her first public comments after Gardiner's texts were published, Mayor Lori Lightfoot said it was "never, ever acceptable" for an elected official to even suggest "that someone is going to be deprived of city services because of who they supported or didn't support in an election." 
As first reported by Block Club Chicago, more than 20 members of the Chicago City Council signed a letter condemning Gardiner's text messages. 
In addition, 13 members of the Cook County Democratic Party have called for Gardiner, who also serves as the 45th Ward Democratic committeeperson, to be investigated by the party's rules committee. 
Contact Heather Cherone: @HeatherCherone | (773) 569-1863 | [email protected]
Follow Paris Schutz on Twitter: @paschutz
---