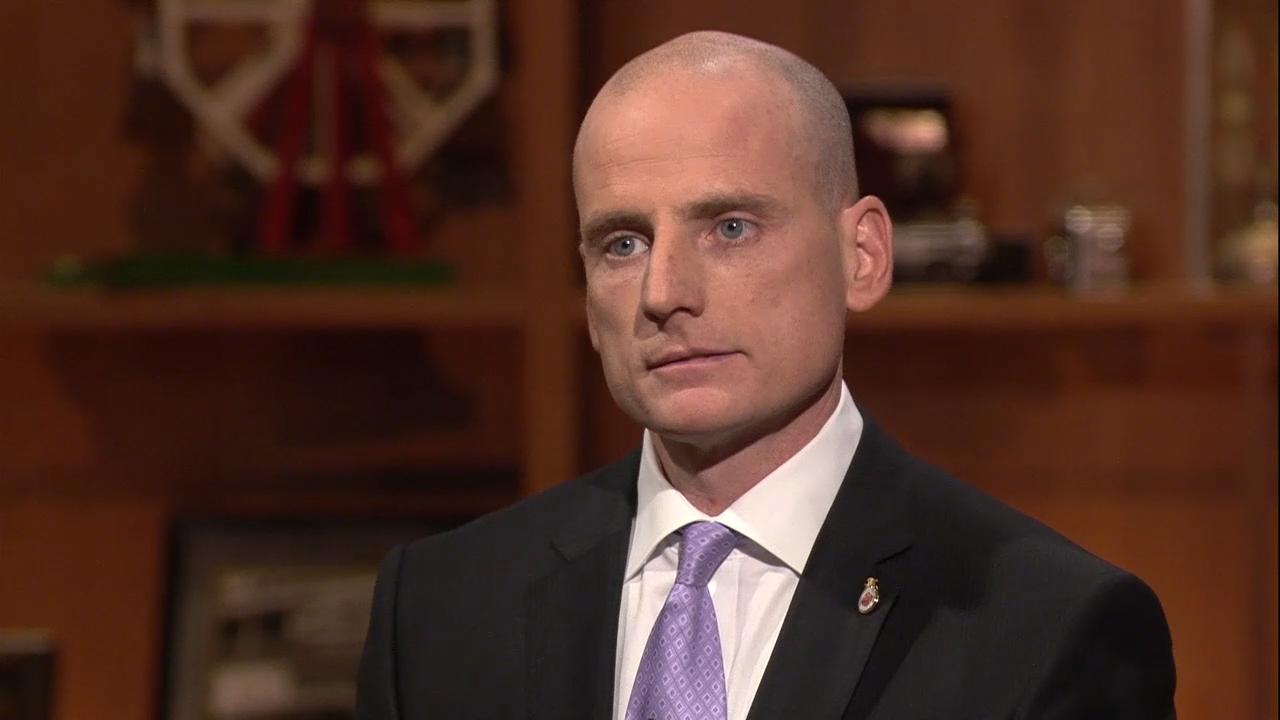 Jim Gardiner appears on "Chicago Tonight" on Feb. 27, 2019, a day after ousting two-term incumbent Ald. John Arena (45th Ward) in the municipal election. (WTTW News)
Chicago taxpayers paid $100,000 to resolve a lawsuit filed by a man who claimed he was wrongfully arrested at the request of Ald. Jim Gardiner (45th Ward) after finding a cell phone that belonged to a close associate of the alderperson, records show. That associate is now facing charges he tried to sell an illegal machine gun while working for the city.
Benjamin George, a construction worker, said his life was upended on Aug. 19, 2019, when he stopped at a 7-Eleven store in Jefferson Park and mistakenly picked up a cell phone left on the checkout counter that did not belong to him.
The phone belonged to former 45th Ward superintendent Charles Sikanich, who was charged in April 2022 with possessing a machine gun, attempting to sell a machine gun and official misconduct for trying to sell an MP-40 fully automatic machine gun, which is illegal to possess in Illinois, to an undercover ATF agent, while being paid by the city of Chicago, according to Illinois Attorney General Kwame Raoul.
Sikanich is set to stand trial in November, records show. His attorney did not respond to a request for comment from WTTW News.
Gardiner, elected in 2019, hired Sikanich to respond to complaints, snow removal and trash removal in his Far Northwest Side ward.
In his lawsuit, George said he planned to bring the phone to the Jefferson Park (16th) Police District after he was done with work for the day, but before he could get there, Gardiner and Sikanich arrived at his apartment and "profanely, and threateningly" questioned his roommate about the phone.
After George arrived at the police district headquarters with the phone, he was arrested and charged with theft. George's lawsuit claimed officers arrested him after Gardiner insisted he be charged with a crime.
George was held overnight before being released, and the charges were later dropped.
"The harm caused by the defendants' actions against me has caused an immense amount of anguish and suffering," George said in a statement released by his attorney, Daniel Massoglia, the director of First Defense Legal Aid's Civil Rights Clinic. "My employee and I lost our only source of income, causing me to lose my house which led to my mental health rapidly deteriorating. I had no choice but to leave the great city I grew up in and was proud to call home."
Massoglia, who represented George free of charge, said he hoped the settlement "is an impetus for greater police accountability in Chicago. We are all glad that Ben can finally move on with his life."
Had the settlement been even one dollar more, it would have required City Council approval under city rules. That would have required Gardiner's colleagues to approve — or reject — city lawyers' recommendation to resolve the case before a trial.
A spokesperson for the city's Department of Law declined to comment on the case or lawyers' recommendation that it be settled for an amount that would not require City Council approval.
The Civilian Office of Police Accountability, the agency charged with probing police misconduct known as COPA, probed the incident after George filed a complaint against the officers who arrested him. That investigation concluded in April that the officers had probable cause to arrest George.
During that probe, Gardiner admitted that he went to George's home to try to locate Sikanich's phone and later spoke to the officers who arrested George.
The news of the settlement was first reported by The People's Fabric, a Far Northwest Side political blog.
A federal judge ruled Monday that Gardiner violated the First Amendment by blocking six critics from his official Facebook page in 2021. Gardiner, who was reelected in April, now faces a trial to determine whether he should pay those critics damages.
Gardiner faces a number of other investigations.
Gardiner has been accused of leaking improperly obtained court records that showed James Suh, a frequent critic who ran against him, had been charged with unlawful use of a weapon in 2008. Suh helped organize a protest of Gardiner for blocking the approval of a proposed development near Six Corners in Portage Park.
The Cook County Circuit Court Clerk requested that the office's watchdog probe how Gardiner got those records.
Sikanich's mother works in the circuit court clerk's office and would have easy access to Suh's criminal records.
In July, Inspector General Deborah Witzburg determined that Gardiner retaliated against Jefferson Park resident Pete Czosnyka in 2019 by directing a city employee to issue "unfounded citations" that could have forced him to pay more than $600 in fines.
Suh and Czosnyka were among the plaintiffs in the First Amendment case.
The Chicago Board of Ethics could fine Gardiner in October for violating the city's ethics ordinance in connection with that finding by the inspector general.
WTTW News reported in September 2021 that federal agents are probing whether Gardiner took bribes and demanded payments before taking official actions. He has not been charged.
In January, the Board of Ethics asked the inspector general to probe allegations Gardiner harassed a group of people collecting petition signatures for one of his opponents in November.
Gardiner apologized in September 2021 for sending profane and misogynistic texts to a former aide about Ald. Tom Tunney (44th Ward) and two women who work at City Hall.
Contact Heather Cherone: @HeatherCherone | (773) 569-1863 | [email protected]
---