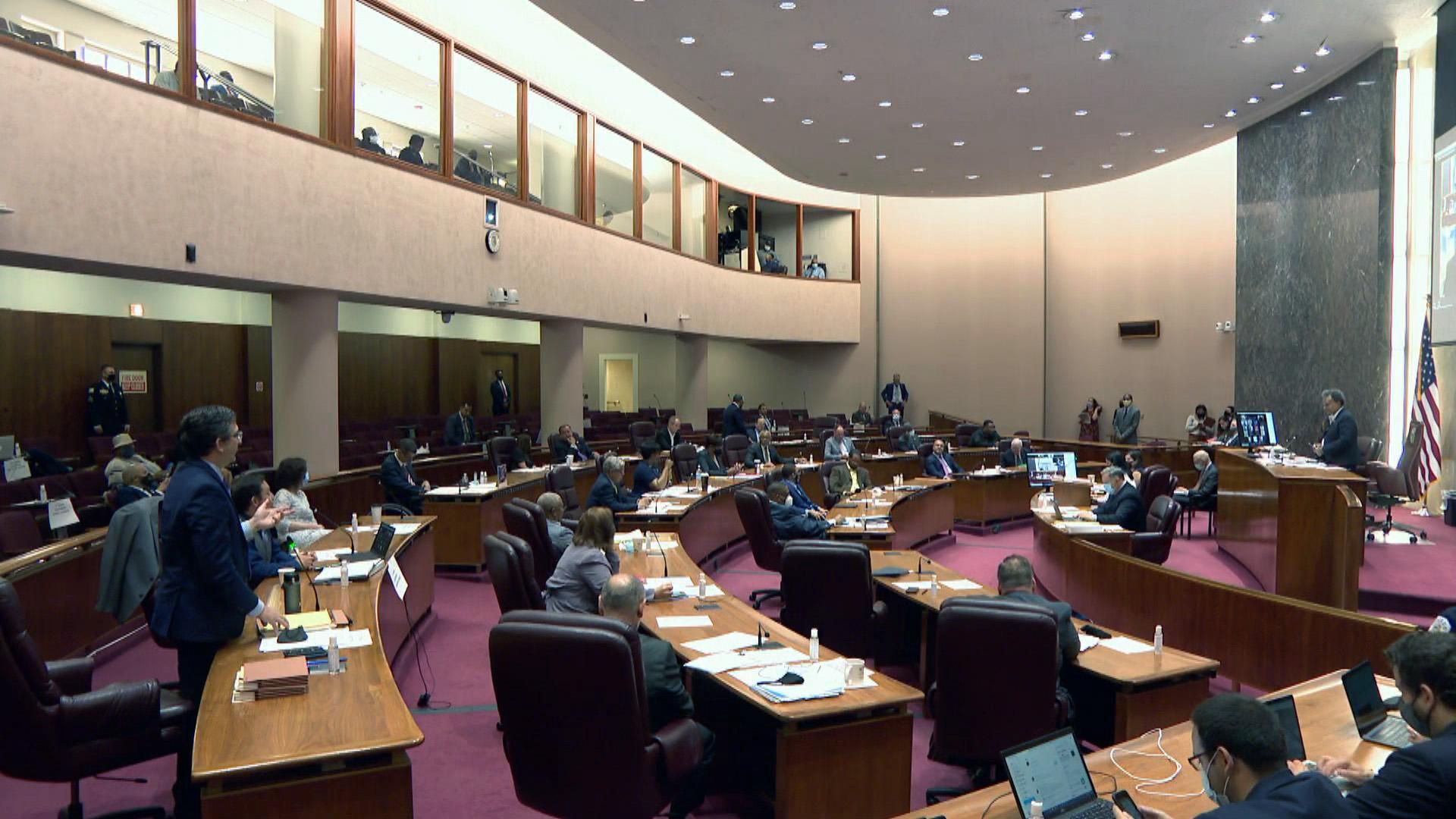 Members of the Chicago City Council meet on Wednesday, May 26, 2021. (WTTW News)
Fourteen seats on the Chicago City Council remain up for grabs and will be decided by a runoff on April 4 along with the race for mayor, according to final, unofficial results released Tuesday by the Chicago Board of Elections. The board will meet Wednesday to approve the results.
Former Chicago Public Schools CEO Paul Vallas earned 32.9% of the vote, and Cook County Commissioner Brandon Johnson 21.6%, according to final, unofficial results.
More than 35.8% of Chicago voters cast a ballot in the Feb. 28 election, slightly more than in 2019, results show.
Six members of the City Council will have to defend their seats during those contests, including 29th Ward Ald. Chris Taliaferro, who fell 50 votes short of winning a majority of votes in his West Side ward. Taliaferro, the chair of the City Council's public safety committee, will face CB Johnson, who has run a nonprofit organization fighting drug addiction for nearly three decades.
Also facing a runoff is embattled 45th Ward Ald. Jim Gardiner, who won 48% of the vote to serve a second term representing his Far Northwest Side ward. Gardiner is the subject of several probes by the city's inspector general. In addition, WTTW News reported in September 2021 that federal agents are probing whether Gardiner took bribes and demanded payments before taking official actions. He has not been charged.
In addition, Ald. Gilbert Villegas will face Chicago teacher Lori Torres-Whitt in the runoff to represent the 36th Ward, which was significantly redrawn to stretch from Schorsch Village on the Far Northwest Side along a narrow corridor that follows Grand Avenue to West Town.
However, Ald. Daniel La Spata won a second term representing the city's 1st Ward by the narrowest margin of any race on Feb. 28 — just 30 votes. La Spata is the final member of the City Council's five-member Democratic Socialist caucus to win reelection, joining Ald. Byron Sigcho Lopez (25th Ward), Ald. Rossana Rodriguez Sanchez (33rd Ward) and Ald. Jeanette Taylor (20th Ward). Ald. Carlos Ramirez Rosa (35th Ward), the dean of the caucus, was unopposed.
The Democratic Socialist caucus could expand its ranks if organizer Angela Clay defeats Kim Walz in the 46th Ward runoff. The winner of that contest will replace retiring Ald. James Cappleman in May.
None of the four City Council members appointed by Mayor Lori Lightfoot won their seats outright, and Ald. Anabel Abarca (12th Ward) lost. Instead, Ald. Nicole Lee will face Anthony Ciaravino to hang on to the 11th Ward seat; 24th Ward Ald. Monique Scott will face Creative Scott in a runoff to represent North Lawndale; and 43rd Ward Ald. Timmy Knudsen will face Brian Comer for the right to represent Lincoln Park on the City Council.
Ald.-elect. Julia Ramirez (12th Ward) will join Ald.-elect Jessie Fuentes (26th Ward), Ald.-elect Jeylu Gutiérrez (14th Ward), Ald.-elect Bill Conway (34th Ward) and Ald.-elect Bennett Lawson (44th Ward) on a City Council that will be very different than the one that took office alongside Lightfoot in 2019.
Residents of at least 14 wards will have a new alderperson as of May 22 — as well as a new mayor. Early voting starts Monday.
The 14 City Council races that will be decided by a runoff are:
4th Ward: Lamont Robinson v. Prentice Butler
5th Ward: Desmond Yancy v. Martina Hone
6th Ward: William Hall v. Richard Wooten
10th Ward: Peter Chico v. Ana Guajardo
11th Ward: Nicole Lee v. Anthony Ciaravino
21st Ward: Ronnie Mosley v. Cornell Dantzler
24th Ward: Monique Scott v. Creative Scott
29th Ward: Chris Taliaferro v. CB Johnson
30th Ward: Jessica Gutiérrez v. Ruth Cruz
36th Ward: Gilbert Villegas v. Lori Torres Whitt
43rd Ward: Timmy Knudsen v. Brian Comer
45th Ward: Jim Gardiner v. Megan Mathias
46th Ward: Angela Clay v. Kim Walz
48th Ward: Leni Manaa-Hoppenworth v. Joe Dunne.
Contact Heather Cherone: @HeatherCherone | (773) 569-1863 | [email protected]
---