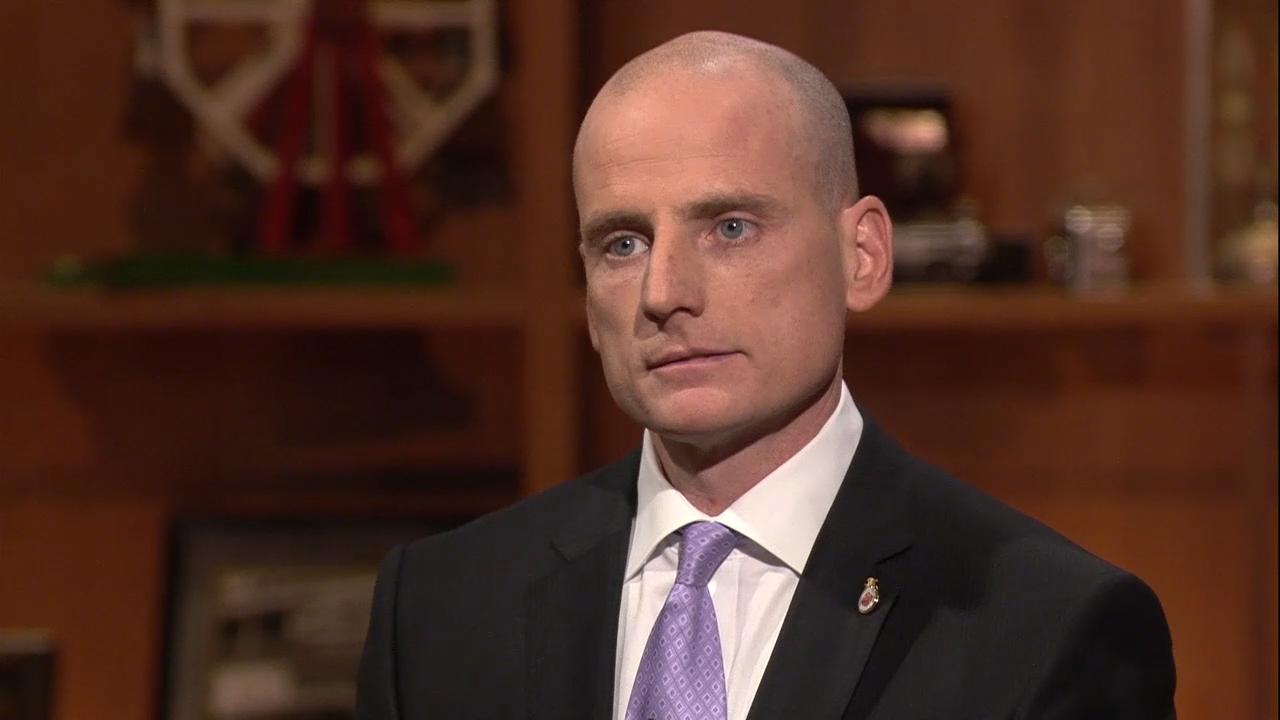 Jim Gardiner appears on "Chicago Tonight" on Feb. 27, 2019, a day after ousting two-term incumbent Ald. John Arena (45th Ward) in the municipal election. (WTTW News)
Ald. Jim Gardiner (45th Ward) on Tuesday apologized on the floor of the Chicago City Council chambers for sending profane and misogynistic texts to a former aide about Ald. Tom Tunney (44th Ward) and two women who work at City Hall. 
Gardiner declined to speak with reporters before and after Tuesday's City Council meeting, and had close ally Ald. Nicholas Sposato (38th Ward) hand out copies of the four-paragraph statement he read to his colleagues, who did not react. 
"I stand before this body to offer my sincerest apologies for the pain and insult that anyone has endured as a result," Gardiner said. "I take full responsibility for my offensive words in those messages." 
The messages were first published by The People's Fabric, an anonymous blog that has targeted Gardiner with a series of articles and requests for records using the Freedom of Information Act.   
In one text, Gardiner refers to Ald. Scott Waguespack chief of staff Anne Emerson as the alderman's "b----."   
In another text, Gardiner refers to Tunney as a "b----" and notes that he stayed until the end of an unidentified meeting. "F--- him," the text concludes.  
In a text first reported by CBS2-TV, Gardiner called Joanna Klonsky, a political communications consultant who works with Lightfoot, a "dumb b-tch." 
Gardiner apologized to Waguespack and Tunney by phone shortly after the texts were published, but had not spoken directly to Klonsky and Emerson until Tuesday, when he met with them privately. 
"I want to make it clear that I have never acted on those rants, however, they should not have been expressed and it certainly was not my intention to demean anyone," Gardiner said in his apology.
Full statement from Gardiner handed out by Ald. Nick Sposato: pic.twitter.com/gmVX4NP2LH

— Heather Cherone (@HeatherCherone) September 14, 2021
---
In a joint statement, Klonsky and Emerson said they shared with Gardiner "our concerns about his apparent habitual use of misogynistic and degrading language. We asked him to consider the linkages between such language and his other concerning behavior. We acknowledge the alderman's apology and hope to see his commitment to change demonstrated through his future actions." 
Other texts obtained by WTTW News show that Gardiner obtained the criminal records of a 45th Ward resident who organized a protest against him, and told his aide to "leak" those records. That prompted the Cook County Circuit Court Clerk to request that the office's watchdog probe how the alderperson got those records. 
In turn, Mayor Lori Lightfoot asked Inspector General Joseph Ferguson on Friday to probe whether Gardiner used the power of his office to retaliate against political critics. She reiterated that call on Tuesday. 
Ald. Rossana Rodriguez Sanchez (33rd Ward) said she would still ask her colleagues to censure Gardiner, saying that she feels uncomfortable around Gardiner and expects that many staff do as well. 
Ald. Susan Sadlowski Garza (10th Ward) said that she was not convinced that Gardiner's apology was meaningful. 
"When I apologize, I apologize from the heart, not reading off a piece of paper," Sadlowski Garza said. 
Lightfoot told reporters that Gardiner's decision to take to the floor of the council chambers to apologize put his colleagues in an "awkward position."  
Instead, Gardiner should answer reporters' questions about his conduct, Lightfoot said, calling for a "fulsome and expeditious" investigation of his conduct. 
Contact Heather Cherone: @HeatherCherone | (773) 569-1863 | [email protected]
---