A company with ties to Mayor Richard Irvin and a high-level city official is interested in developing three city-owned properties in west suburban Aurora, information obtained by WTTW News shows.
RGV Investments currently owns an office building just steps from Aurora City Hall called the Aurora Business Center. WTTW News first reported on RGV in May when the Aurora City Council approved an $8,124 grant to the business center, on top of $75,000 it received last year.
One of the company's co-owners is Ram Karumuri, the husband of the city's $116,000-a-year director of cyber and technology risk, Leela Karumuri.
Two of Karumuri's other partners in the Aurora Business Center are Ranapratap Chegu and Gyanchander Gongireddy, who run a consulting company in suburban Washington, D.C. They were also previously involved in a consulting business uncovered by the Tribune that Irvin quietly started in 2020 along with Aurora Chief Information Officer Michael Pegues — Leela Karumuri's boss, and a lifelong friend of Irvin's he's called his stepbrother.
Now, WTTW News has obtained information that RGV is interested in three other vacant city-owned properties on Broadway in the heart of Aurora's downtown, an area the city's been working for years to revitalize. 
In a letter to the city late last year, the firm pitched a mixed-use commercial and residential redevelopment of a former gym at 62 S. Broadway. City staff also had a meeting scheduled with company representatives this spring to discuss a letter of intent related to that building as well as buildings at 13 and 15-17 S. Broadway.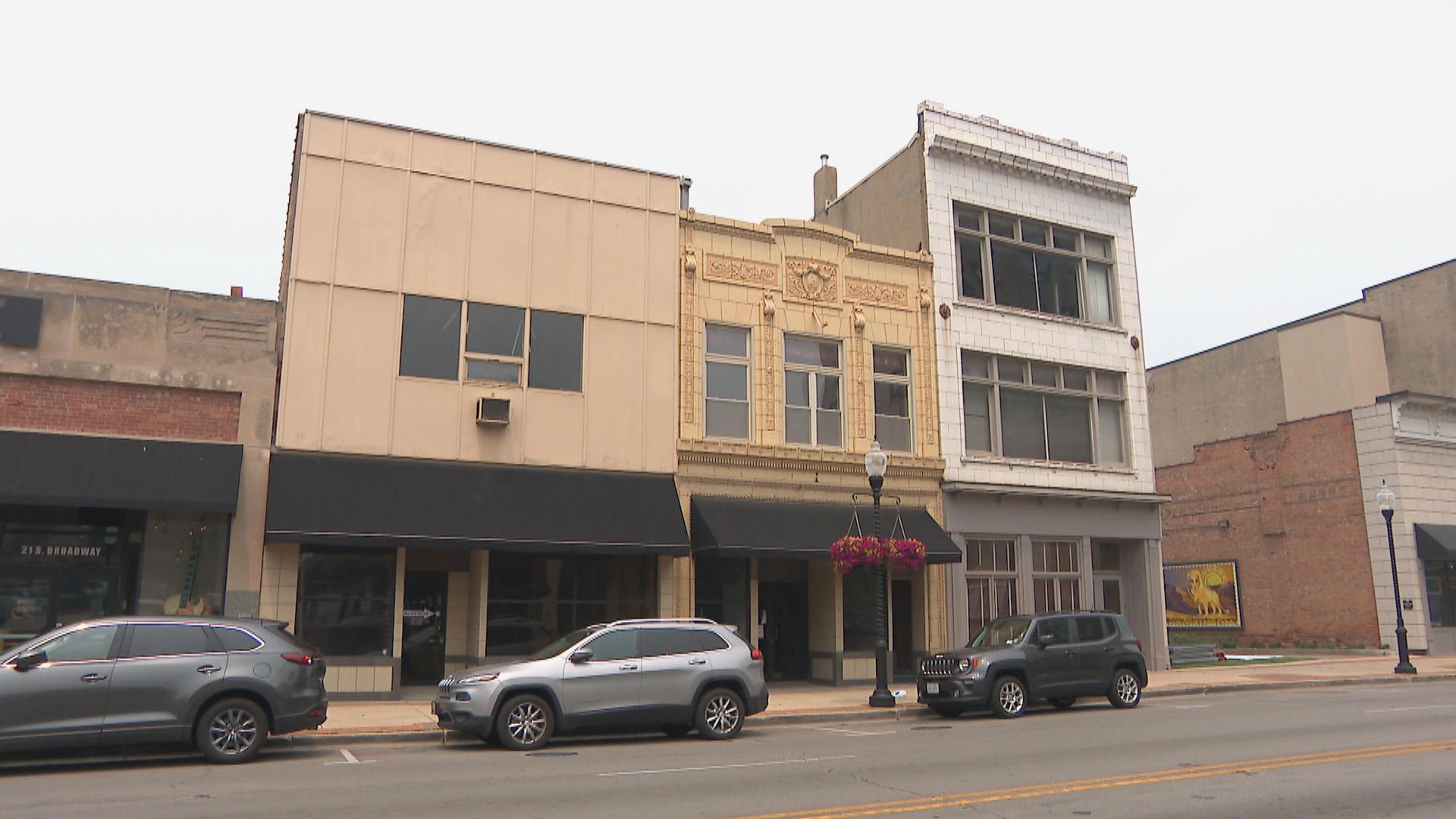 A company is pitching to turn to redevelop buildings at 13 and 15-17 S. Broadway in Aurora. (WTTW News)
In response to a public records request asking for that correspondence, the city of Aurora said there were not any responsive documents. After telling the city what WTTW News had learned independently, a staff member who works on Freedom of Information Act Requests said: "...in early February the City received a letter from potential investors who expressed interest in exclusive rights in certain property downtown for due diligence purposes. I understand that the City has not taken action in response to that correspondence nor has a letter of intent been entered into between the City with these investors, or any others, involving the property referenced in the correspondence. The correspondence is not a letter of intent, so it was deemed not responsive to your request."
Both the meeting invite and the subject line of the letter from December relating to the vacant former gym did use the language "letter of intent." But the city added that correspondence about real estate purchase negotiations would be exempt from FOIA disclosure under Illinois law.
RGV Investments directed a request for comment to the mayor's office. The city didn't comment any further on the potential deal for the city-owned properties, including on the financial terms. Any sale or development agreement would require city council approval, which would make the details public. 
In the past, well-connected companies looking to take over city-owned property in downtown Aurora, the state's second-largest city, have gotten buildings at no cost or with favorable terms.
It's part of a pattern WTTW News has reported on of people and businesses with personal and political ties to Mayor Irvin benefiting heavily from city incentives, including many who have donated to his campaign war chest.
Irvin has maintained these deals are above board and that he's committed to redeveloping Aurora's downtown.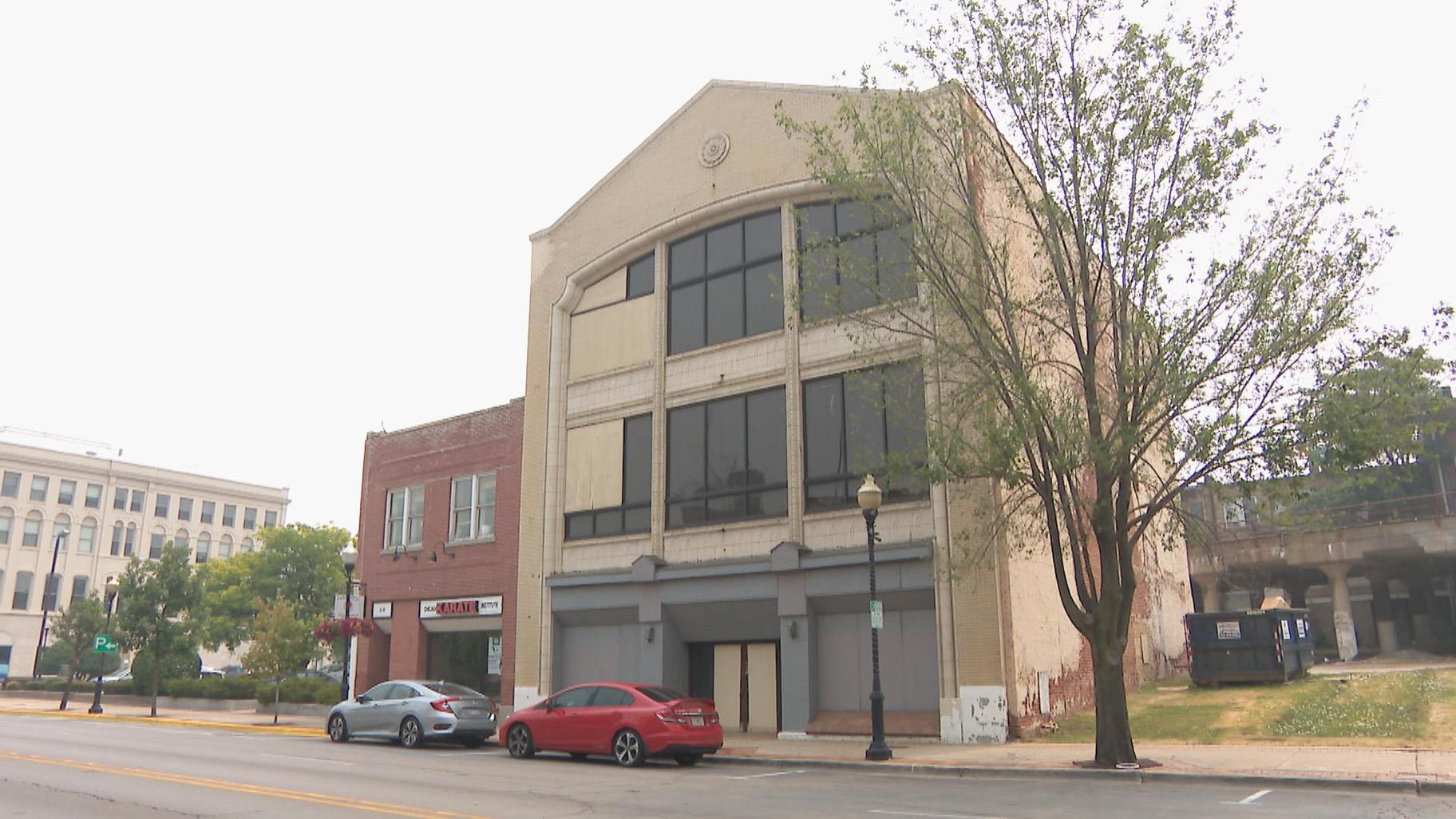 A company is pitching to turn the building at 62 S. Broadway in Aurora into a residential development. (WTTW News)
Contact Nick Blumberg: [email protected] | (773) 509-5434 | @ndblumberg
---