"Come fly with us, Aurora!" Mayor Richard Irvin cried to a cheering crowd at his 2023 State of the City address in March.
The theme of the event, Aurora Ascending, was tied to the location for Irvin's address, the company Revv Aviation's hangar at the Aurora Municipal Airport. There, the mayor touted the investments from Revv's owners both at the airport and in a new, taxpayer-subsidized brewpub nestled along the Fox River.
"From the moment I met (them), I knew they were not just going to be integral here at Aurora Airport, but also to our bigger vision for the entire city," Irvin said.
But a federal lawsuit awaiting a judge's ruling says that vision involves terms for Revv's owners that illegally disadvantage one of their competitors at the airport, JA Air. The legal fight predates Revv — with JA's suit arguing that the city long failed to hold Revv's predecessor company accountable for potential safety hazards, unfair price undercutting and more. JA claims the lack of oversight has made it a financial underdog for nearly two decades — and has come at a cost to Aurora taxpayers. The two firms are both private companies that provide aviation services including flight lessons, maintenance, refueling and more.
Despite years of efforts to evict that predecessor company, the Aurora City Council in 2020 approved a new lease with the firm — right around the time records show it was beginning negotiations with Revv's owners to sell.
In addition to the airport and brewpub deals, Revv's owners have also donated to Irvin's mayoral campaign fund, and even hosted a fundraiser for him at the same airport hangar just a month after playing host to the State of the City speech.
While the suit makes no claims about the timing or motivations of the deals, it argues that the unfairly generous terms for Revv's owners and their predecessor, Lumanair, violate the airport's own standards and federal law.
Those allegedly chummy terms fit with what some critics of Aurora government say is a longstanding culture of insiders getting a leg up. And Revv's owners are hardly the only individuals and businesses working with and getting incentives from the city who support Irvin and his allies. 
WTTW News has previously reported on a pattern of donations from benefactors of taxpayer-subsidized deals donating to Irvin, his former campaign manager's political action committee, and his former private practice law partner's two unsuccessful judicial campaigns.
"It's another piece in this pattern of people who donate or are materially supportive of the mayor getting taxpayer funding, getting support for their projects or businesses that others in the community are not getting," said Aurora resident and Irvin critic Aly Brown, who investigates city deals for her newsletter, Uncover Aurora. "It's impossible to believe that this is just coincidence."
The city of Aurora did not respond to a request for comment on the lawsuit or the political ties to the mayor.
The JA Air hangar at Aurora Municipal Airport. (Provided)
Slipshod Standards, Undercut Prices, Unpaid Debt
The JA Air Center has been in business since 1965. Once based at the DuPage Airport, the company in its lawsuit said it was induced to move to the Aurora Municipal Airport in late 2006. 
Before it could move to the Aurora Airport, JA says it was required to commit to a $10 million investment paid out in annual installments of $500,000 — and to spend $1 million up front to install above-ground fuel storage tanks, as required by the airport's minimum standards.
Those above-ground fuel tanks are just one of the ways in which the city's been accused of giving Revv's predecessor, Lumanair, preferential treatment at significant cost to competitor JA.
The airport's standards mandate a number of safety measures for fuel storage and farms, including a double-walled tank, spill protection and a security plan to keep the potentially hazardous material safe.
"There was no spill protection in place at the fuel farms operated by Lumanair, other than a 5-gallon bucket that appeared to be capturing leaking fuel," JA's attorneys argue in their suit. "Further, Lumanair's fuel farm was not secured in any way from access by the public or others who might tamper with the fuel."
The suit also slams the city for allowing Lumanair to continue using single-walled, fiberglass underground storage tanks built in 1979, despite the potential safety risks.
According to the Environmental Protection Agency, more than half a million underground storage tanks around the U.S. have had a confirmed leak since 1988. The agency warns that the "contents (petroleum or other hazardous substances) can seep into the soil and contaminate ground water, the source of drinking water for nearly half of all Americans."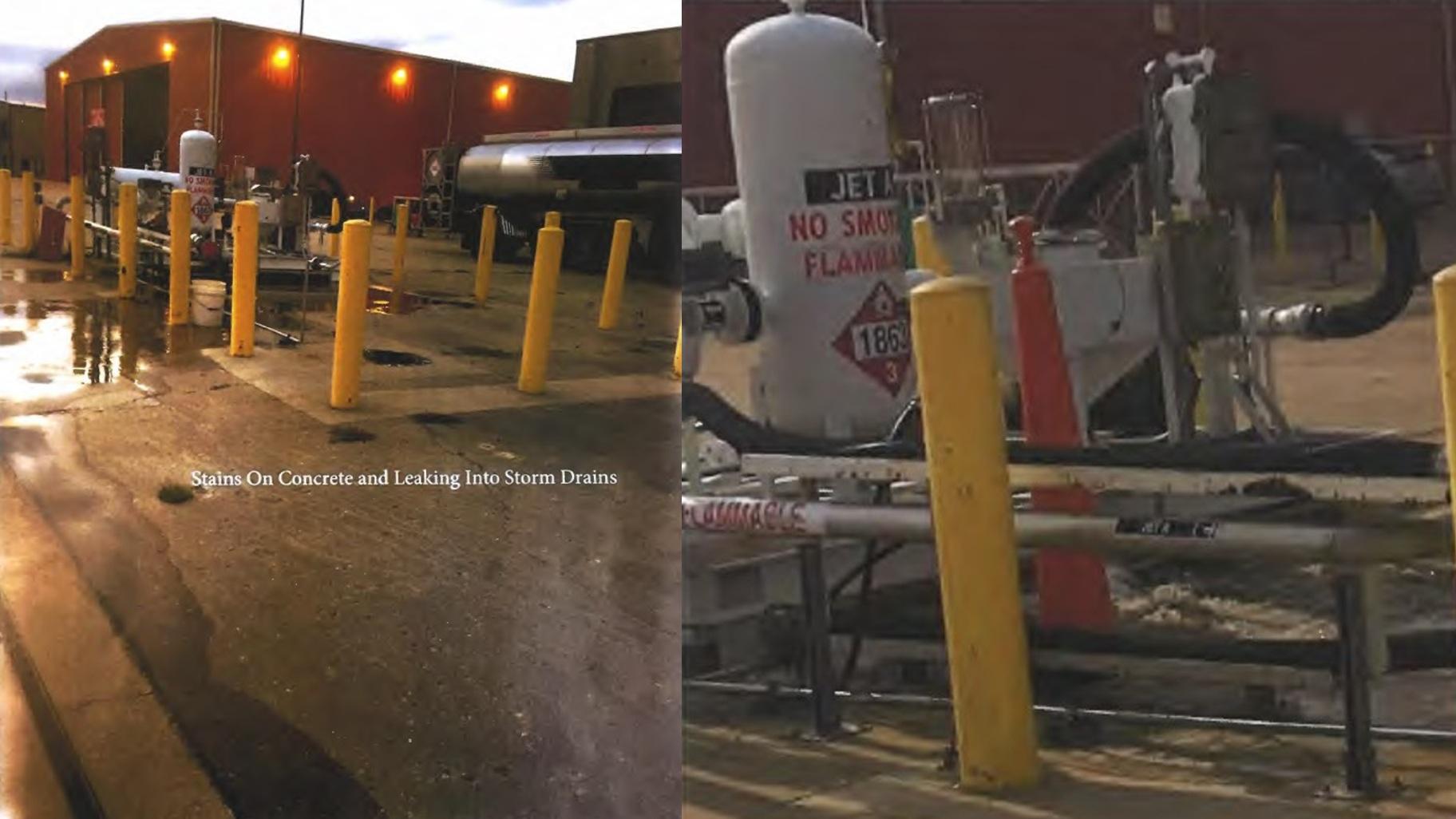 Images included in a lawsuit show how Lumanair stored fuel at Aurora Municipal Airport.
Lumanair's attorneys wrote in a 2020 court filing that the company "denies that any of its actions or inactions at the Aurora Airport expose the public and/or tenants at the Airport, including Plaintiff, to any risk of environmental hazard or financial damage." City documents show Lumanair did not believe it was subject to the fuel tank standards because they were adopted after its lease was already inked.
JA also claims that Lumanair illegally undercut them on fuel prices, which it could afford to do because the city gave Lumanair a pass on costly standards and charged it far less to operate at the airport than JA paid out. Both the city and Lumanair denied the charge.
As for the disparate payments the city required from the two firms, JA says Lumanair paid no rent or rent equivalents for the offices and hangars it used, while JA had to pay about $500,000 per year as part of its initial investment promise. Attorneys cite FAA standards that require the city to charge "the same rates, fees, rentals, and other charges" of companies that operate a same or similar business at the airport, a requirement city staffers acknowledged in a memo to the mayor and Aurora City Council about Lumanair's lease.
The suit also accuses the city of violating its own standards for the airport "to protect its tenants from unreasonable or unfair competition." But city attorneys argue it's about ensuring there's a market for new companies moving into the airport, and that it's Aurora's responsibility to run the airport like a "proprietor" rather than a government.
"A sophisticated business person who knows it is in a competitive situation with another business person at the same facility, is free to negotiate … to obtain comparable benefits," city attorneys wrote.
Another financial sticking point: JA accuses the city of unfairly issuing a general obligation bond to provide Lumanair low-rate financing to buy and rehab offices and hangar space, and later forgiving more than $5.7 million the company owed when it couldn't make the payments. Attorneys for Aurora and Lumanair deny the city forgave that debt, sticking taxpayers with the hefty bill.
JA's suit asserts that Aurora's airport could scarcely afford to leave so much money on the table, since it was "operating at a substantial deficit for years." The city's annual financial reports show the airport running between $203,660 and $433,788 in the red in the years 2017, 2018 and 2020. An email obtained by WTTW News cited far steeper costs in past years — a $1.8 million subsidy between 2006 and 2015, and a $4.2 million subsidy between 1996 and 2005.
Lumanair's former owner, who now works for Revv, directed WTTW News to the new company's owners for comment.
Legal Battles Begin
Between 2015 and 2018, the city filed four complaints in an effort to evict Lumanair from the airport. Attorneys for Aurora accused the company of failing to install above-ground storage tanks, not providing required business records and not maintaining required insurance, among other lease violations.
In 2019, Lumanair's lease expired, and after years of back and forth JA filed suit against Lumanair and the city.
JA's complaint said it made multiple offers to take over some or all of Lumanair's space at a fair market rate but was turned down, "depriving the citizens of Aurora of more than $700,000 per year in rental income."
JA says Lumanair operated without a lease from March 1, 2019, to July 31, 2020, in violation of airport standards.
Attorneys for the city deny that in their response to the suit. 
In a 2020 memo, city staffers paint a more complicated picture, writing that "While there is some uncertainty as to whether Lumanair successfully renewed its existing lease in 2018 … it has remained current in its rent payments to the City."
A New Lease — and a New Owner
Whether Lumanair was operating without a lease, in 2020 the city council considered a new deal with the company. In a committee meeting where he pitched the new lease to aldermen, the city's outside counsel said he was "fairly confident" Lumanair would make improvements to its facilities and bring its fuel tank into compliance, saying that "they really want to get this lease in place."
JA's complaint says the 2020 lease with Lumanair maintained many of the sweetheart deal conditions — including far more favorable rent terms and an additional two years for Lumanair to replace its potentially hazardous fuel tanks — "intentionally and unlawfully treating two similarly situated businesses differently with no rational basis."
The new lease took effect in August 2020 and put an end to the yearslong legal battle between the city and Lumanair. And it came around the time a city memo says Lumanair began negotiating with the people who'd buy out the business the following year.
A year later, Lumanair announced it was being purchased by a company known as Revv Aviation.
Mayor Richard Irvin praised the deal in an AviationPros magazine article in August 2021, saying the new owner "will literally take things to greater heights at the Aurora Municipal Airport."
"As a new tenant of the airport, we are honored by the welcome and trust we received from the city and from existing businesses at the airfield," new owner Peter Limberger said in the same article. "We will earn this trust, become good neighbors and contribute with our planned investments to the economic development of the airport and the city."
Limberger and his wife, Inga Carus, co-founded Revv's parent company, CL Enterprises. Based out of Peru, about 60 miles southwest of Aurora in LaSalle County, the company has holdings that range from aviation and real estate to wood products and chemicals.
In a statement to WTTW News, CL Enterprises President and CEO Hinesh Patel said since the lawsuit predates CLE and it's not a party to the dispute, it would be inappropriate for the company to comment on the case.
"When CLE/REVV acquired the LumanAir business, we negotiated an operating agreement with the city of Aurora," Patel said. "Both parties agreed to the terms and were satisfied that it is beneficial to both parties and the community of Aurora. This agreement was approved by the city council and has been on public record for several years."
CLE co-founder Limberger's reference to investments elsewhere in Aurora has taken shape in the form of a planned new location for Tangled Roots, a CL-owned brewpub that already has locations in DeKalb, Glenview, Lockport and Ottawa. The company says it'll spend $4.5 million on a new location in downtown Aurora.
CLE's development efforts have faced challenges elsewhere. 
Ottawa-based news radio station WCMY reported in June of last year that LaSalle's building inspector got a court order so he could enter a vacant hotel owned by CL, the exterior of which reportedly had "a fallen porch overhang, empty spots in the walls where bricks should be, and open and broken windows that can let water in."
The company eventually let the developer into the building, the redevelopment of which is reportedly nearly three years behind schedule. The LaSalle-based station WLPO has also reported that another CLE building renovation there, slated to be done by the end of 2019, is also still unfinished.
"Of the many ongoing investments of CLE, two projects experienced longer delays due to disruptions from the COVID pandemic," Patel said in CLE's statement. "Despite a challenging environment, all CLE's projects are back on track and will be finished as planned."
Irvin critic Brown says that fits with other taxpayer-subsidized redevelopment efforts that have faced long delays or have yet to materialize.
"You see it play out often where we're giving out these incentive packages and we're going to have this great development … and then there's no actual follow-through," she said.
For his part, Aurora's Irvin has been a major public booster of CL Enterprises and its owners.
"From the moment I met the visionary leaders Peter Limberger and Inga Carus, I knew they were not just going to be integral here at Aurora Airport, but also to our bigger vision for the entire city," Irvin said in his March State of the City speech.
Earlier this year, Aurora aldermen approved a package of incentives for CLE that involve selling a vacant building to the company for $1, along with $1.5 million in city funding — $900,000 of which is forgivable. CLE is also planning to use $1.6 million in state historic tax credit funding.
CLE's Patel noted that the redevelopment agreement came more than a year after the company's purchase of Lumanair, and said the deal "is consistent with agreements and incentives other cities offer to developers to attract investment, especially in the case of historic and challenging projects."
In addition to hosting both the State of the City address and Irvin's April fundraiser at the CL-owned hangar — where tickets ran $125 per person and suggested sponsorships ranged from $500 to $10,000 — CL Enterprises donated $4,500 to Irvin's campaign fund this spring, state records show.
"Integrity is crucial in all professional relationships. Businesses that earn the right to operate in any community owe a duty to support that community and its leadership," Patel said. "Across the USA communities work to attract businesses such as the CLE companies that can improve the quality of life and help them thrive. CLE is committed to contribute to the economic development and the quality of life for all the towns we have business in, including Aurora."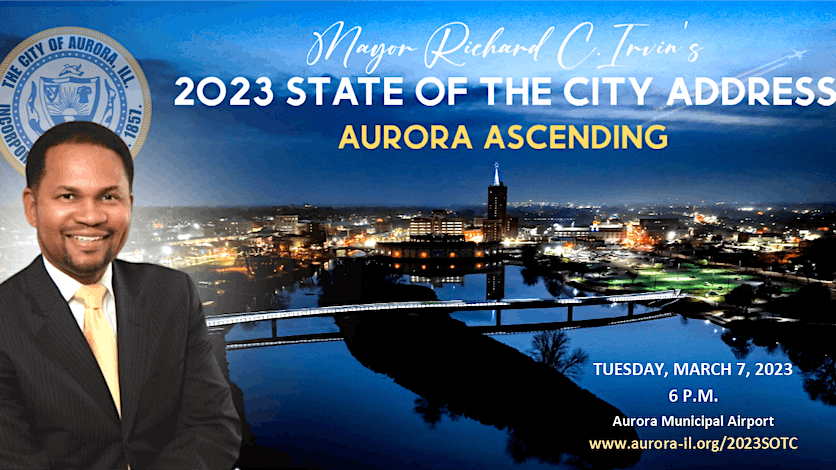 An invitation from Mayor Richard Irvin to the State of the City address at Aurora Municipal Airport. (City of Aurora)
WTTW News reporting from this year and last year has demonstrated a pattern of Aurora public contracts and taxpayer-funded deals going to people who donated to Irvin and his allies. In recent months, that's included grants to a furniture store owned by Irvin's girlfriend, as well a business center co-owned by two of his ex-business partners and the husband of a senior level city employee. Another firm benefiting from city largesse, which is led by a longtime Irvin friend and ally, also hired Irvin's ex-wife.
"This is not how things are supposed to function," Brown said. "The income inequality and a lot of the societal issues that we're dealing with right now are the effect of policies and politicians like this. These decisions that get made are what is causing a lot of the pain that people feel in their real lives."
Even though CL-owned Revv is not a part of JA's lawsuit, its redevelopment plans at the airport are still at issue in the case.
Irvin touted a major investment under the banner "Take Off Aurora," a plan to expand airport facilities for both Revv and city staff to use, open a customs agency for international flights, and other efforts.
"This $10 million renovation project will modernize the look and feel of the airport into one that is much more professional and welcoming," the mayor said.
That $10 million investment is part of Revv's updated lease deal with the city, inked in 2022. But JA's lawsuit says the deal gives Revv multiple ways to significantly reduce the amount it must commit to Aurora's airport.
The lease terms give Revv 10 years to spend the $10 million, with multiple deadlines it must hit. But JA argues the lease is unfair because it allows Revv's owners to spend $4 million to purchase another business at the airport, reducing how much they have to spend on their leased property by that same amount.
Additionally, JA points out that Revv's owners can reduce the amount they owe the city by $4 million if they bring another business into the airport that spends the same amount.
City attorneys flatly deny both charges in their answer to the complaint, but Revv's lease with Aurora — included as an exhibit — appears to validate JA's claims.
Awaiting the Judge
Both sides filed motions in May asking a federal judge to rule on the case. She has yet to decide whether to make a ruling or send the matter to trial.
"We have been in the aviation business for 58 years and have had operations at 6 different airports. In all those years, we've never had an issue with an airport sponsor," JA Air said in a statement to WTTW News. "We are confident that when the facts are presented in federal court that the jury will find in our favor."
Despite the long-running legal fight, Irvin and the owners of CL Enterprises still appear bullish on their future in Aurora.
"The more we get to know the city and its citizens and work with Mayor Irvin … and the whole administration team," Limberger said in March, "the more it is clear that Aurora is indeed ascending and Aurora is taking off."
Contact Nick Blumberg: [email protected] | (773) 509-5434 | @ndblumberg
---