Two former employees of Laura Ayala-Clarke, the girlfriend of Mayor Richard Irvin of west suburban Aurora, claim she failed to pay them for several weeks of work and isn't running her business on the up-and-up.
In recent weeks, WTTW News has been reporting on Laura's Furniture, the company owned by Aurora Mayor Richard Irvin's girlfriend. The Aurora City Council approved a $10,000 grant to Laura Ayala-Clarke's furniture business in May, despite the potential conflict of interest. Ayala-Clarke's company also misrepresented whether it had gotten COVID relief funding in the grant application.
Now, Natalie Offen and Nikolas Rodriguez tell WTTW News they're still waiting for money she owes them from working at her store during parts of December of last year and this January.
Offen and Rodriguez say they first met Mayor Irvin late last year when Rodriguez invited the mayor to a restaurant Rodriguez promotes on TikTok. They say later on Ayala-Clarke joined them, and the next day Offen went to the furniture store to do Ayala-Clarke's lashes, which was what Offen did for work at the time – but that the talk quickly turned to Ayala-Clarke looking for help at the store and beyond.
"She basically told us the dream, saying that she was looking for people to run her store and then eventually partner with her in opening another store, and … being able to bring our daughter to work the way that she brought her children to work," Offen said.
Offen and Rodriguez say they made a verbal agreement they'd each be paid $500 a week, plus commission on anything they sold.
"I thought everything was legit because she's with the mayor, you know?" Rodriguez said.
But they say despite filling out all the paperwork to get on payroll, they weren't paid the first week. The second week, they say Ayala-Clarke paid Offen $500 and Rodriguez just $250 with a transfer via Zelle from a personal account – and that was all they ever received, despite working full-time at the store for about a month. 
Offen shared extensive text message records repeatedly asking when they'd get paid. Those messages appear to show Ayala-Clarke repeatedly putting them off and eventually responding angrily before telling them to drop their key off and stop coming in.
"It was around Christmas time. We didn't get everything we wanted to get for her daughter. It was around the time for rent. I reached out to her and let her know that my landlord was going to charge me a late fee," Offen said. "She just did not seem to care."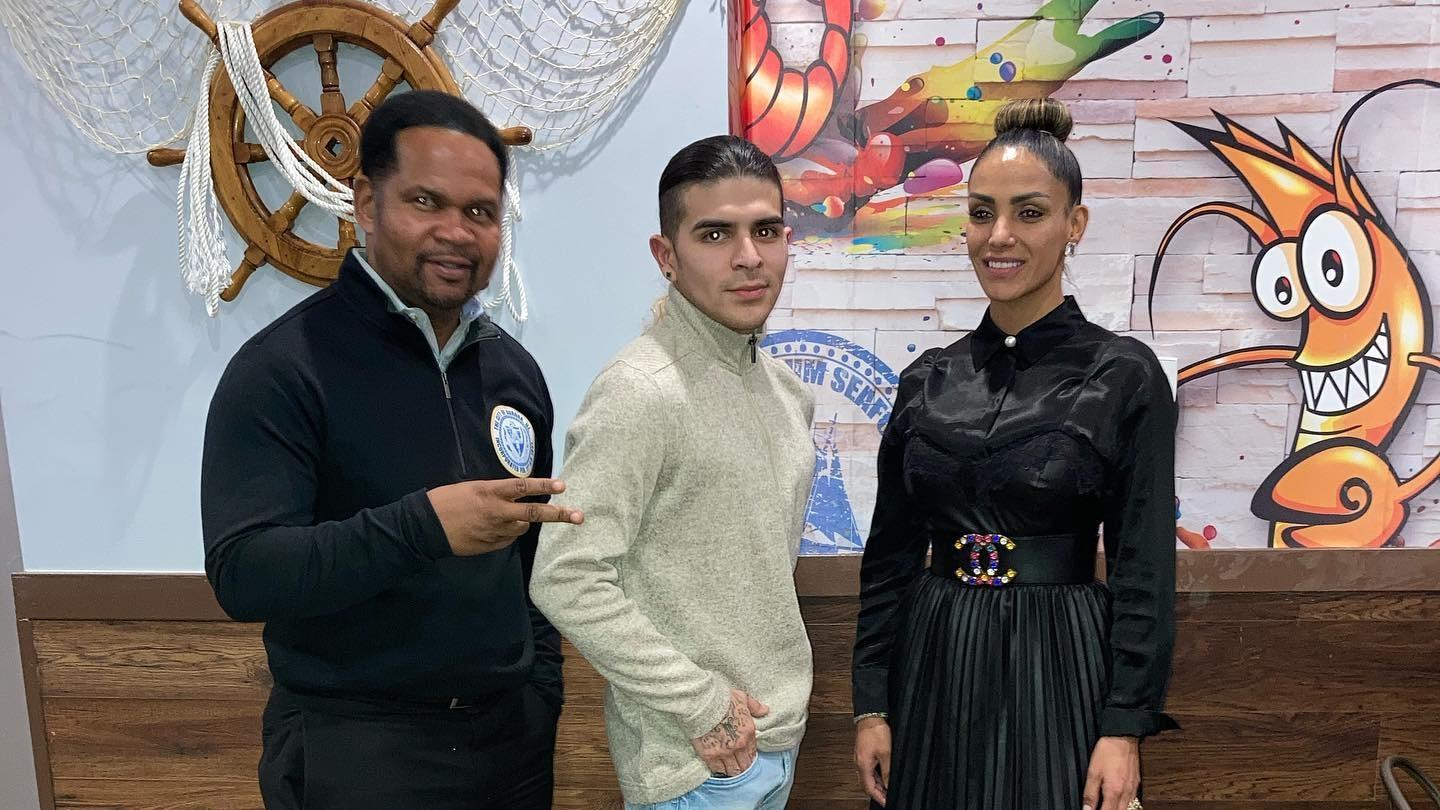 Aurora Mayor Richard Irvin, Nikolas Rodriguez, and Laura Ayala-Clarke on the night Rodriguez says they first met.
Reached by phone, Ayala-Clarke said she could not comment and that her attorney was handling everything, but that any claims Offen and Rodriguez make about her or her business are not true. 
Offen also shared messages she sent to Irvin asking about the issue. They appear to show Irvin saying that as mayor, he has too much on his plate to get involved.
Offen and Rodriguez also charged Ayala-Clarke with failing to pay them in a complaint to the Illinois Department of Labor. A spokesperson told WTTW News the department can't comment because it's an open and active investigation. 
A subpoena sent to Ayala-Clarke obtained through a public records request outlines the department's demands for a variety of records relating to Offen and Rodriguez's employment. 
WTTW News also learned from state records of a $48,958 tax lien for failing to pay the state sales/use taxes and the 911 surcharge – a lien Offen and Rodriguez said was posted on the door of the store one day when they showed up for work. 
The two also say they experienced numerous customer complaints from people who said the furniture was late, damaged, or that the quoted price kept changing.
"We've seen so many angry people, people saying that they never received the furniture they paid for, people waiting months for their things," Offen said.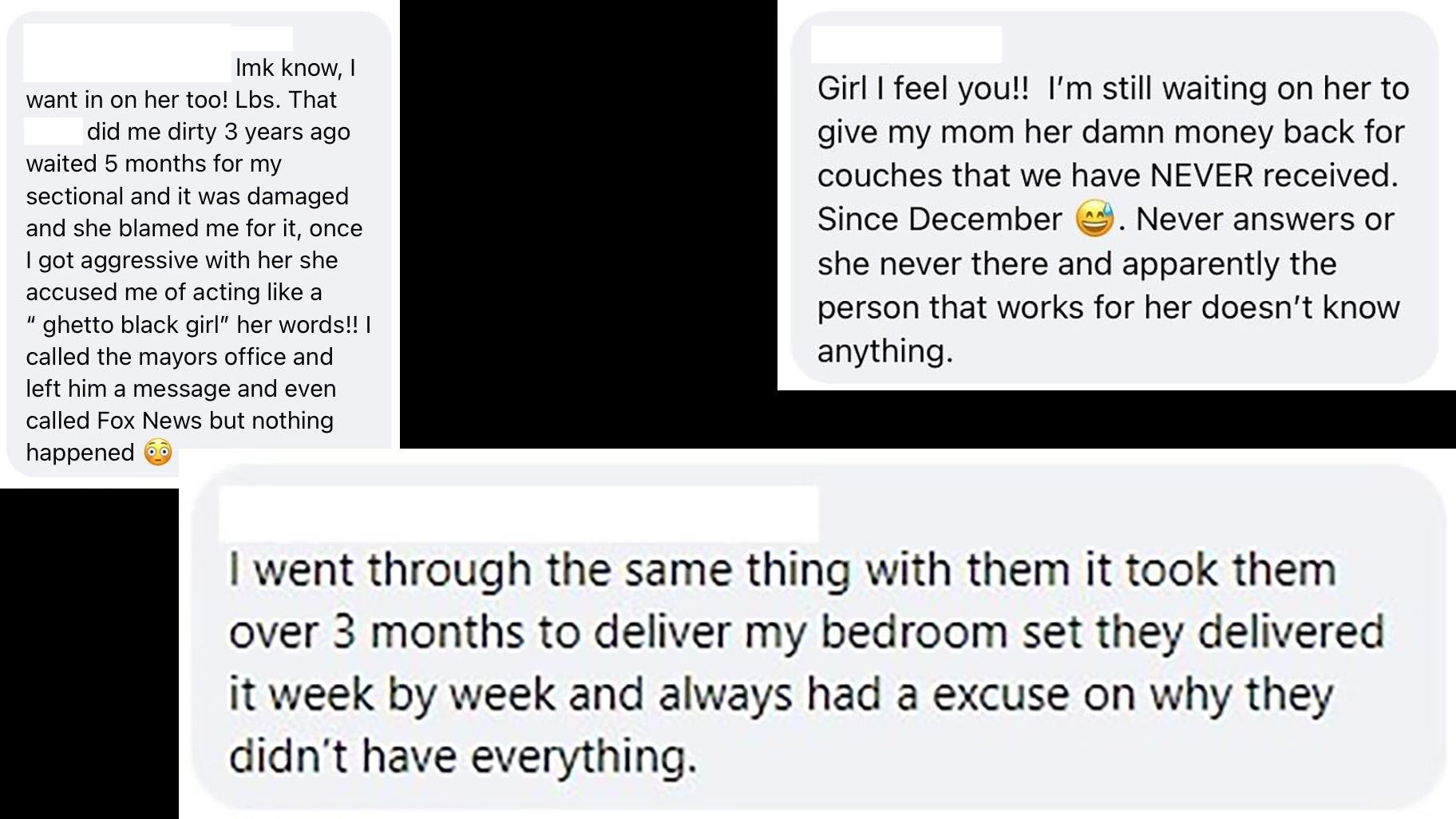 Facebook complaints made against Laura's Furniture.
Several people also complained on a public Facebook post Offen made about her time working at Laura's Furniture. The company has an "F" rating on the Better Business Bureau website with several complaints and negative reviews.
Offen and Rodriguez even say Ayala-Clarke tried to charge them more for furniture the two purchased than agreed upon, and said they owed her for use of a truck – and that she backdated a receipt for the furniture to a date before they even started working at the store.
"I feel like nobody wants to stand up in the community because she's dating the mayor and they're feared because of the power he has politically," Rodriguez said. "There needs to be justice."
Payments from the city grant program Ayala-Clarke is set to benefit from are being delayed.
City staff say it's due to missing documentation from several companies involved and that the applications are now all under review.
Contact Nick Blumberg: [email protected] | (773) 509-5434 | @ndblumberg
---