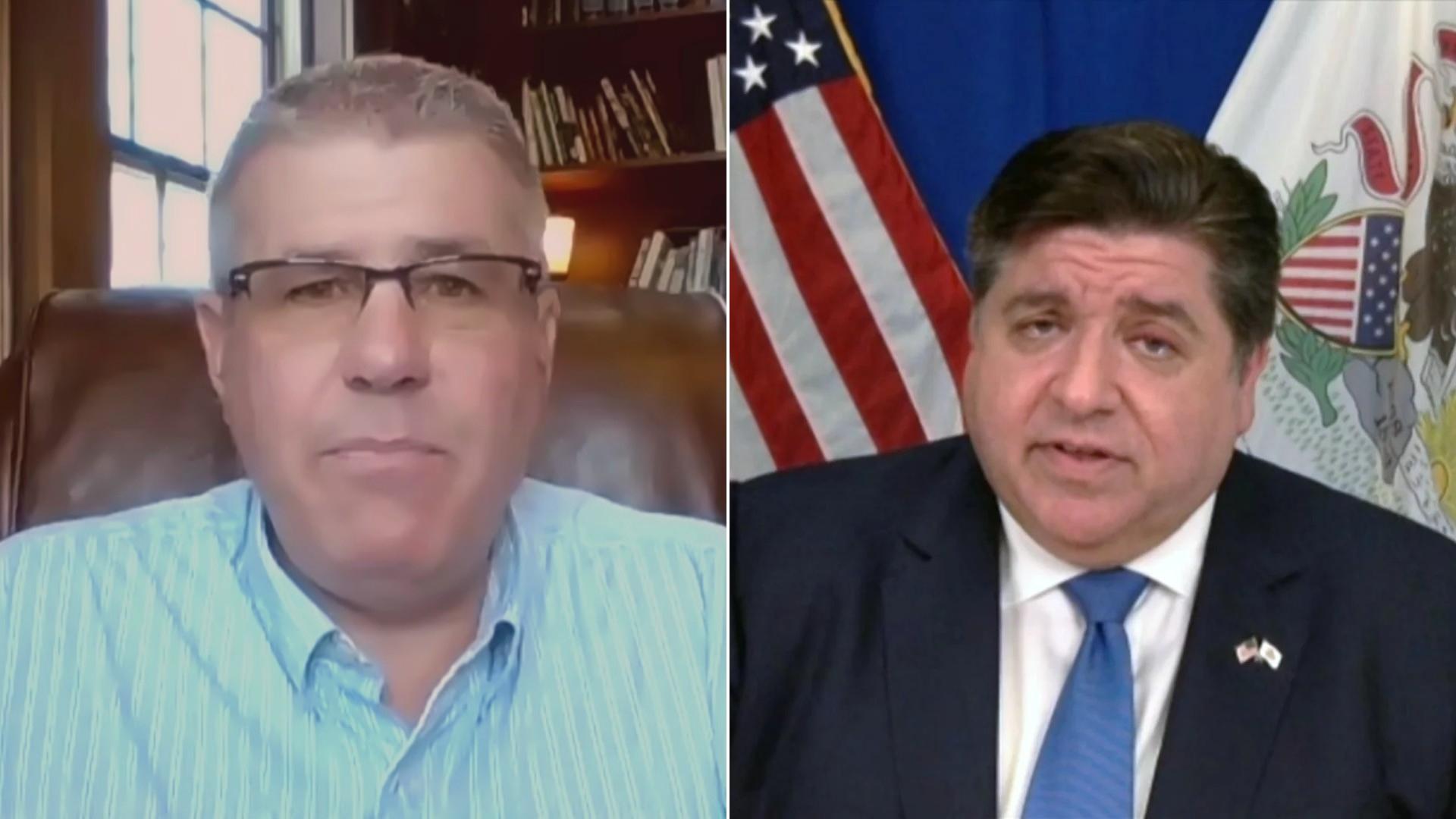 State Sen. Darren Bailey and Gov. J.B. Pritzker. (WTTW News)
Fresh off an endorsement from former President Donald Trump, farmer and state Sen. Darren Bailey, R-Xenia, coasted to victory in the  six-way GOP contest for Illinois governor — a win he achieved with the help of his opponent in November's general election, Gov. J.B. Pritzker.
"Friends, tonight your voices were finally heard. The voices of working families, parents, taxpayers, law enforcement and everyday citizens," Bailey said to cheers at a campaign party Tuesday night in Effingham. "Tonight our movement sent a clear message to the establishment and the political elites: We will not be ignored."
With 96% of precincts reporting as of midnight on Tuesday, Bailey claimed 57% of the vote while runners up entrepreneur Jesse Sullivan and Aurora Mayor Richard Irvin garnered about 15% each, according to unofficial results.
According to the Irvin campaign, the Democratic Governors Association, the Democratic Party of Illinois and Pritzker spent almost a combined $37 million on digital and TV ads that either raised Bailey's name recognition or attacked Irvin.
The ads boosted Bailey by calling him "too conservative" for Illinois — a phrase that helped Bailey's bonafides with the Republican base.
Pritzker easily captured the Democrats' nomination with 92% of the vote, even as he is getting national mentions as a possible contender for president in 2024.
The governor, an heir to the Hyatt fortune, spent $171.5 million in his 2018 bid for governor, and has since put another $132 million into his campaign coffers.
At his primary party in Chicago, Pritzker sought to turn Bailey's support from Trump into a negative.
"A few days ago, Trump came to our state and did what he does best. Spew bile on the ground and hope that it takes root in our soul. And proudly standing by his side was the Republican nominee for governor of Illinois," Pritkzer said. "Darren Bailey, let me be clear. Someone who seeks out and accepts the endorsement of a racist, misogynistic, homophobic, xenophobic, twice-impeached former president does not deserve to come anywhere near this state's highest office."
The governor's campaign speech focused on the achievements of his first term: A law that will in 2025 raise the statewide minimum wage to $15, increased funding for schools, budgets that led to a series of upgrades to Illinois' credit rating, a law protecting the state as welcoming to those seeking abortions and the 2019 $45 billion Rebuild Illinois infrastructure plan paid for in part by an increase in the state tax on motor fuel.
Bailey is now using Republican votes for that bipartisan infrastructure package as a means to parlay his newfound status as the party's standard-bearer to displace moderates and otherwise make shifts in GOP leadership.
"Our own party has failed us friends," he said at a campaign stop Monday. "Our own people, that we elect, are stepping in. And they're compromising us with these tax hikes. Doubling your gas tax? Too many Republicans participated in that."
Bailey visited each of Illinois' 102 counties during his campaign for governor, and continued daily Facebook Live videos that helped him to garner grassroots support, but his main rise to prominence was through fighting Pritzker's COVID-19 mask mandates.
He looks to be joined at the top of the ballot by apparent GOP attorney general nominee Tom DeVore, a lawyer who went to court to fight the "tyranny" of Pritzker's mask mandates in schools and businesses.
DeVore would  face incumbent Attorney General Kwame Raoul on Nov. 8.
With 93% of precincts reporting, DeVore was leading with 44% of the primary vote, besting suburban lawyer Steve Kim at 34%, according to unofficial results. Kim was part of a slate backed by Citadel hedge fund CEO Ken Griffin.
Irvin, who was vying to be the first Black nominee for governor of Illinois from either major party, had been an early favorite in the GOP race, thanks mostly to $50 million from Griffin.
In a statement, Griffin said Irvin "would have been a terrific Governor, and I am proud to have supported his campaign."
"The unprecedented tens of millions of dollars spent by Pritzker and national Democrats in the Republican Primary to avoid facing Richard in the General Election demonstrated he was the right candidate," Irvin wrote. "I am grateful to Richard for his public service and for offering voters a real opportunity to turn Illinois around. The people of Illinois deserve so much better than four more years of the out-of-control crime, high taxes, and continued corruption that have defined J.B. Pritzker's time in office."
Griffin's spokesman did not directly respond to a question about whether he'll lend support to Republicans on a slate with Irvin that made it out of the primary – namely the uncontested candidates for treasurer and comptroller, state Rep. Tom Demmer of Dixon and McHenry County Certified Fraud Examiner Shannon Teresi, respectively.
The Democratic incumbents, Treasurer Mike Frerichs and Comptroller Susanna Mendoza, also had no primary competition.
Last week, Griffin made public that Citadel and his family are moving from Chicago to Miami.
Former U.S. Attorney for Central Illinois John Milhiser, the Griffin slate's candidate for secretary of
state, lost to Republican state Rep. Pat Brady of Bloomington, who took 76% of the vote with 92% of precincts reporting, according to unofficial results.
Secretary of State Jesse White's retirement leaves the position open, and one of Republicans' best opportunities to win control of a statewide office.
On the Democrats' side, former state treasurer Alexi Giannoulias bested Chicago City Clerk Anna Valencia in the race for with 53% of the vote to her 34%, with 92% of precincts in, according to unofficial vote totals as of midnight.
The secretary of state's office has been an opportunity for politicians to catapult themselves to higher positions, as former governors Jim Edgar and George Ryan once did.
But the governor's race is set to be a marquee matchup, and a test of where Illinois stands on divisive issues like abortion, transgender rights, gun control and criminal justice.
"Friends, millionaires like Pritzker can't relate to the struggles of working people and taxpayers like us. It's that simply," Bailey said in his victory speech. "Pritzker doesn't' understand how his and Joe Biden's extreme national agenda helps fuel inflation and increases utility bills for families like us across Illinois. He doesn't understand the damage that his lockdowns did to small businesses, schools, mental health and working families across the state. He doesn't understand that his war on police has fueled the war on our streets, making our neighborhoods dangerous all across this state."
Pritzker's own victory speech was riddled with shots at Bailey.
"To love this state you have to love every part of it," Pritzker said, a dig to Bailey who in May called Chicago a crime-filled "hellhole."
"For those who need reminding, Illinois fought with the Union in the Civil War," Pritzker said. "Darren Bailey does not represent Illinois values."
In the primary, Pritzker was more focused on the Republican candidates and ignored the nominal challenge from former army officer and Chicago nurse Beverly Miles.
Suburban businessman Gary Rabine, former state senator and veteran Paul Schimpf and lawyer Max Solomon also competed in the GOP primary for governor.
Sullivan, hoarse from last minute glad-handing, told supporters at an election event at his hometown of Petersburg that his campaign "felt like a calling from God, to say: We love our home so much. And we have these broken politics that we have to fix."
Sullivan called on his supporters to get behind Bailey in a battle for the "core values" of Illinois because "God belongs at the center of our politics."
"It was never about worldly success. For us, this was always about being faithful to the calling that God gave us," Sullivan said.  "If I have to lose I want to lose to a man of faith, I want to lose to a man who's going to bring these conservative values to Illinois. So he is a man of faith, he is a man of conservative values. Now it's our job to get behind Darren and make sure that we go and try to beat J.B. Pritzker."
Bailey's hand-picked running mate is former conservative talk show host Stephanie Trussell; Pritzker will return to the ballot with Lt. Gov. Juliana Stratton.
---