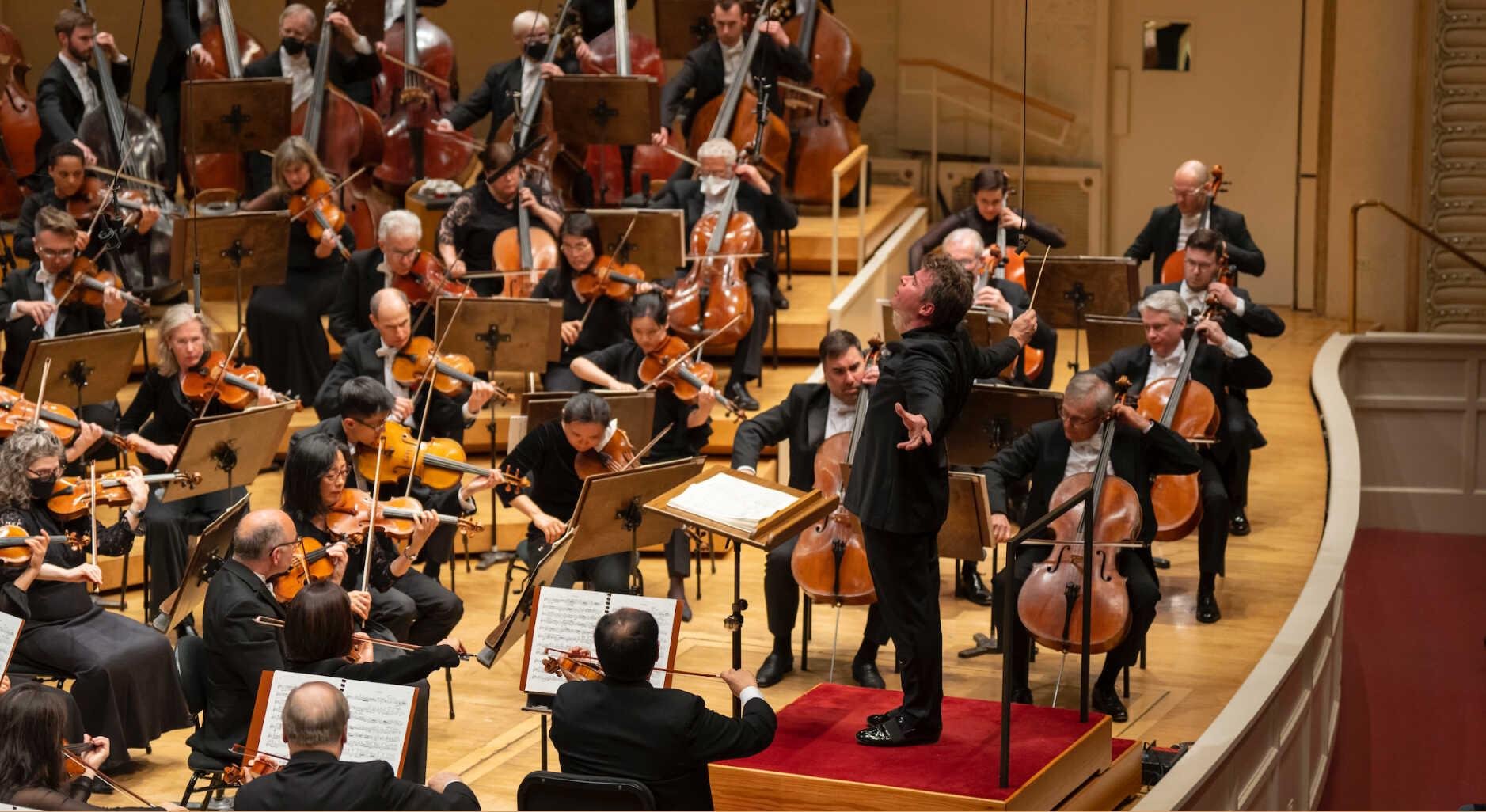 Guest conductor Jakub Hrůša leads the Chicago Symphony Orchestra in a performance of Mahler's Symphony No. 9. (Todd Rosenberg)
If one needs any proof that calamity, whether personal and/or political, also has the power to inspire great works of art, Gustav Mahler's "Symphony No. 9 in D Major" can easily serve as a prime example. 
And on Thursday evening, the Chicago Symphony Orchestra's intense and fiercely beautiful performance of his wildly demanding four movement, 90-minute masterwork provided that proof, with guest conductor Jakub Hrůša forcefully leading the monumental work.
In an ideally multifaceted pre-concert talk about this symphony, violist Max Raimi noted the many aspects of Mahler's life that unfolded between 1909 and 1910, as he composed this work just a year before his death at the age of 50. It would be his last fully completed symphony. 
It was also created at a time of growing antisemitism that in 1897 led Mahler, the Jewish-born, Czech-Austrian composer/conductor, to convert to Catholicism in order to help his quest to be named principal conductor of what is now the Vienna State Opera.
Meanwhile, Mahler was diagnosed with a dangerously weak heart, one of his daughters died of scarlet fever and his marriage was in trouble. Yet in some way, shape and form he was able to grab hold of all that emotional chaos and transform it into pure musical magic — a monumental work full of dizzying mood shifts, a subtle awareness and defiance of his mortality, and a fantastic mix of satire and great beauty vividly brought to life by every section of the orchestra. 
Think of this symphony as an autobiography that is at once immensely varied yet seamless — part confessional, part dreamlike, richly orchestrated, never predictable and immensely challenging to perform.
The symphony opens with a beautiful heartbreaking, but achingly quiet sound (with a brief use of the harp), and it proceeds to grow stronger, instrument by instrument, until it bursts out in a cry that suggests a kind of wild dance, with the clash of cymbals suggesting a storm by way of a solemn sounding of timpani, the plucking of the low strings, and a distant sort of whistle from the horns. 
The full storm comes with the strings conjuring a sense of agony before shifting into a delicate, singing passage of great beauty that ends with an almost silent cry. These constant emotional shifts — with the low strings plucked and chimes in the distance — capture a state of being in a way unique to Mahler.
And that is just the first of the work's movements.
The second movement comes with an almost teasing use of the winds, the low strings and the horns that gradually builds into a celebratory mood of impressive speed. The strings are fired up into a golden frenzy, and suggest a wild and feverish dance, with the lush sound of the full orchestra and percussion added. It has a dizzying effect as each section, in its way, "converses" with another in unpredictable ways.
The horns introduce the symphony's third section, and then it's off to the races, with a storm of great emotional intensity. It is exciting and full of exuberance — alternately tense and playful, and finally speeding into a powerful, frenzied blast of sound before a bell-like release. A big build-up, and then a quick shift to delicacy as all the many voices of the orchestra are heard before there is a shift to a great fury in this work marked by continual changes of tone, speed and mood. A wild and stormy "big bang"signals a sudden end.
And there is a great deal more in the work's fourth and final movement. It begins with a painful but beautiful cry from the violins and more. Mahler seems to almost be talking to himself here, maybe even crying, with a gorgeous melody coming from the strings in yet another emotional roller-coaster ride. And what begins in a very intimate mood grows into a heated, tormented cry before moving again — this time into a gently distant sound that could be interpreted as a farewell awash in tears, but with the subtlest bit of hope, all before the gentlest use of the strings cedes to something close to a cry, and then a breathtaking silence.
This is a work that suggests Mahler was far more than a brilliant composer. He was an extraordinary dramatist.
The final performance of this concert is Saturday, June 10 at 8 p.m. at Orchestra Hall. For tickets visit cso.org or call (312) 294-3000.
Follow Hedy Weiss on Twitter: @HedyWeissCritic
---