Video: The WTTW News Spotlight Politics team of Heather Cherone, Amanda Vinicky and Paris Schutz takes on the day's biggest stories. (Produced by Paul Caine)
---
Olga Bautista and Gina Ramirez — longtime friends who have fought polluting businesses in their Southeast Side neighborhoods for nearly a decade — could have breathed sighs of relief and looked ahead to months free of protests, rallies and lobbying after the election of Brandon Johnson as mayor.
But the friends and environmental justice advocates allowed themselves only the briefest of celebrations as Johnson took office after campaigning on a platform that promised to put an end to what he called "literal sacrifice zones" – neighborhoods home to Black and Latino Chicagoans where industrial firms are allowed to pollute the air, water and soil with impunity, making residents sick and degrading their quality of life.
"We're not going to stop fighting," said Bautista, the executive director of the Southeast Environmental Task Force, standing alongside Ramirez, the Midwest outreach manager for the Natural Resources Defense Council, after a rally and news conference at Chicago City Hall on Tuesday. "We demand clean air."
Bautista and Ramirez's relentless approach meant they were ready to fight a decision by an administrative law judge that could force city health officials to issue the final permit sought by the parent company of General Iron to operate a metal shredding and recycling operation on Chicago's Southeast Side. That facility has faced fierce opposition for several years.
Cheryl Johnson, the executive director of People for Community Recovery, said the administrative law judge's ruling was a "slap of injustice" after "the city finally decided to get it right" and deny the permit for the metal shredder.
"We have the same right to clean and air water as Lincoln Park residents do," said Johnson, the daughter of Hazel Johnson, known as the mother of the environmental justice movement for her work in Altgeld Gardens. "We demand equal environmental rights."
The issue is larger than just one metal scrapper on the Southeast Side of Chicago, Bautista and Ramirez said.
"This is not just about General Iron," said Bautista, after a fiery news conference to denounce the decision. "We have to take a stand."
But unlike in years past, Bautista, Ramirez and other leaders in the environmental justice movement are confident Chicago's new mayor will stand shoulder to shoulder with them and they won't have to fight City Hall as well as the businesses that they blame for causing high rates of cancer, heart disease, respiratory ailments and asthma with pollution.
"Too many members of our families have been sacrificed to business as usual," said Kim Wasserman, the executive director of the Little Village Environmental Justice Organization. "We just want a chance to breathe."
In response to a question from WTTW News, Johnson on Wednesday promised again to fight the ruling.
"We will be exploring all of the options that are available to us in order to make sure that we are meeting the expectations and the demands of the city of Chicago and its residents have put forth," Johnson said. "As many of you all know I'm raising my family in Austin. We are one of the hotspots when it comes to environmental injustice. So we are going to explore all of our options and make sure that we do what is right for the people of Chicago."
Speaking at Orr Community Academy on the last day of school, Johnson said Chicago will rely on "green" industries to create good jobs for Chicago Public Schools graduates.
Bautista said she was "very encouraged" by Johnson's "strong and to the point" promise to appeal the ruling in the General Iron case. Johnson vowed to "continue our fight to uphold our authority under the law to make decisions that protect the environment, health, and quality-of-life for residents of the 10th Ward and all environmental justice communities."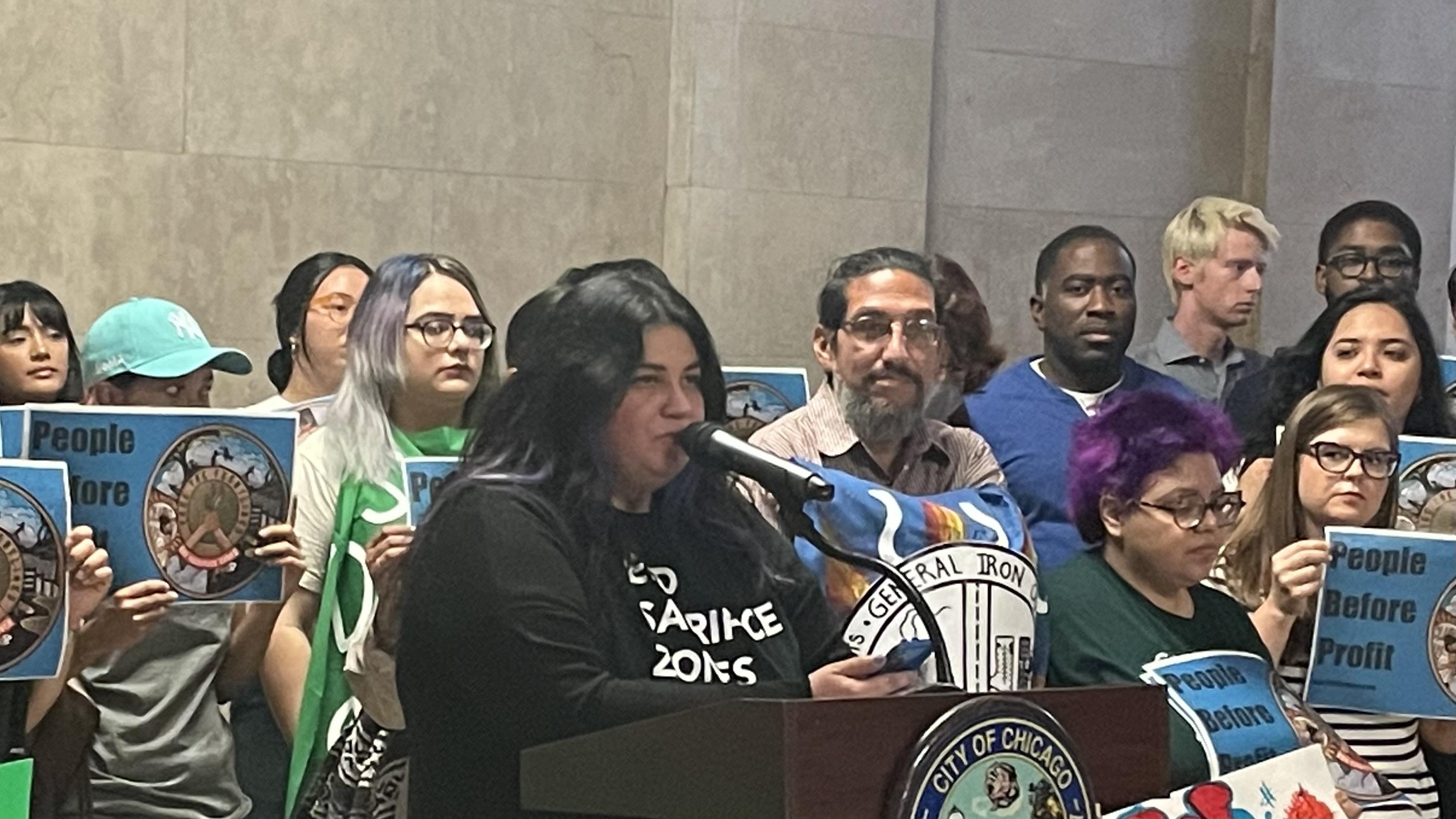 Gina Ramirez, the Midwest outreach manager for the Natural Resources Defense Council, denounces plans for a metal scrapper on Chicago's Southeast Side at City Hall on Tuesday, June 6, 2021. (Heather Cherone/WTTW News)
Both Bautista and Ramirez said they trust Johnson to keep his promises – a significant change from their relationship with former Mayor Lori Lightfoot, who granted preliminary approval to the plan from Reserve Management Group, which owned General Iron, to move their metal recycling operation from Lincoln Park, where a majority of residents are wealthy and White, to the Southeast Side, which is home to a majority of Latino residents and dozens of other polluting businesses.
Lightfoot only reversed course after Environmental Protection Agency Administrator Michael Regan said the proposal raised "significant civil rights concerns."
The judge's ruling – and the outrage it triggered – vaults environmental issues to the top of Johnson's already jam-packed to-do list, forcing him to make a series of tough decisions that will face intense scrutiny from progressive voters at the heart of his base of political power.
"My heart hurts being here to talk about General Iron again," said Oscar Sanchez, who participated in a month-long hunger strike and protested outside Lightfoot's home before launching an unsuccessful bid to represent the 10th Ward on the Chicago City Council. "We're talking about basic human rights."
While Reserve Management Group officials have repeatedly said Southside Recycling would be the most "environmentally conscious metal recycling facility in the country," activists will use the results of a federal probe that determined the decision by city officials to give General Iron preliminary approval to move from Lincoln Park to the Southeast Side violated the civil rights of Black and Latino Chicagoans.
One of Lightfoot's final acts in office was to reach an agreement with the U.S. Department of Housing and Urban Development that requires the city to stop allowing industrial businesses to continue to pollute the already dirty air, water and soil on Chicago's South and West sides.
Johnson has vowed to fulfill that agreement, which was lauded by environmental activists, and now faces a Sept. 1 deadline to complete an "environmental justice action plan" and identify what officials will do to protect residents of neighborhoods suffering from "burdens associated with intensive industrial and transportation uses."
During the campaign, Johnson vowed to champion what he called the Cumulative Impact Assessment Ordinance, which would allow the City Council to take into account the amount of existing air, water and soil pollution in a community – not just what the proposed project is expected to add if it is approved – when considering allowing additional polluting industries.
Such a law would give "environmental justice communities a crucial level of protection against the interests of business, and pumping the brakes on the permitting of additional industrial facilities to be allowed to operate in communities already overburdened by pollution," according to Johnson's platform.
That would end the "game of whack-a-mole" that environmental justice activists now have to play, rushing to fight individual projects as they pop up, Bautista said.
"That's unsustainable," Bautista said. "We're not going to back down."
Johnson declined on Wednesday to reaffirm his commitment to passing that ordinance through the City Council in response to a question from WTTW News.
Contact Heather Cherone: @HeatherCherone | (773) 569-1863 | [email protected]
---