Violinist Vadim Gluzman joins the Chicago Symphony Orchestra and guest conductor David Afkhamin for a performance of Shostakovich's "Violin Concerto No. 1." (Credit: Todd Rosenberg)
There are many moments when music serves as the greatest escape from the upheaval in the world. And then there are times when that music not only captures a composer's emotional turmoil as generated by the chaos and pain of a particular moment in history, but in some way echoes those feelings in the current moment as well.
Such was the case this past Thursday evening at Orchestra Hall as guest conductor David Afkham led the Chicago Symphony Orchestra and Vadim Gluzman, the extraordinary guest violinist, in a riveting performance of Dmitri Shostakovich's fiendishly difficult, emotionally intense "Violin Concerto No. 1 in A Minor." In addition, the concert supplied alternative emotions, evoking the essence of pure beauty (Ravel's "Menuet antique" and "La Valse"), and the power of nature (Debussy's "La Mer").
It was Ravel's brief but beautiful "Menuet antique," an alluring mix of the classical and the modern scored for a formidable group of instruments that served as a high energy opening to the program. There is just something so seductive about Ravel's music — which too often is limited to his most iconic work, "Bolero" — and this lush, hauntingly beautiful piece proved the point.
And then it was on to the concert's centerpiece, a work by Shostakovich (1906-1975), the Russian composer whose life during the Stalinist period was complex, to say the least. The "Violin Concerto" is a feverishly modern work that was, as Phillip Huscher's invariably superb program notes explained, accused of displaying "formalistic perversion," and more. In fact, what it really did was capture the fever of its time.
The "Violin Concerto" received a phenomenal performance by the CSO, with Gluzman — the world renowned Israeli-born violinist who plays on a golden-voiced Stradivarius — delivering a breathtaking performance of his fiendishly difficult role in this four-movement work that sets a solemn, somewhat anxious tone with its opening Nocturne. Backed by the strings, a celeste, harps, timpani, low winds and more, this opening sequence sets the emotional backdrop for what might very well be taken as Shostakovich's angst-infused musical autobiography.
There is quite a dramatic mood change in the Scherzo, the rhythmically wild second movement that is exciting in a most intriguing, feverish way. Gluzman blazes in a virtuosic spin, playing at high speed and with wild intensity, and the rest of the orchestra follows suit. Next is a Passacaglia, full of anguish and psychic tension, with Gluzman ultimately launching into high-drive for a fiercely difficult and altogether breathtaking cadenza.
The work's final movement then erupts into an exuberant Burlesque that suggests a great chase or a wild dance in this concerto that stunningly captures the composer's alternately suppressed and explosive anxiety. The opening night audience for the concert erupted, too, with tumultuous applause for Gluzman, for the ever-remarkable CSO, and for Afkham, a notably fleet and ideally expressive conductor who was mentored by the late Bernard Haitink (who led the CSO for four years prior to the arrival of Maestro Muti).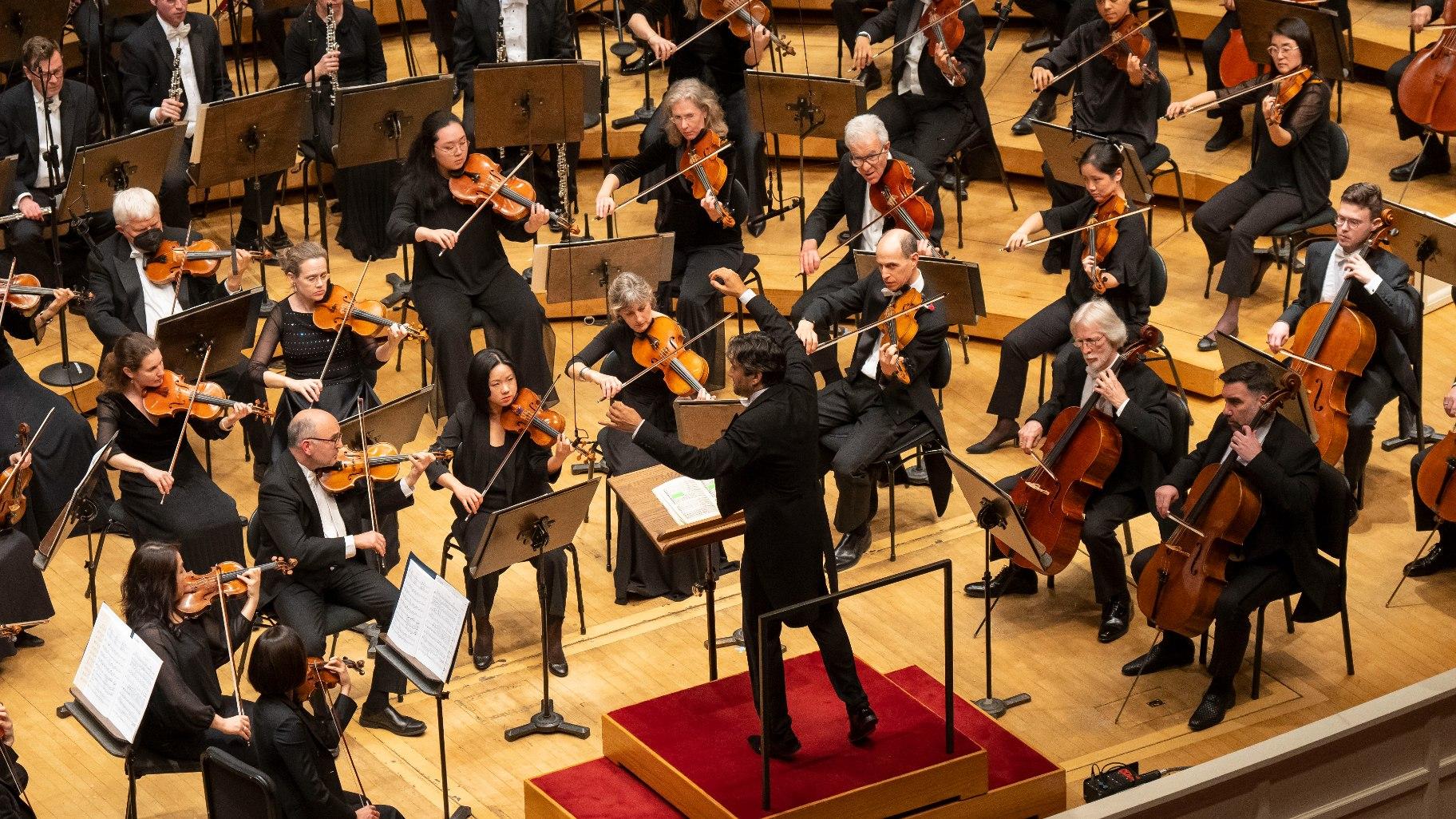 Guest conductor David Afkham leads the Chicago Symphony Orchestra in a program of works by Ravel, Shostakovich, and Debussy. (Credit: Todd Rosenberg)
The concert's second half opened with Debussy's "La mer (Three Symphonic Sketches)," his irresistible, richly orchestrated evocation of the sea in all its many moods — from a low hum and dreamily fluid beauty, to a surging, windblown energy in which air and water audibly collide to suggest that a storm at sea is brewing. Debussy clearly possessed a unique gift for composing music that captured a sense of both atmospheric motion and the changing force of water, and he tapped a wide array of instruments in the process.
Finally, to close the concert there was a return to Ravel and his dizzying, rapturous "La Valse (Choreographic Poem for Orchestra)," whose title says it all. Written at the request of the fabled ballet impresario Sergei Diaghilev (who ultimately rejected it), it was later used by a number of major choreographers including Bronislava Nijinska, George Balanchine and Frederick Ashton, and it is easy to understand its allure.
The piece begins with the subtle "hum" of timpani low strings and harps suggesting an airborne waltz to which Afkham moved with notable grace. It then built to a peak of great excitement, with the bang of timpani, the sound of brass and all the rest before resolving into a gently fluid, almost singing section that once again gained increasing speed and powerful sound.
A lush, lyrical waltz full of surprises and shifting moods followed, with the orchestra building once again into a wild waltz, with the high-powered sounds of a tambourine, drum and timpani ceding into a brief quietude before returning to dizzying speed and intensity. The full orchestra (whose musicians work like demons) brought Ravel's wild, racing waltz to the end. Irresistible.
The final performance of this concert is slated for Tuesday, June 6, at 7:30 pm at Orchestra Hall, 220 S. Michigan Ave. For tickets visit cso.org or call (312) 294-3000.
And one final note: On June 8, 9 and 10 the CSO will perform Gustav Mahler's monumental, heart-rending "Symphony No. 9" led by the Czech-born conductor Jakub Hrůša who was recently named the next music director of Britain's Royal Opera House.
This article has been updated to correct the spelling of Vadim Gluzman. 
Follow Hedy Weiss on Twitter: @HedyWeissCritic
---