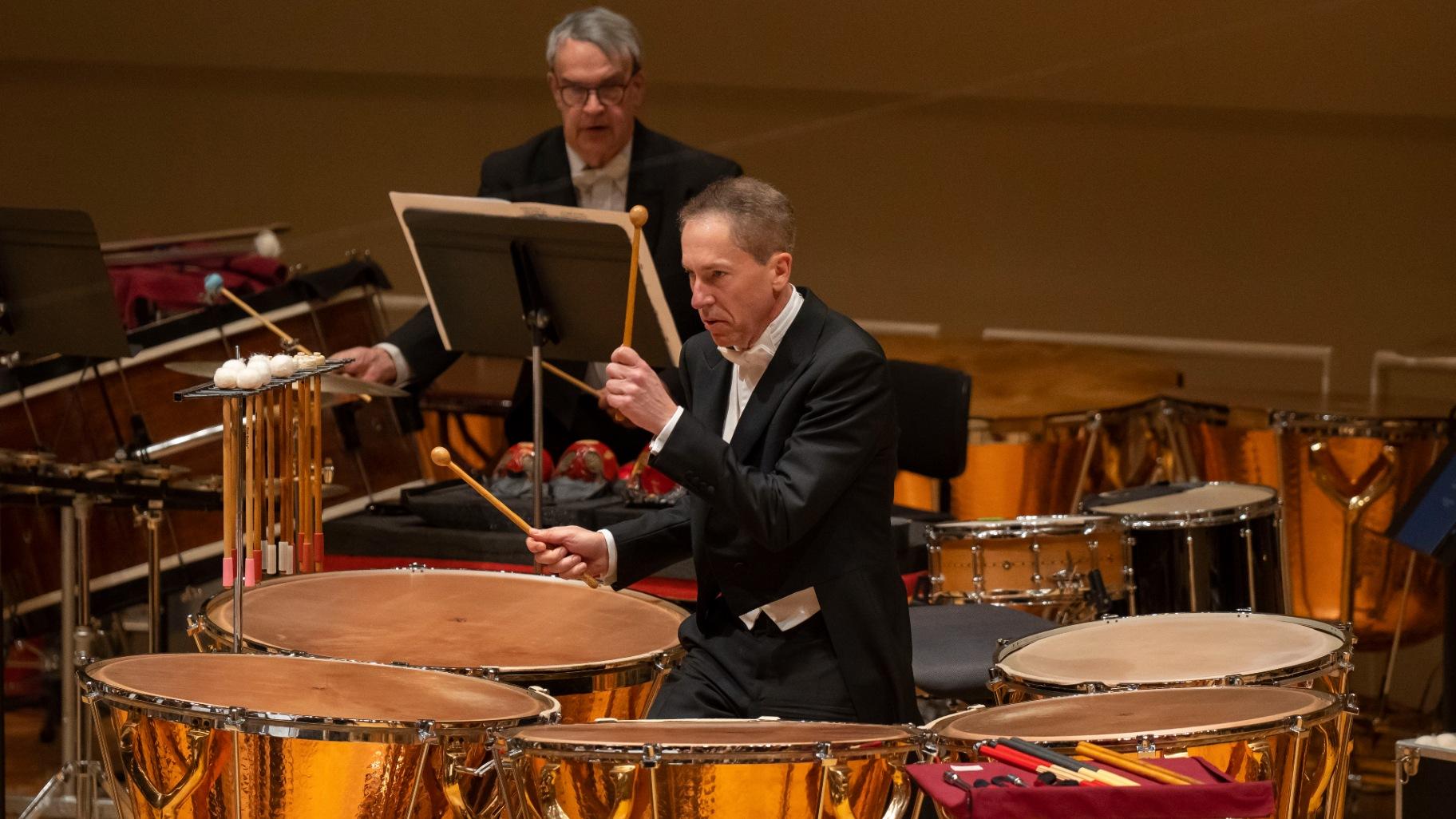 Principal timpani David Herbert makes his CSO solo debut performing Kraft's "Timpani Concerto No. 1." (Todd Rosenberg)
This review is arriving a bit late. But while last week's altogether glorious concert by the Chicago Symphony Orchestra (impeccably led, as always, by Maestro Riccardo Muti) might be gone by now, it should in no way be forgotten. It was an absolute dazzler. And aside from the sheer brilliance of all the musicians involved, there was the exhilarating impact of a program that juxtaposed works by three masterful yet radically different composers of classical music: Wolfgang Mozart (with a work dating from 1772), William Kraft (with a work composed in 1983) and Ottorino Respighi (in pieces dating from 1917 and 1924).
Mozart's "Divertimento in F Major," a brief and beautiful piece for strings, opened the concert. The glorious singing tone of the performance's earliest moments had an easefully buoyant spirit, then grew a bit more serious and gained speed. A silken score exquisitely played, it moved into a final movement with super speed and lightness and a winning sense of playfulness.
Next came "Timpani Concerto No. 1," a stunning showcase for David Herbert (who has been the CSO's bravura principal timpanist since 2013, and before that, was with the San Francisco Symphony). Backing him all along the way was the massive addition of the full orchestra, including a harp, piano, celeste and a vast array of percussion instruments.
No doubt you've heard the expression "bang the drum slowly." But in this remarkable, immensely challenging 23-minute work by Kraft (1923-2022), Herbert finessed a wildly demanding, often rapid-fire series of bravura turns. Kraft was the Chicago-born son of Jewish immigrants from Ukraine and a member of the Los Angeles Philharmonic for 26 years; he worked as an assistant conductor and composer and was the philharmonic's principal timpanist.
The piece began with several isolated taps as Herbert beat out the score on a semi-circle of his five big drums and went on to quickly alternate throughout the performance between the use of sticks, mallets and his bare hands. Gradually, the other instruments joined in, with the strings, winds and brass heightening the excitement, and Herbert shifting the intensity and complexity of his beats until a certain grand-scale madness was set in motion and led to a big bang.
The second movement began slowly with an echoey, almost moaning sound, an interesting use of the strings, the xylophone and a softer touch on the timpani. And eventually there was silence. Then, the third movement began with a big bang, the sound of horns and a further great pounding on the timpani, with the celeste and chimes and additional percussion instruments supplying a certain delicacy before the piece erupted with hard pounding, the sound of temple blocks and other instruments and an almost jazzy rhythm. Throughout, Herbert adjusted the tone of the timpani that at one point became a solo riff. Then the work evolved, with a subtly eerie sound created by the orchestra, some mad drumming and a big blast of a finale. A bravura work all around that was rewarded with a great ovation from the audience and a laugh-inducing little move by Muti as he handed Herbert his baton and grabbed hold of the timpanist's mallet.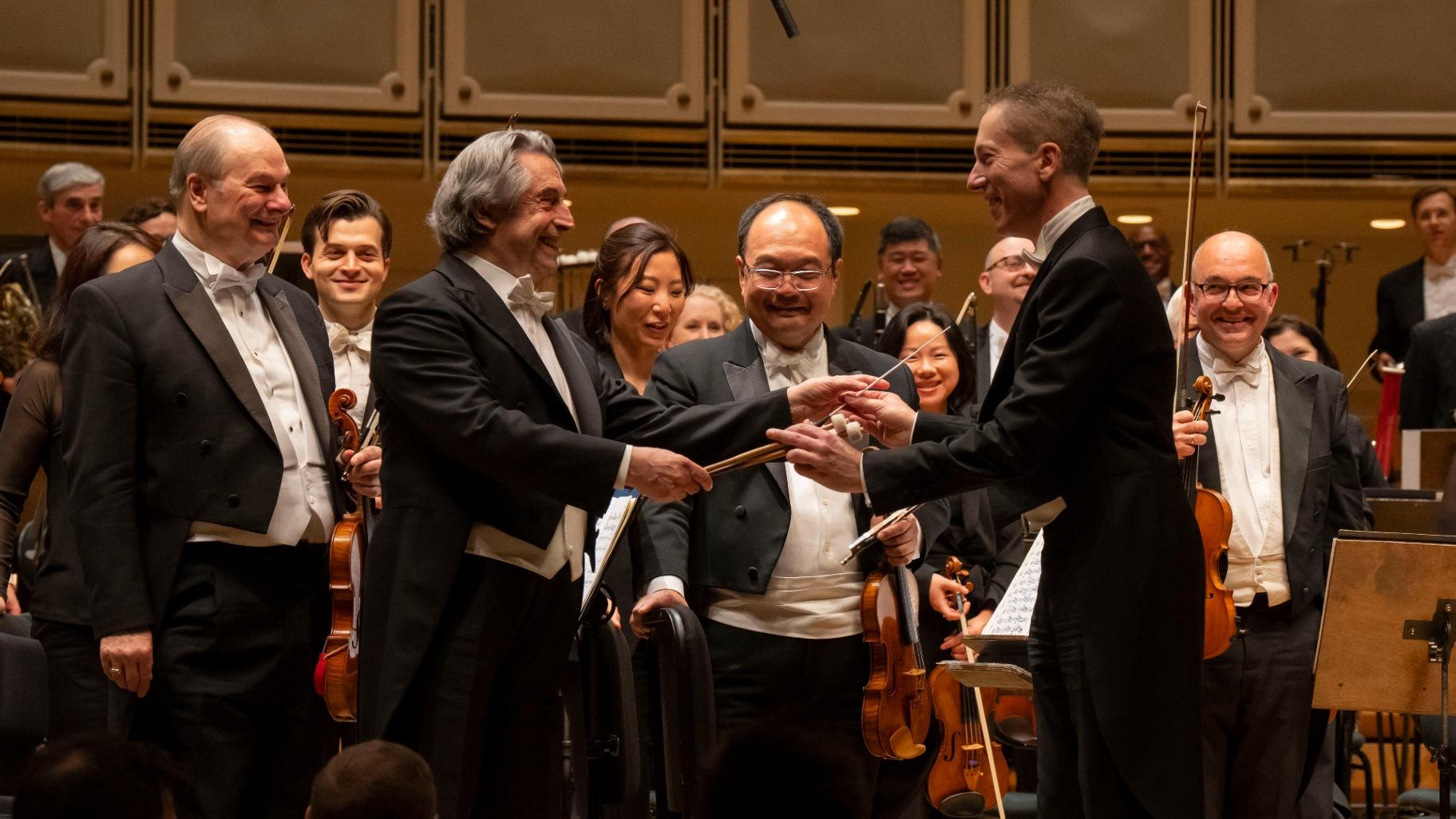 Music director Riccardo Muti and principal timpani David Herbert exchange timpani mallets and baton following Herbert's solo debut with the CSO on Kraft's "Timpani Concerto No. 1." (Todd Rosenberg)
The second half of the concert was quite a stylistic about-face with a radiant double bill of two exquisite and much-loved tone poems by Respighi: "Ancient Airs and Dances, Suite No. 1" and its irresistibly colorful sequel, "Pines of Rome" (a work that was first performed by the CSO in 1926 with the composer himself conducting).
"Ancient Airs" opened with a melodically beautiful dance-like theme, the sound of the harp, harpsichord and clarinet and a sense of sheer jaunty beauty by way of the violins and flutes. Next came the sound of subtly plucked strings and harp that created a dreamy, subtly mournful sound of great beauty before the piece moved into the exhilarating sound generated by the full orchestra, with the strings and winds answering each other, a beautiful sound from the flute and a fully exuberant, off-to-the-races finale that Muti clearly reveled in, as did the ecstatic audience.
Note: The final performance of this concert at Orchestra Hall was May 27, but there are still a number of other intriguing programs on the calendar in June. They include one featuring music by Debussy, Ravel and Shostakovich (June 1-3 and 6, with guest conductor David Afkham and violinist Vadim Gluzman) and another featuring a performance of Mahler's monumental "Symphony No. 9" (June 8-10) led by guest conductor Jakub Hrusa. (A free pre-concert talk about the work will be given by CSO violist Max Raimi 75 minutes before each performance.)
A concert led by Muti (June 15-17) will feature works by Johann Strauss Jr. and Schubert, as well as by Lalo Schifrin, whose piece will feature Gene Pokorny, the CSO's principal tuba. And last, but by no means least, will be performances of Beethoven's monumental "Missa solemnis," the work Muti chose for his final performances as music director of the CSO (June 23-25).
The good news is that Muti is already scheduled to conduct a free concert in Millennium Park on June 27, as well as a number of concerts at Orchestra Hall this September. And he will be taking the CSO on an 11-city European tour in January 2024.
For tickets, visit cso.org or call 312-294-3000.
Follow Hedy Weiss on Twitter: @HedyWeissCritic
---