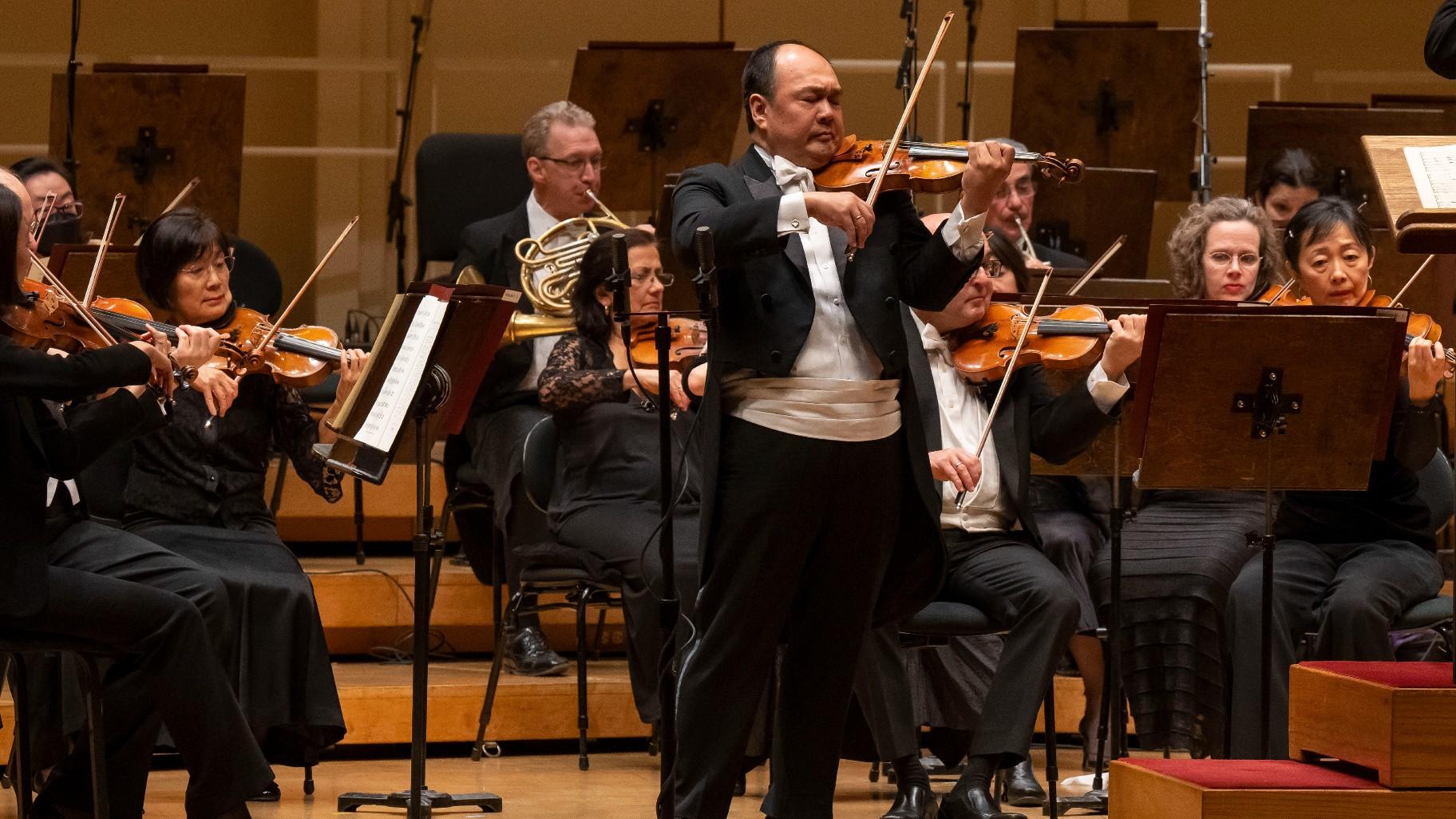 Concertmaster Robert Chen in a performance of Mozart's "Violin Concerto No. 4 in D Major." (Credit: Todd Rosenberg Photography)
The latest program by the Chicago Symphony Orchestra honors Robert Chen, the orchestra's invaluable concertmaster and masterful violinist, who performed Mozart's "Violin Concerto No. 4 in D Major." It also features a thrilling performance of Mozart's rarely heard "Serenade No. 10 in B-Flat Major." All in all, the concert, beautifully led by Maestro Muti, serves as an extraordinary reminder of the composer's genius.
The "Serenade," that might be dubbed "a grand scale chamber music piece," shines a spotlight on 12 of the orchestra's superb musicians (drawn from the wind and brass sections, as well as one double bass player). It is a revelation.
The brief opening work on the program is the exuberant Overture to Domenico Cimarosa's much heralded, but now rarely revived 1792 opera, "Il matrimonio segreto" ("The Secret Marriage"), scored for strings, winds, two horns and timpani. The six-minute piece quickly shifts moods — moving from high-speed excitement to a lyrical passage, and then becomes a race to the end. It's enough  to make you wish the full opera might receive a revival.
Then comes the Mozart "Violin Concerto" and the ever masterful Chen. The piece, scored for solo violin, plus strings, two oboes and two horns, opens with a strong pronouncement and then moves on with speed and lightness and many shifts in intensity. And Chen, who makes the violin a seemingly effortless extension of his spirit, taps into the pure beauty and fire of the work's solo segments with his characteristic ease, clarity and warmth. Throughout, the orchestra "sings" too. Sheer beauty. And the work's final movement — at once playful, warm, and with a singing quality captured by both Chen and his fellow musicians — builds to a grand finale.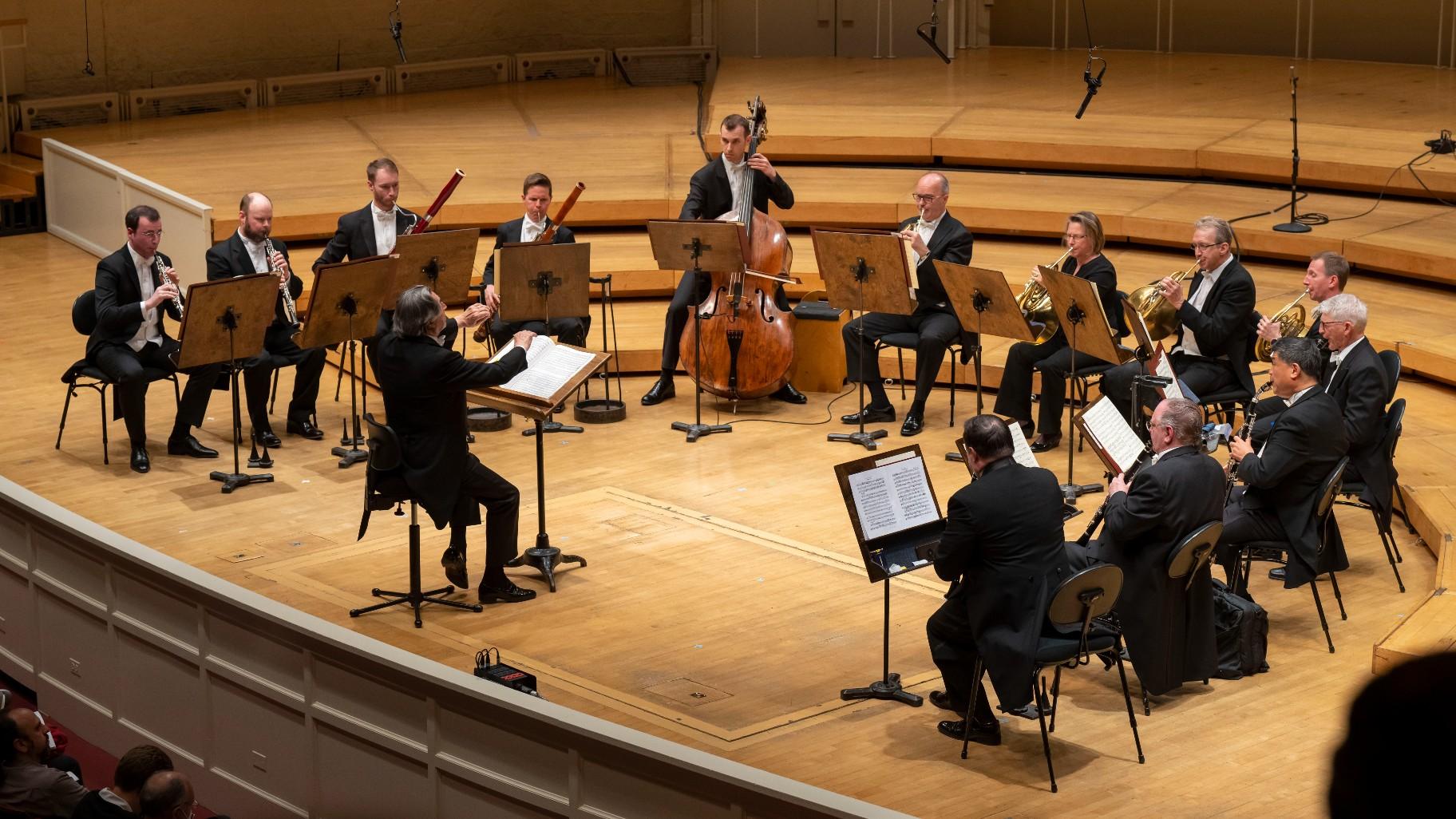 Music Director Riccardo Muti and CSO musicians perform Mozart's Gran Partita. (Credit: Todd Rosenberg Photography)
The concert's second half is devoted to Mozart's "Serenade" — a magnificent work, superbly played — that has the musicians placed in a long semicircle, with Maestro Muti seated in front of them. The stellar ensemble includes: William Welter and Scott Hostetler (oboes); Keith Buncke and Miles Maner (bassoons); Stephen Williamson and Gregory Smith (clarinets); John Bruce Yeh and J. Lawrie Bloom (basset horns); David Cooper, James Smelser, Susanna Gaunt and David Griffin (horns); and Alexander Hanna (bass).
Divided into seven mood-shifting sections, the "Serenade" opens with a calm, lyrical melody that grows into a big sound and uses the many different voices of the instruments in this seamless grouping in a delightful way. And Mozart continued this approach in many and varied ways throughout the piece, creating an ideal sense of the musical conversations shared by this particular mix of instruments — from the sheer beauty of the clarinets, to the subtle solemnity of the horns, the bass and the bassoons, and on to a brief but winning minuet and a great deal more.
Mozart captured the distinctive "life" of all these instruments, and suggests that in many ways they are extensions of the human voice, and breath, and sense of speech — at times joyful in the most lighthearted and beautiful way, winningly calm at other moments, and easily driving the impulse to dance at times, or even to head off on an exhilarating race. All in all, this is a magnificent work. And it left the audience erupting in loud applause.
The last of the four performances of this program at Orchestra Hall is May 23 at 7:30 p.m. For tickets visit cso.org or call (312) 294-3000.
Follow Hedy Weiss on Twitter: @HedyWeissCritic
---