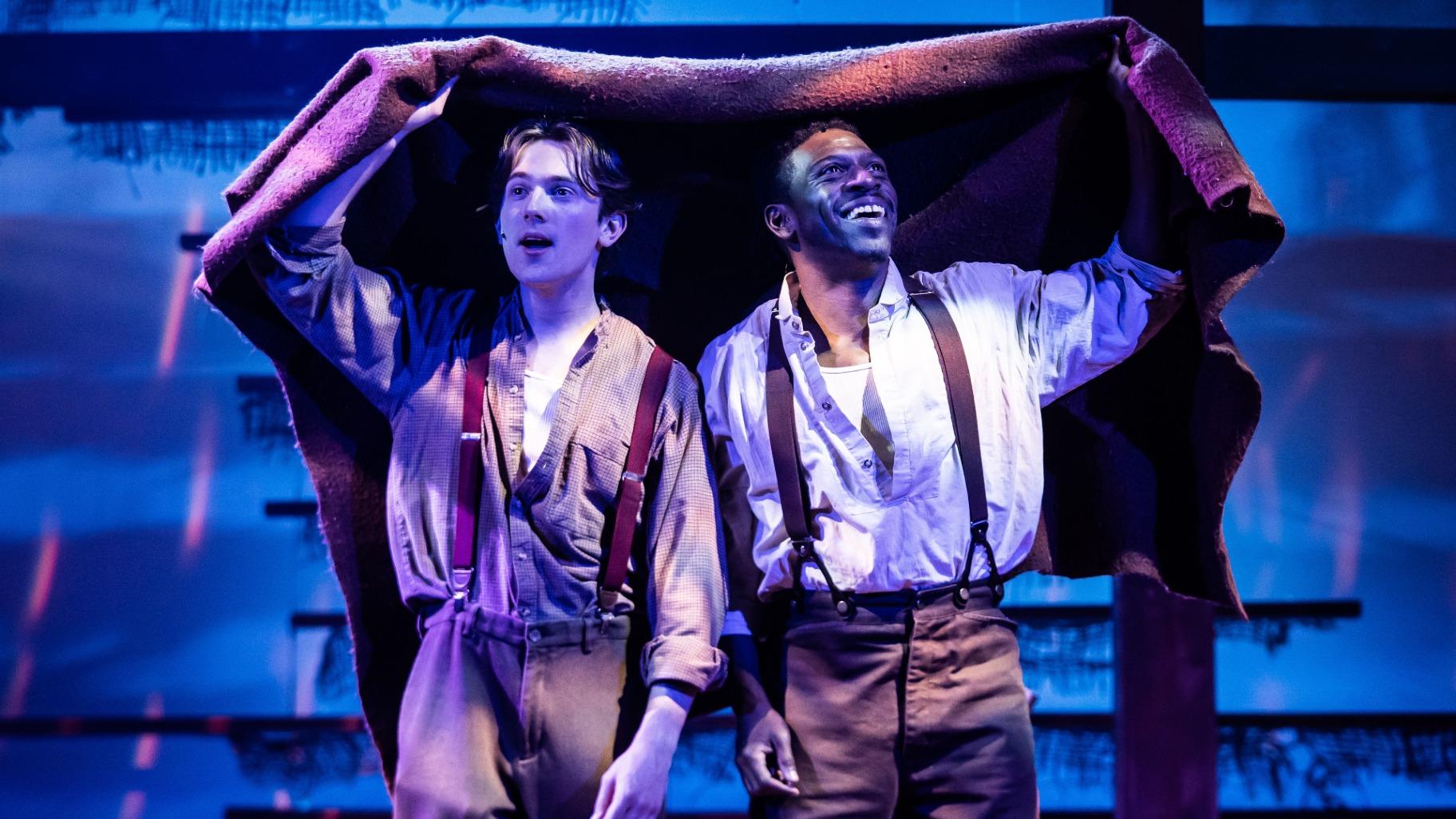 Eric Amundson and Curtis Bannister in "Big River: The Adventures of Huckleberry Fin." (Liz Lauren)
Mark Twain's tale of Huckleberry Finn has had countless theatrical interpretations. The story follows a rebellious teen in the pre-Civil War South who rejects a proper education, must deal with his abusive, alcoholic father, "Pap," has been adopted by the Bible-bred Widow Douglas and her spinster sister, Miss Watson, is best friends with the adventurous Tom Sawyer, and above all, decides to help Jim, a runaway slave in the process of escaping to freedom on a raft headed north on the Mississippi River.
But watching the stellar production of "Big River: The Adventures of Huckleberry Finn," which is now receiving an absolutely stellar production at Mercury Theater Chicago, leaves you wondering why this superb 1985 Tony Award-winning musical has been so rarely revived.
The Mercury production of this show, with its tragi-comic book by William Hauptman drawn straight from the Twain classic and a wonderfully varied score by country music master Roger Miller, is ideally realized on every front — beginning with its large, uniformly winning cast directed by the theater's outstanding artistic director, Christopher Chase Carter (who clearly should be working on Broadway). And as overseen by music director Malcolm Ruhl, conductor Marques Stewart is leading a supremely talented quartet of musicians (Hillary Bayley on violin and pennywhistle, Scott Sedlacek on guitar and mandolin, Bob Kessler on harmonica, clarinet and jaw harp, and Cesar Romero on guitar and banjo), who have the full-force impact of a full orchestra.
Throughout the show, the storytelling winningly captures the many moral, financial, potentially dangerous and at times laughter-inducing decisions that must be made by the show's vast array of characters.
Leading the cast is Eric Amundson (a current student at Roosevelt University's Chicago campus), who delivers an intensely demanding, spot-on performance as Huck. A formidable accomplishment.
And then there is the altogether powerhouse performance by Curtis Bannister as Jim, the slave who has embarked on a wildly difficult but ultimately successful quest for freedom. Bannister's wide-ranging dramatic and vocal powers are evident at every moment, and they reflect his long list of credits that include performances at the Kennedy Center, the Lyric Opera and beyond.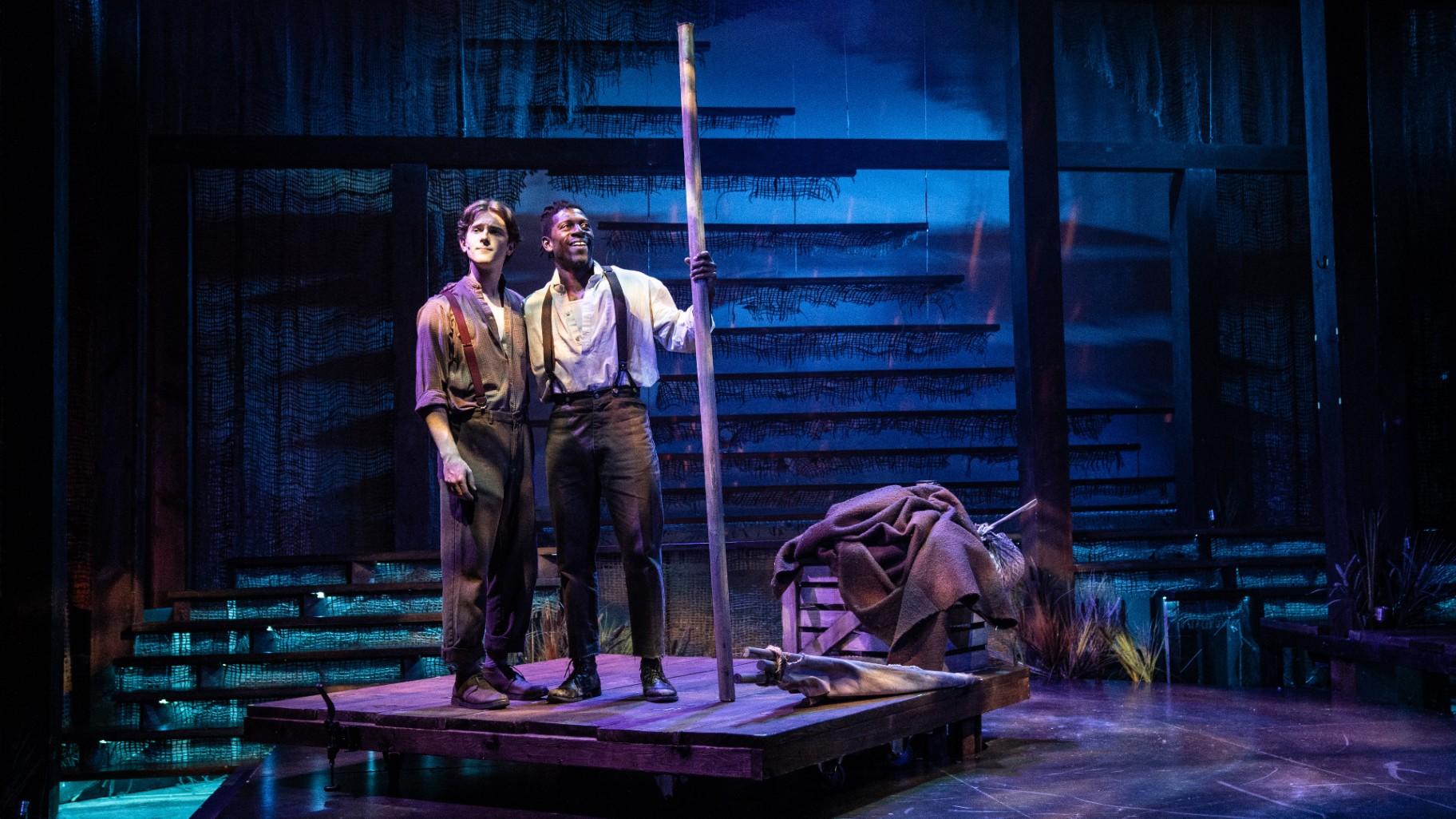 Eric Amundson and Curtis Bannister in "Big River: The Adventures of Huckleberry Fin." (Liz Lauren)
Callan Roberts plays Tom Sawyer, Huck's somewhat more educated pal, with just the right degree of mischief and shrewdness. David Stobbe is right on target as Huck's decadent "Pap." And there is high comic madness from both Stobbe (who also plays The King) and Gabriel Fries (as The Duke), a pair of zany but totally corrupt and money-mad charlatans who fake their Shakespearean theatrical skills and have absolutely no compunction about their plan to sell Jim.
Stopping the show with her spectacular voice at one crucial moment in the show's second act is Isis Elizabeth, who plays the role of the daughter of a slave named Alice (the formidable Cynthia Carter).
There are far too many twists and turns in this tale of the quest for freedom and belonging to outline here, but they are made crystal clear by the excellent actors in this production. And adding to the success of this production is the work by choreographer Ariel Etana Triunfo and dialect coach Kathy Logelin, plus a top-notch team of designers including Jacqueline and Richard Penrod (sets), Marquecia Jordan (costumes), Denuse Karzcewski (lights) and Kurt Snieckus (sound).
Of course, what cannot be forgotten is the storytelling brilliance of Mark Twain, whose vivid characters and their complex interactions continue to capture the most crucial aspects of race, class and conscience in American society. All in all, "Big River" proves to be a work for our time.
"Big River" runs through June 11 at Mercury Theater Chicago, 3745 N. Southport Ave. For tickets, visit MercuryTheaterChicago.com.
Follow Hedy Weiss on Twitter: @HedyWeissCritic
---