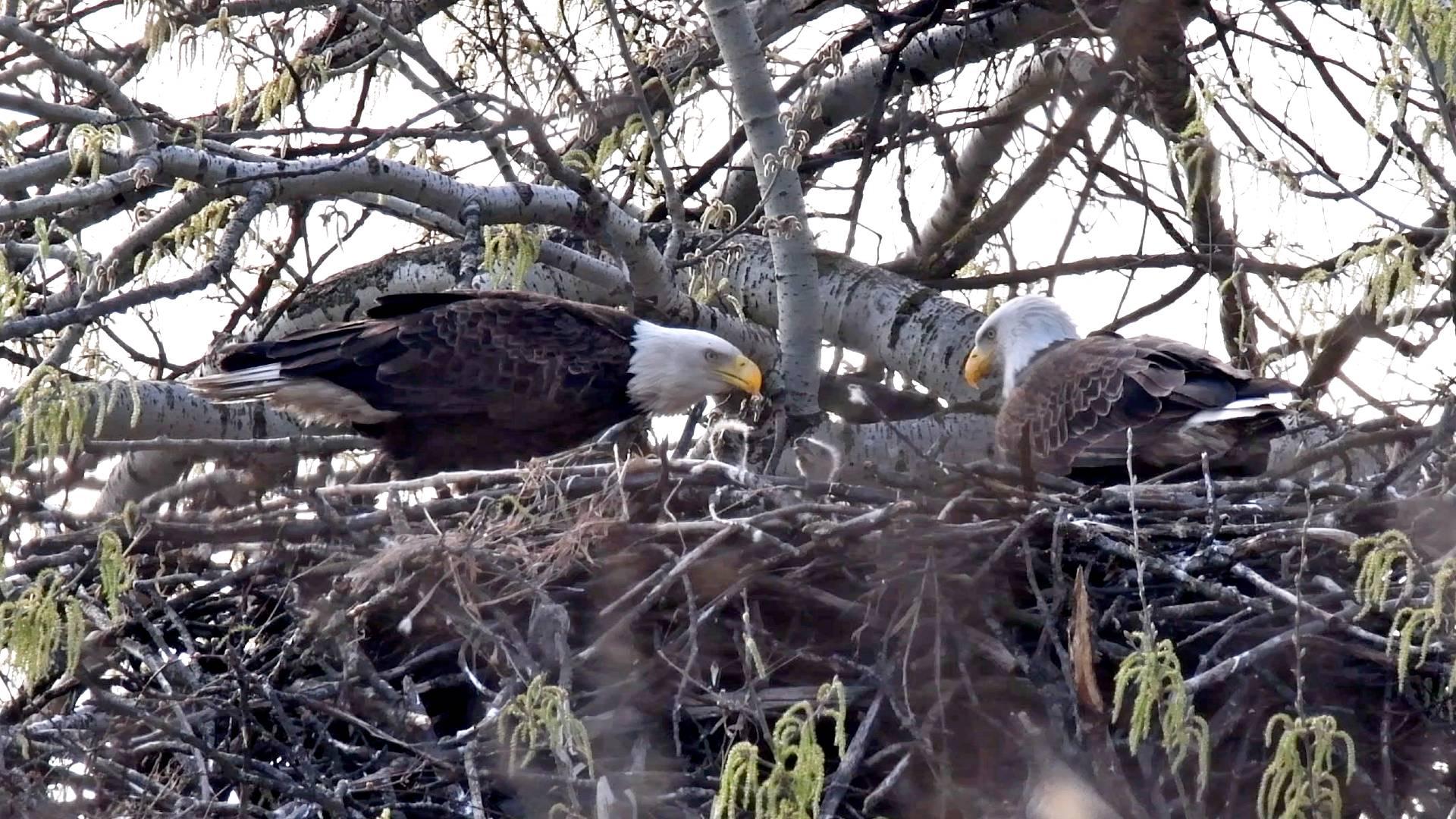 Eaglet heads poke above the top of their nest. (Will County Forest Preserve / Chad Merda)
After months of great eggs-pectations, the Forest Preserve District of Will County has announced the arrival of five baby bald eagles.
Forest preserve staff and volunteers have been on eaglet watch since February, keeping a close eye on the nests of two mating pairs. 
Three eaglets were spotted on April 4 in one of the nests and two hatchlings were confirmed in the second nest on April 14.
"Seeing the next generation of bald eagles locally makes me extremely happy — and in a sense, relieved," said Joel Craig, volunteer eagle monitor and a member of Will County Audubon. "You never know how inclement weather might affect the nests from the time the eggs are laid through the first few weeks in the lives of the eaglets."
Once on the brink of extinction, the recovery of the bald eagle population in the U.S. is one of the nation's great conservation success stories. In northeast Illinois, there's an increasing number of resident eagles, along with a significant migratory population that winters in the state. 
"To see eagles rebound like they have in this area in the past 10 years has been pretty exciting," Craig said in a statement. "To be threatened and endangered when I was a kid to what we're seeing now, it's really a population explosion in our area over the past few years."
Eagles and their nests are federally protected, and people are advised to keep their distance — at least 100 yards — if they come across one. For the safety of the birds, the Forest Preserve District does not divulge the location of the nests.
According to the National Audubon Society, at least one parent remains with the young almost constantly for the first two weeks. 
Eaglets are typically ready to fly at 10 to 12 weeks and will spend roughly a month perfecting flight and landing skills, as well as learning how to hunt and forage. Juveniles are usually self sufficient between 17 and 23 weeks.
---
Contact Patty Wetli: @pattywetli | (773) 509-5623 |  [email protected]