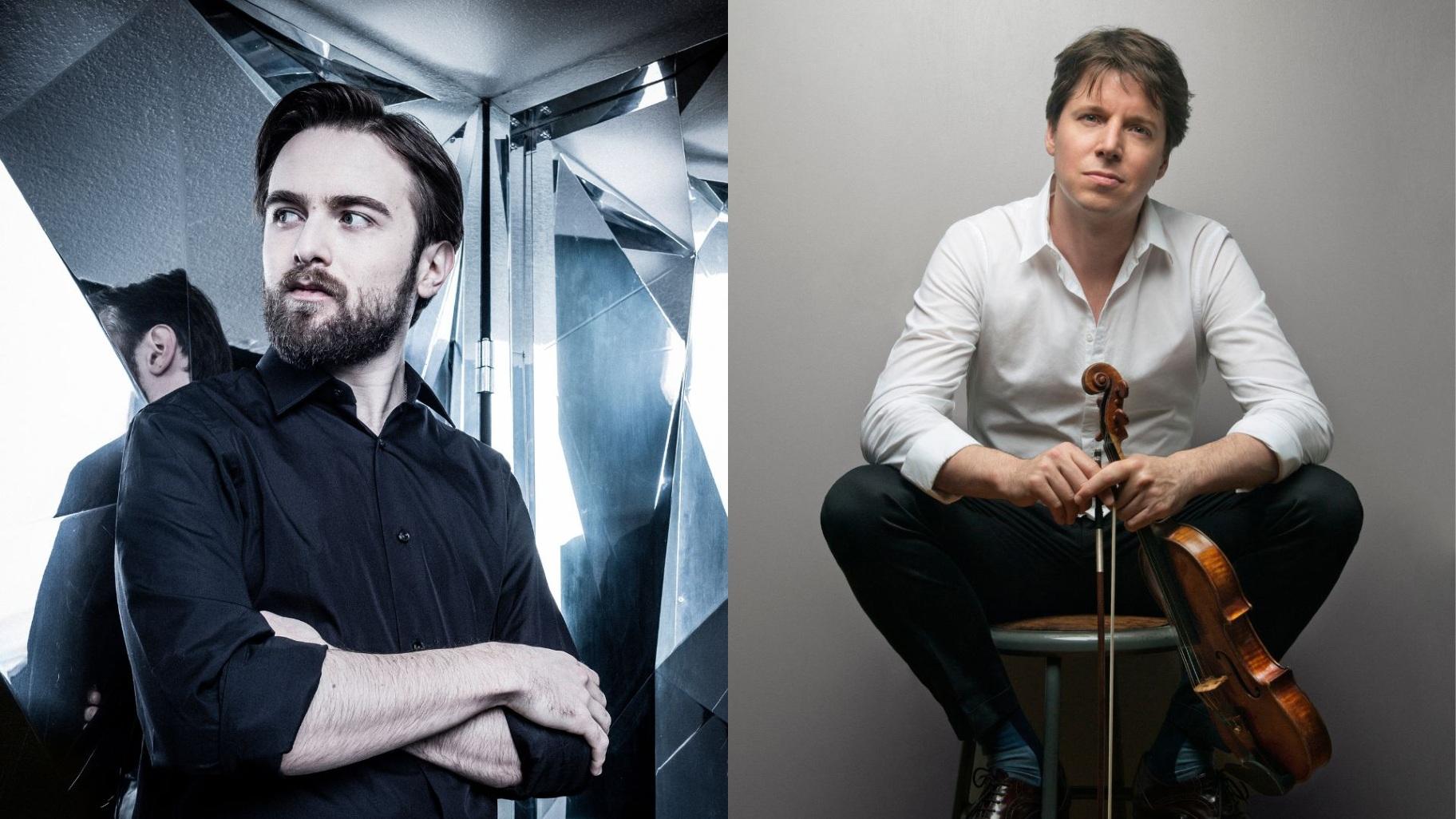 Pianist Daniil Trifonov (left) and violinist Joshua Bell (right) performed at Orchestra Hall on March 29, 2023. (Provided)
It would be more than an understatement to say that Wednesday evening's Chamber Music Series concert at Orchestra Hall was worth waiting for. Originally scheduled for March 2, the awe-inspiring collaboration between two stellar artists — violinist Joshua Bell and pianist Daniil Trifonov — had to be canceled due to illness and was rescheduled for March 29.
Wednesday night's jam-packed audience clearly suggested that this was an event not to be missed. And the musicians, in top form, even treated the enthusiastic crowd to two encores.
The concert opened with Beethoven's "Violin Sonata No. 1 in D. Major," an early work (from 1798) in which Beethoven gave equal participation to the pianist. In fact, as performed by Bell and Trifonov, it had the feel of an animated and wonderfully fluid conversation — from its opening Allegro con brio movement, to the lyrical beginning of its second movement, which bursts open with a stormy intensity but ends in a lyrical mode. The third and final movement began with a quick, light theme on the piano echoed with a strong passage by the violin. The performance then shifted to suggest the delicacy of the violin and power of the piano before supplying a strong, celebratory finale by both. (Applause, too, for Trifonov's page-turner, who remained unflappable despite a distracting breeze coming from somewhere on the stage.)
Next came Prokofiev's "Violin Sonata No. 1 in F Minor," a very different, classical-meets-modernistic work that was completed in 1945 after a number of years during which the composer suffered from ill health. Hailed by the legendary violinist David Oistrakh (who performed its premiere a year later), the sonata is a stunner that, in its own daring way, shifts moods so dramatically throughout its four movements that it has the power of a symphonic work.
The piece opens with low, slow notes on the piano, with an interesting response by the violin and a vivid, decidedly modern sense of tension and inner turmoil throughout. There was a pounding from the piano and then a lightness — an intriguing mix of danger and innocence along with plucks on the violin. The work's third movement had a dreamy beauty captured by the different voices of the two instruments, but this lightness also ceded to passages of great strength. The final movement, with its speed and force, came with some strong plucks on the violin and an overall sense of power.
After intermission, Bell supplied an added treat in the form of "Nigun," a brief piece with a gorgeous melody drawn from "Baal Shem (Three Pictures from Chassidic Life)," a 1923 work by Ernest Bloch. A Swiss-born Jewish composer, Bloch settled in the U.S. in 1916 and was inspired by a Jewish Orthodox service he heard in a synagogue on New York's Lower East Side.
To close the program there was a stunningly beautiful performance of Cesar Franck's 1886 "Violin Sonata in A Major," a widely known masterwork by the French Romantic composer who wrote it as a wedding gift for the fabled violinist Eugene Ysaye.
The sonata opens with a quiet passage on the piano that then takes on a lush grandeur and stormy intensity from the violin. And this back and forth between the two musicians deftly shifted moods from the pensive to a bravura fire. The work's second movement begins with the piano and then moves into an achingly beautiful violin solo that becomes a kind of emotional diary. A race on the keyboard is finally met by the feverish violin. And both musicians soared as they moved through the rest of this magnificent work that inspired wild applause.
But this was by no means the end of the concert as Bell and Trifonov returned to the stage for encores. First was Clara Schumann's "Romance for Violin and Piano, Op. 22, No. 1," a work whose delicate lyrical beauty and calm passion truly sang. Then came the ravishingly melodic "Hungarian Dance No. 1 in G Minor" by Brahms, who, as Bell mischievously noted, "was in love with Clara, but was NOT her husband."
Note: This was a one-time only concert. But Trifonov will return to the Orchestra Hall stage on April 20, 22 and 23 (and in Wheaton on April 21) to perform Rachmaninov's "Piano Concerto No. 3" with the Chicago Symphony Orchestra. Also on the program, led by the French conductor Fabien Gabel, will be works by Igor Stravinsky and Anatoly Liadov. For tickets, visit cso.org or call 312-294-3000.
Follow Hedy Weiss on Twitter: @HedyWeissCritic
---