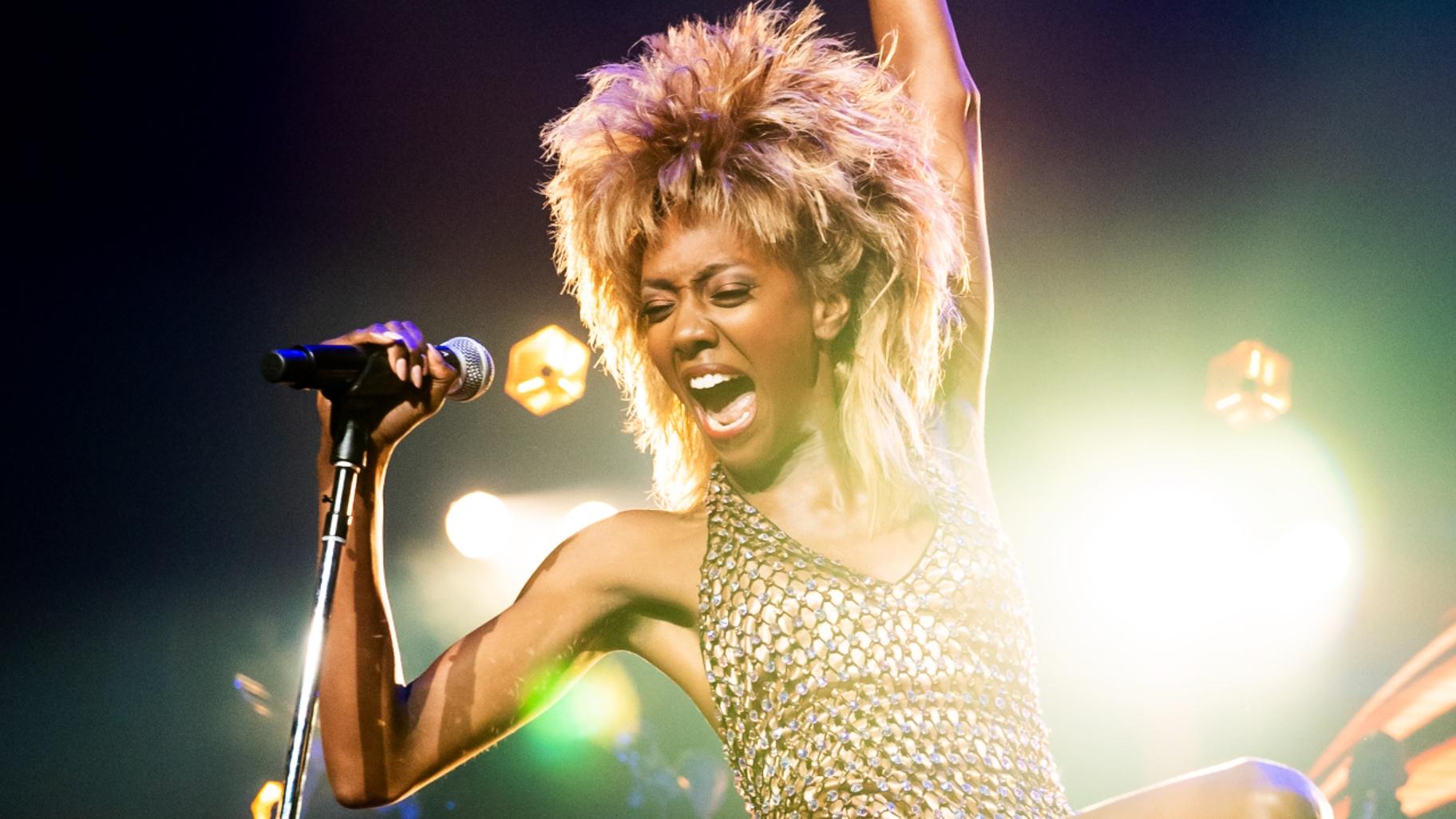 Zurin Villanueva as Tina Turner in the North American touring production of "Tina: The Tina Turner Musical." (Matthew Murphy / MurphyMade)
By the time Zurin Villanueva takes her final bow in "Tina: The Tina Turner Musical," you can only hope that an oxygen machine is awaiting her in the wings along with a sizzling steak. She delivers close to three hours of bravura singing, acting and dancing (with her eye-popping legs, slinky moves and a soaring voice that all seem to have been specially designed for the title role).
Talk about a star turn of stunning endurance. And you can only imagine what the real Tina (now 83, a citizen of Switzerland and, since 2013, the wife of a German music executive 16 years her junior), might think if she watches her own fiercely dramatic, often profoundly painful, yet wildly successful life unfold on stage.
The musical version of Tina's life captures the essence of a woman who suffered greatly on many fronts yet persevered thanks to an indomitable spirit and immense talent. The show's book is by Katori Hall (with Frank Ketelaar and Kees Prins), with direction by Phyllida Lloyd, choreography by Anthony Van Laast and a top-notch orchestra led by music director Anne Shuttlesworth playing most of Tina's greatest hits. She endured a painfully difficult childhood and broken home, a long and wildly abusive marriage to Ike Turner and a period of fame followed by one of great financial despair. But then came a midlife rebirth that led to a return of astonishing success. Talk about endurance. Excuse the double entendre, but truly, few have had "legs" like Tina.
Tina's innate gifts as a performer were evident from childhood when she sang in her Baptist church (she later turned to Buddhism) — and this was despite the fact her ebullient spirit and talent were continually shut down by her mother, who escaped a violent marriage and left her daughter with her grandmother at the age of 11.
The very young Tina (born Anna-Mae Bullock and renamed Tina by Ike when the two became an act) is played by Ayvah Johnson, 9, whose clarion voice and wonderfully exuberant spirit and confidence are truly remarkable. She easily suggests the woman Tina would become. Talk about stage presence.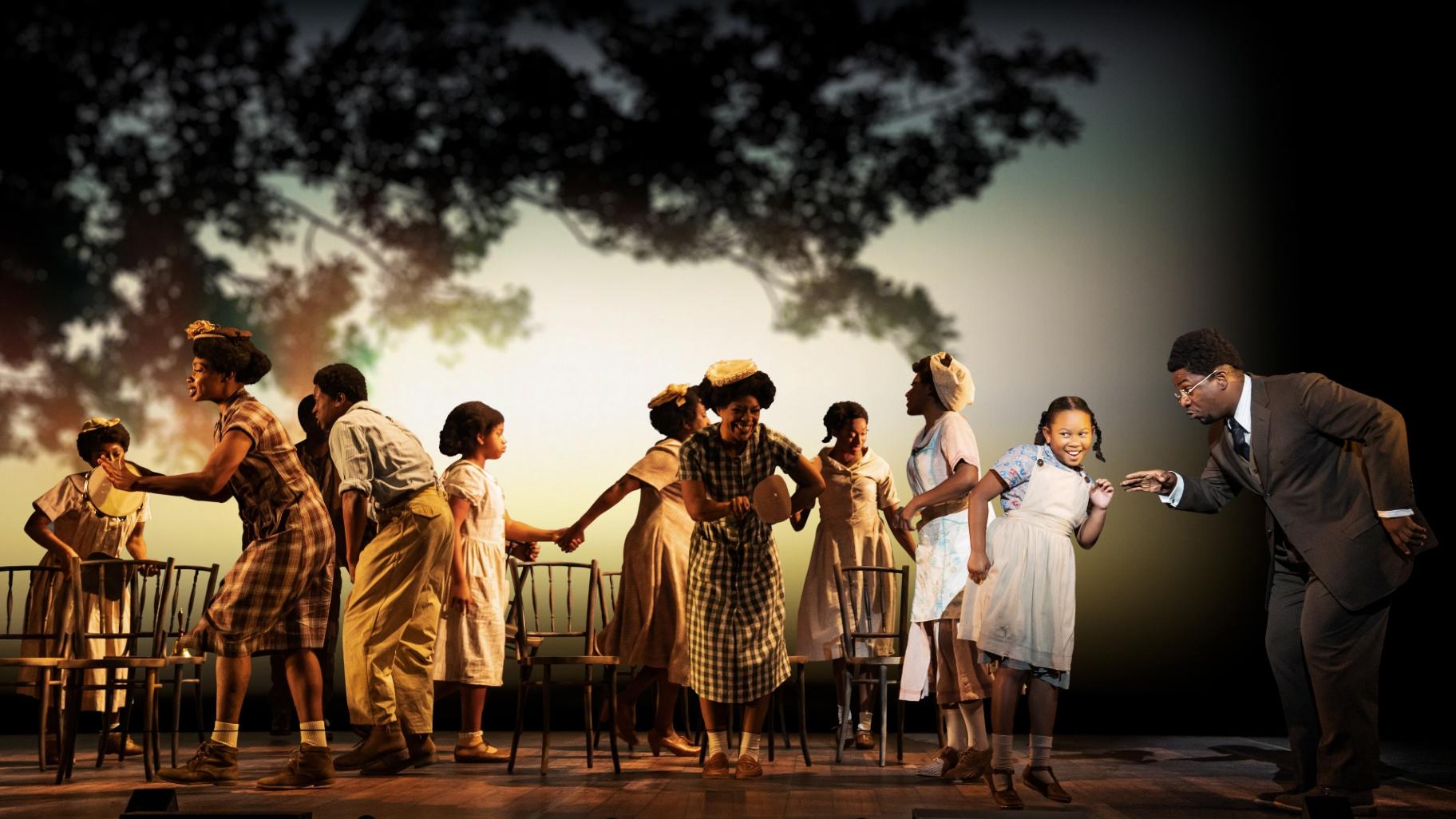 Ayvah Johnson as young Anna-Mae and the cast of the North American touring production of "Tina: The Tina Turner Musical." (Matthew Murphy and Evan Zimmerman / MurphyMade)
Tina was hardly welcomed by her mother when she later joined her in St. Louis. But it was there that Tina first saw Ike Turner (in an ideal performance by Garrett Turner) and his Kings of Rhythm band at a nightclub. And in 1958, she boldly took hold of a microphone and wowed him with her voice. The rest is history — and a great deal of it is brutal, as he clearly envied her success, beat her, seduced countless other women and fell into a cocaine addiction. In 1976, after 16 years of this abuse, Tina finally fled the marriage with 36 cents, a Mobil credit card in her pocket and virtually no control over her finances.
Yet in the wake of this exodus from a life of personal chaos, pain and legal problems there came a whole new chapter marked by monumental success and staggering record sales. And watching Villanueva during that period of Tina's career — and then witnessing her stunning encore in the wake of several hours of front-and-center performance — one could only wonder how she carried it all off and, on top of everything else, marched up and down a brightly lit stairway in the spikiest of high heels.
Backing up Villanueva throughout the show were a slew of strong performances, with Ann Nesby as her loving grandmother; Roz White as Zelma, her emotionally distant mother; Max Falls as Erwin Bach, her devoted late-in-life husband; and a slew of dancers and singers.
But it is Villanueva who drives every minute of the show. She is dressed in an endless array of sensational costumes (the work of Mark Thompson, who also designed the sets), enhanced by the expert lighting design of Bruno Poet and projection design by Jeff Sugg and accompanied by a group of terrific musicians. And she captures every iconic number in the Tina Turner songbook — from "Better Be Good to Me," "I Want to Take You Higher" and "Private Dancer" to, of course, "What's Love Got to Do With It" — to perfection.
"Tina: The Tina Turner Musical" runs through April 2 at the Nederlander Theatre, 24 W. Randolph St. For tickets, visit broadwayinchicago.com.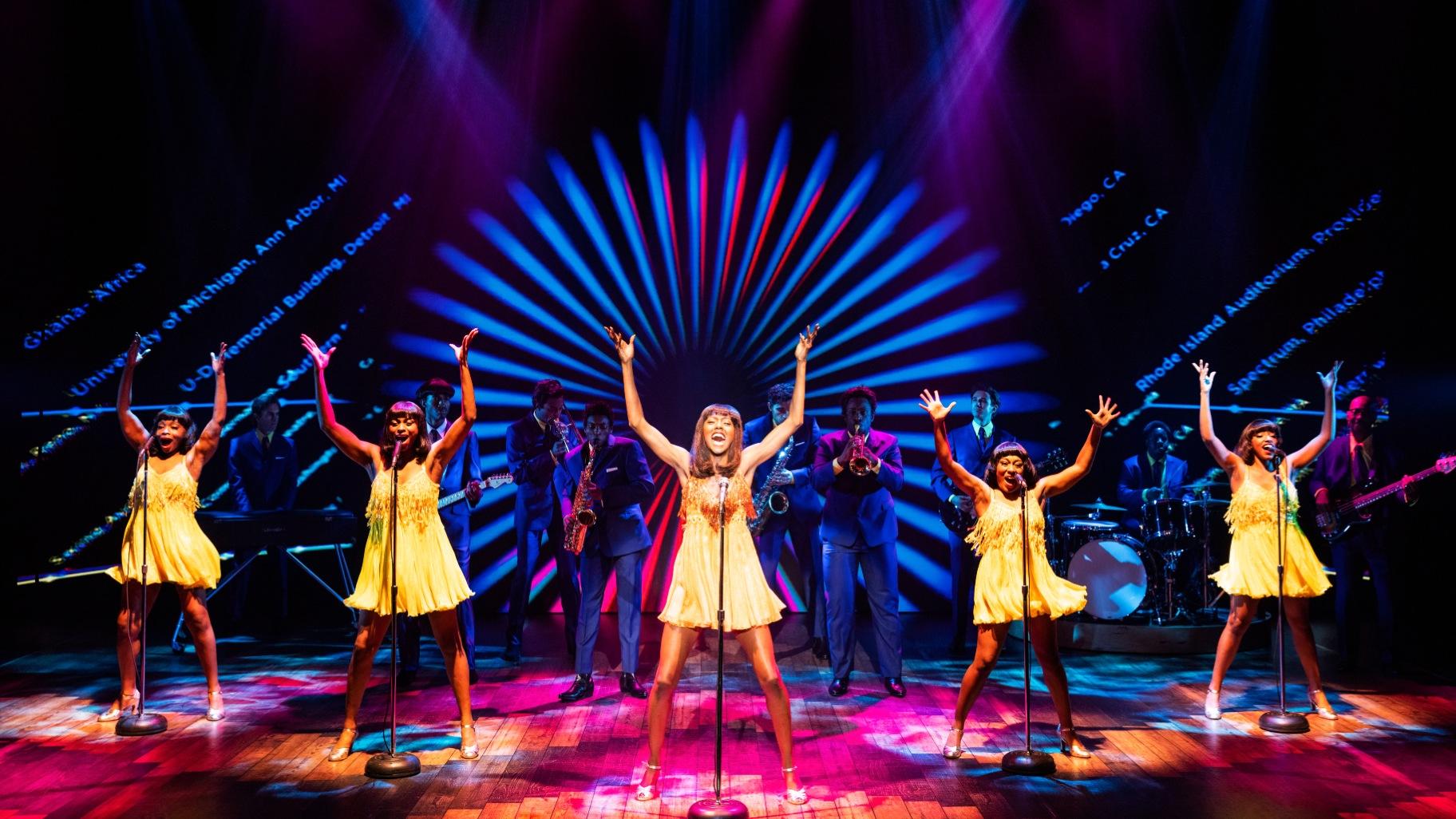 Zurin Villanueva performing "Higher" as Tina Turner and the cast of the North American touring production of "Tina: The Tina Turner Musical." (Evan Zimmerman / MurphyMade)
Follow Hedy Weiss on Twitter: @HedyWeissCritic
---