Video: Joining "Chicago Tonight" is Ward Miller, executive director of Preservation Chicago. (Produced by Eunice Alpasan)
---
You'd never suspect it from the law offices advertised on the windows of 206 S. Jefferson St., but this modest three-story building in the West Loop was once the hottest dance club in town, the Warehouse.
This is the place where DJ Frankie Knuckles spun his mix of disco, electronic, soul and gospel, popularizing a new style of music — house — that took its name from the building.  
"When I first moved to Chicago [in 1977]," Knuckles recalled to Red Bull Music Academy in 2011, "I lived there in the building for maybe the first two years. It was in a remote part of the city that had been abandoned because so much industry and business had moved out… I had to travel so far out of the neighborhood, just to get groceries and things like that."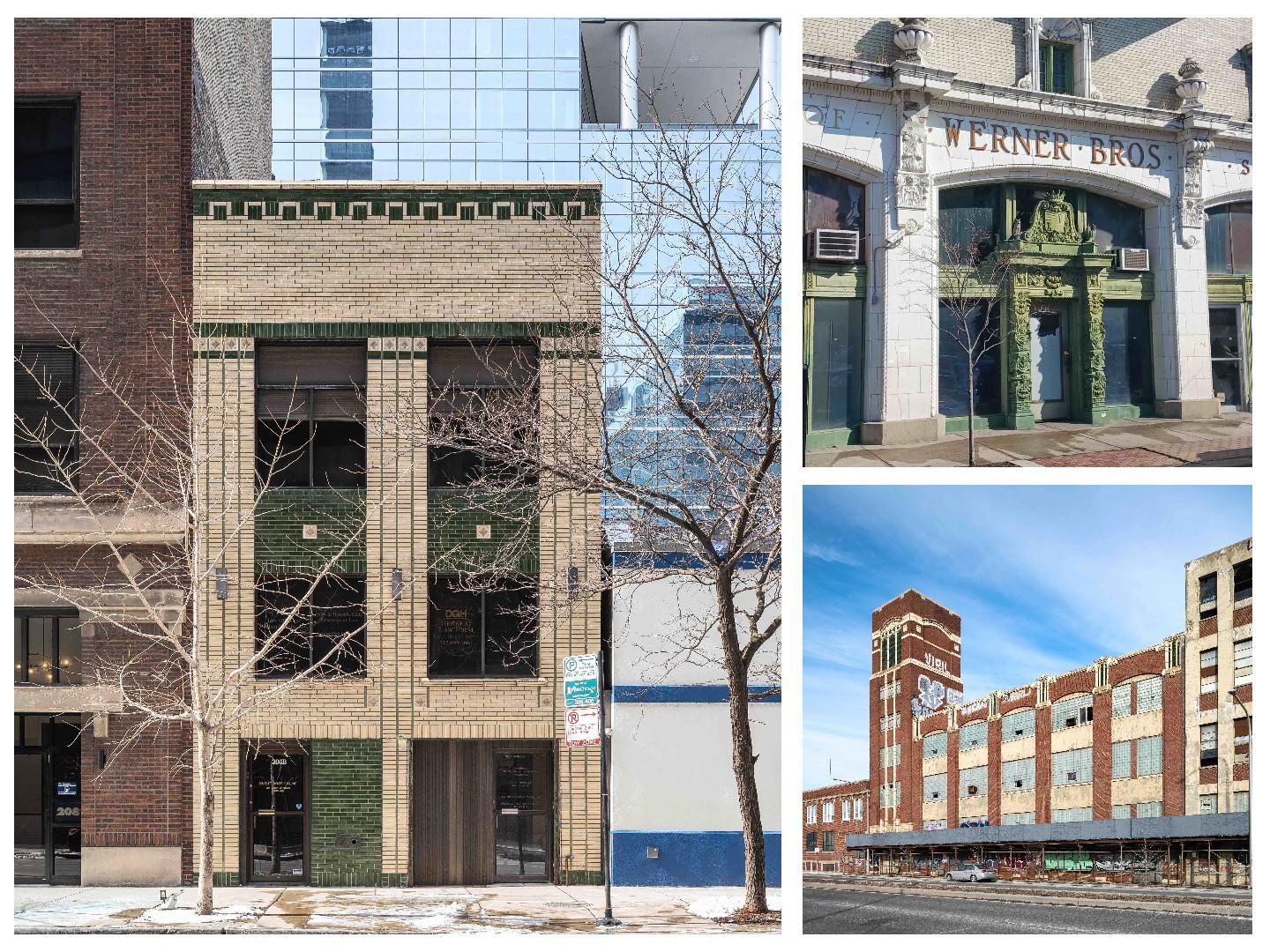 The Warehouse (l), Werner Brothers Storage Building and Continental Can Company Building are all the 2023 list of Preservation Chicago's Most Endangered buildings. (Credits: Serhii Chrucky, Ward Miller, Serhii Chrucky / Preservation Chicago)
Today, in a revitalized West Loop, the building is ripe for teardown and redevelopment, which is why Preservation Chicago has included the Warehouse on its 2023 "Most Endangered" list, announced Wednesday.
"Despite its extraordinary significance to Chicago music and cultural history, the Warehouse has no protections against alteration or demolition. Preservation Chicago urges the City of Chicago to take urgent steps to initiate Chicago Landmark designation," the organization said. "The Warehouse should be protected as a symbol of the rich history of Chicago's LBGTQ+ African-American community, the incredible story of house music and the groundbreaking impact that Frankie Knuckles had on the sound of modern music today."
The Most Endangered list, begun in 2003 and now in its 20th year, was created to sound the alarm and rally support for buildings in danger of demolition. Here are the other buildings highlighted in 2023:
Century and Consumers Buildings
Century Building, 1915, Holabird and Roche, 202 S. State St.
Consumers Building, 1913, Jenney, Mundie & Jensen, 220 S. State St.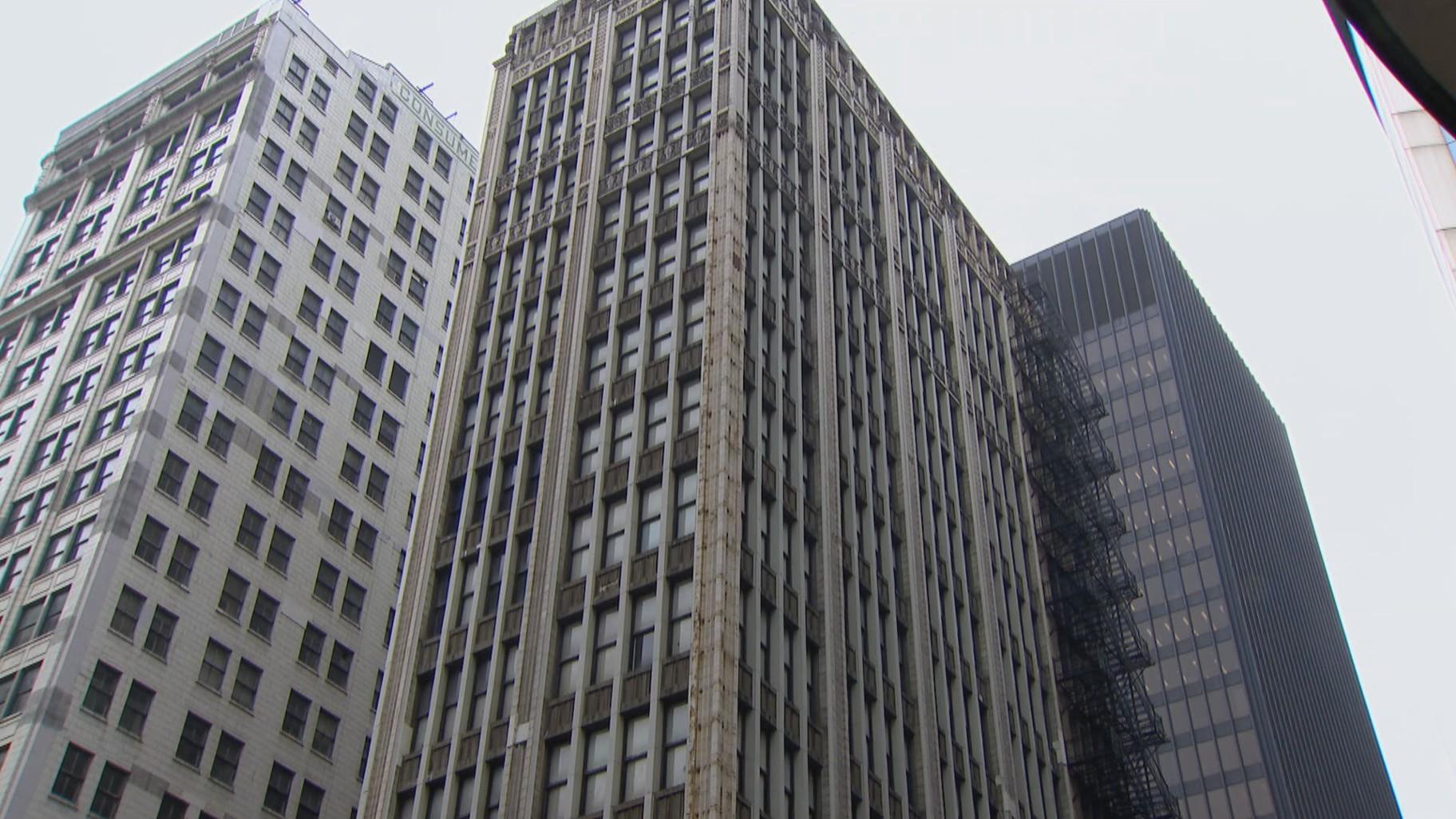 Buildings at 220 S. State St. and 202 S. State St. are being recommended for demolition as part of a security plan for the Dirksen Federal Building. (WTTW News)
These early skyscrapers have been long vacant and federal funds have been earmarked for demolition, due to post-9/11 security concerns related to their proximity to the Chicago Federal Center. 
Preservation Chicago continues to fight for an adaptive reuse of the buildings, and is promoting a national archive center as an option.
---
Terra Cotta Buildings, throughout Chicago
c. 1890s-1940s, various architects
Terra cotta buildings like this one in Albany Park are often overlooked for landmark status and preservation. (Patty Wetli / WTTW News)
The "golden age" of terra cotta usage left a significant mark on Chicago buildings, and many stunning examples in the Loop and Downtown have been landmarked. But smaller terra cotta buildings scattered throughout the city are unrecognized and unprotected, Preservation Chicago said.
"Terra cotta commercial buildings in neighborhoods across Chicago continue to be threatened by disinvestment and new development pressures. The result is often a slow but steady loss of these buildings," the organization said. "The individual building losses appear isolated, but when viewed from a wider perspective ... the trend is clear and alarming."
---
Jeffery Theater Building and Spencer Arms Hotel
1924, William P. Doerr, 7054 S. Jeffery Boulevard/952 E. 71st St.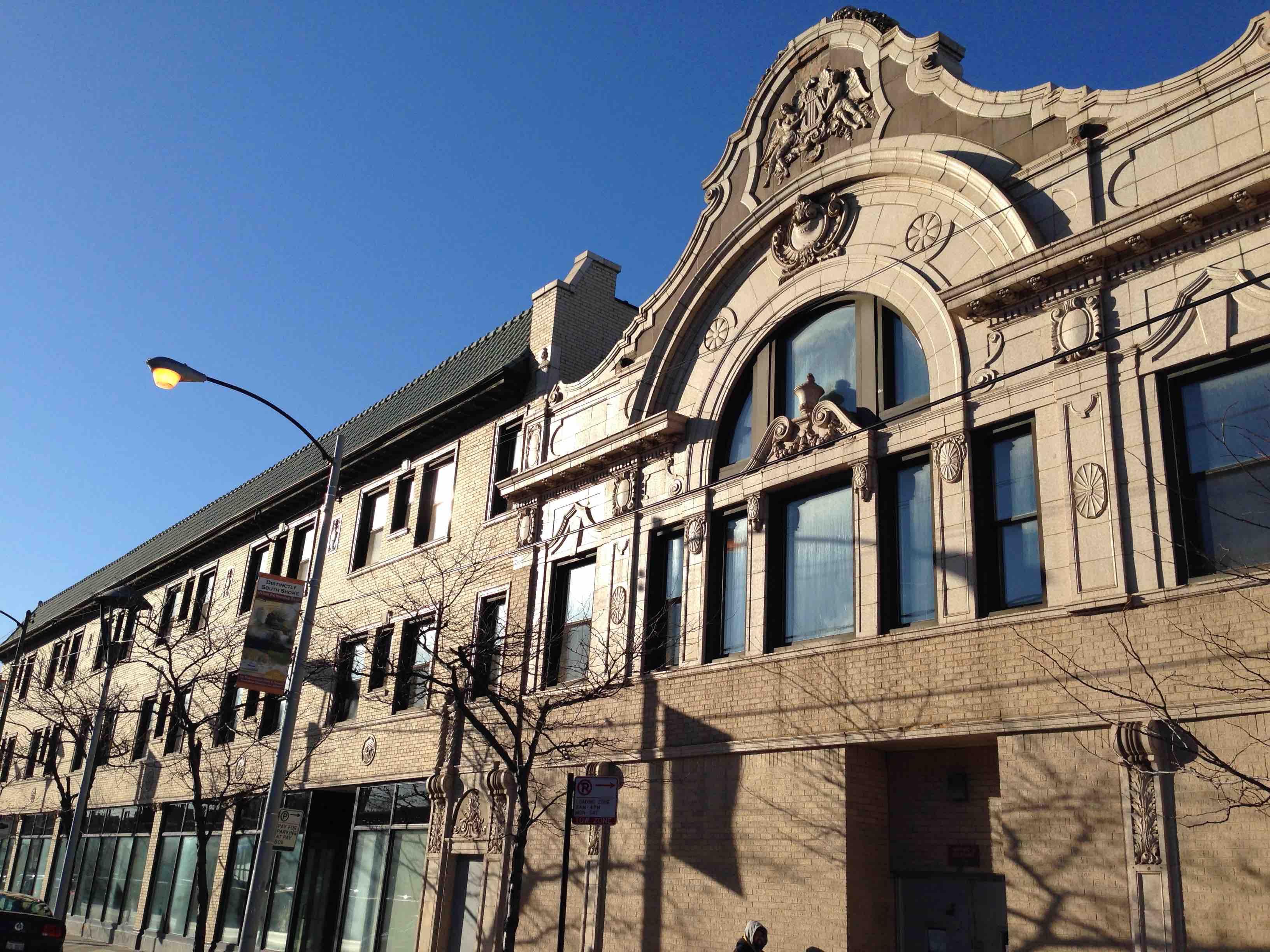 Jeffery Theater and Spencer Arms Hotel. (Ward Miller / Preservation Chicago)
The theater and hotel were built as an anchor of a once vibrant commercial district in South Shore. Though the theater closed in 1976, its ornate terra cotta façade and lobby survive along with the residential apartments of the Spencer Arms Hotel.
Demolition plans were announced in 2017 to create a new entertainment complex on the site. Preservation Chicago is pushing to have the historic Jeffery Theater's façade and lobby incorporated into this new planned development, along with the hotel. 
---
Taft Hall at the University of Illinois-Chicago
1965, Walter Netsch of Skidmore, Owings & Merrill (SOM), 826 S. Halsted St.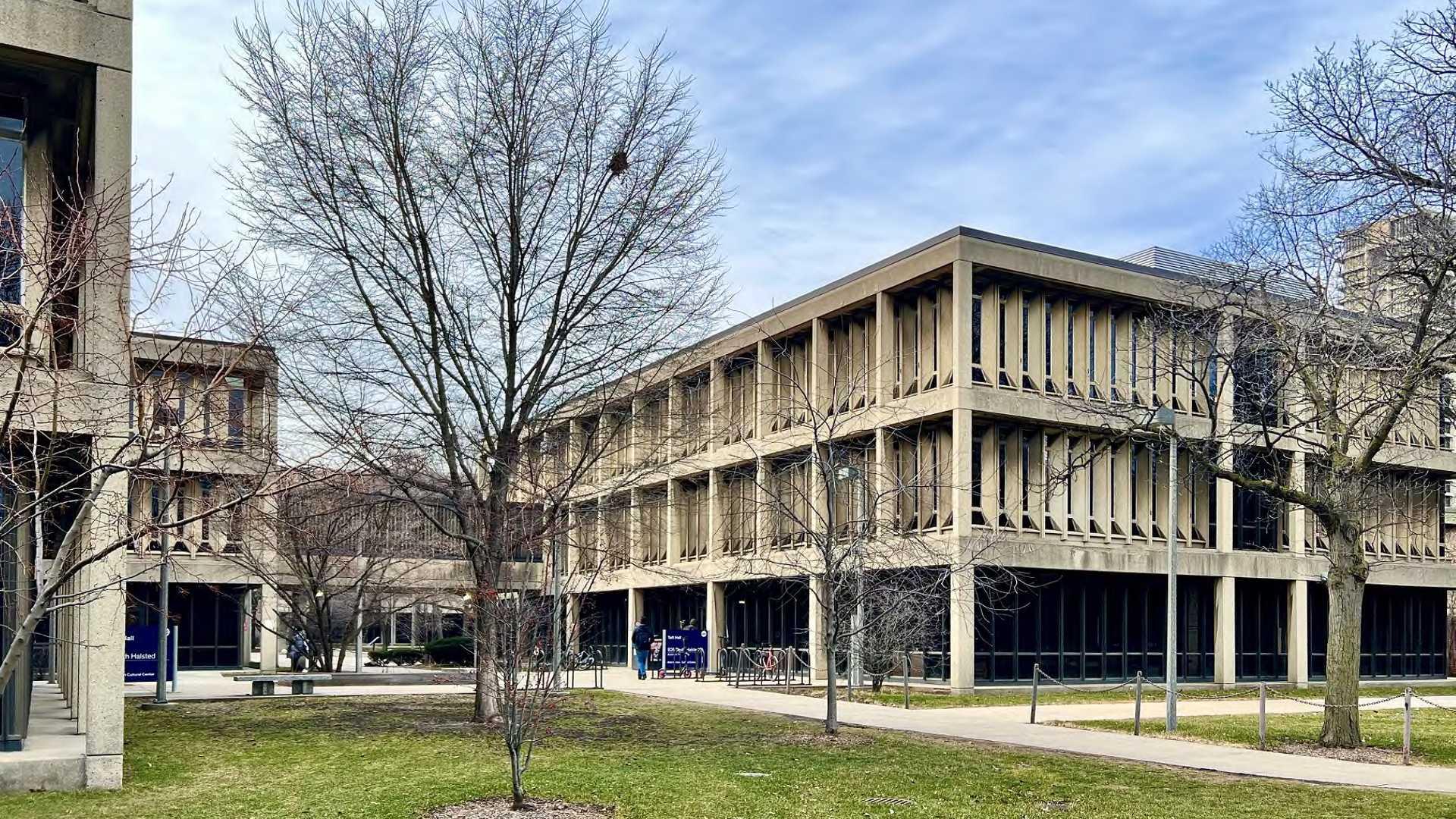 Taft Hall, University of Illinois-Chicago. (Max Chavez / Preservation Chicago)
The UIC campus is considered one of the crowning achievements of acclaimed architect Walter Netsch's long career.
Taft Hall is one of three, nearly identical halls, in a building cluster linked by second-floor enclosed bridges. In October 2022, the university announced plans to renovate the hall, including a complete demolition of its historic façade. The "decision that would accelerate the erosion of Netsch's iconic campus design," Preservation Chicago said.
---
Werner Brothers Storage Building
1921, George S. Kingsley, 7613 N. Paulina St.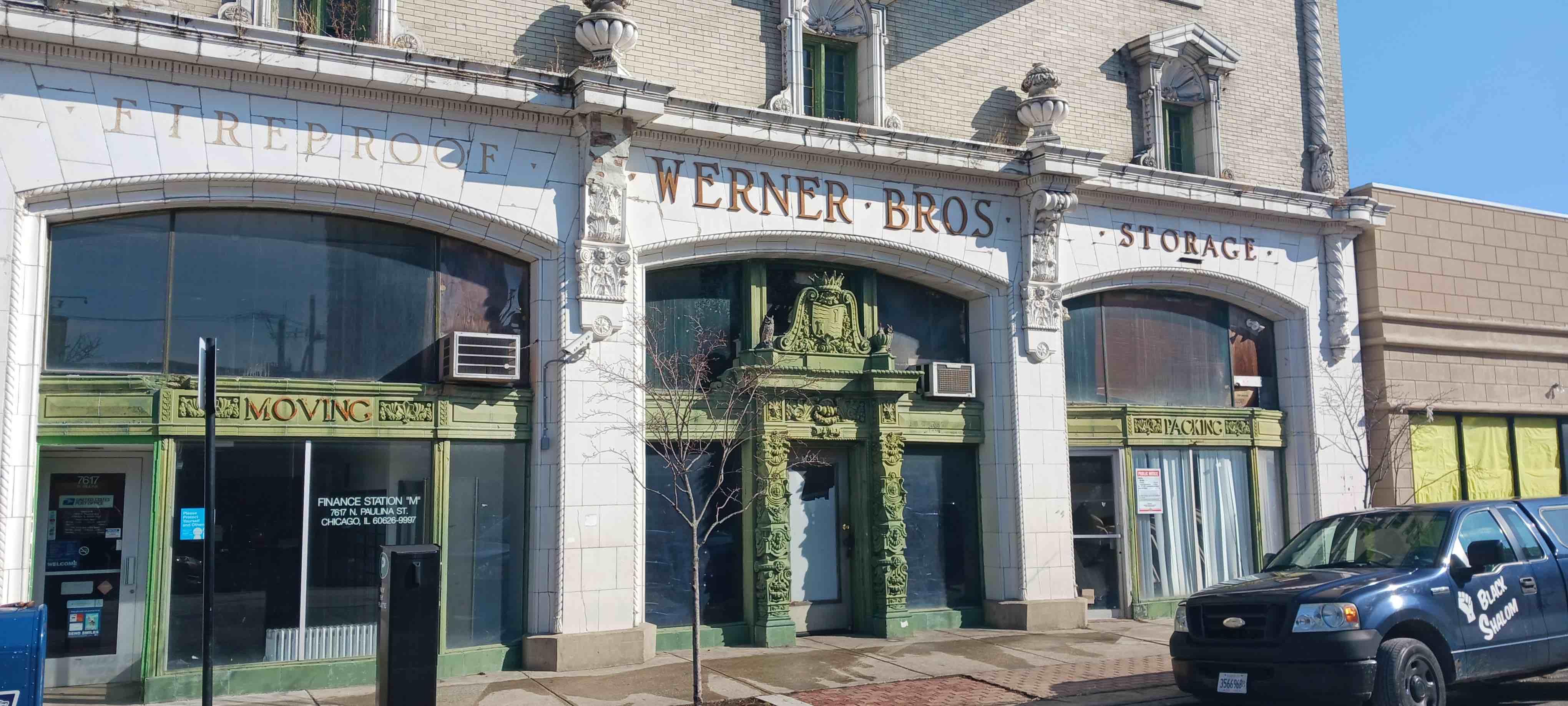 The Werner Brothers Storage Building. (Ward Miller / Preservation Chicago)
This Rogers Park jewel is an example of a bygone era when storage companies hired renowned architects to create majestic, sturdy and stunning buildings, Preservation Chicago said.
In 2022, plans were announced to demolish the Werner Brothers Storage Warehouse to build an affordable, transit-oriented residential development, of similar size and height to the existing building. Preservation Chicago supports the plan but is urging developers to incorporate the historic structure, particularly its terra cotta cladding, into the new construction.
---
Southwest Side Industrial Buildings
— Continental Can Company Building, 1920, Samuel Scott Joy, 3815 S. Ashland Avenue
— Damen Silos, 1906, John Metcalf (civil engineer), 2860 S. Damen Avenue
— Fisk Power Station, 1903, Shepley, Rutan and Coolidge, 1111 W. Cermak Road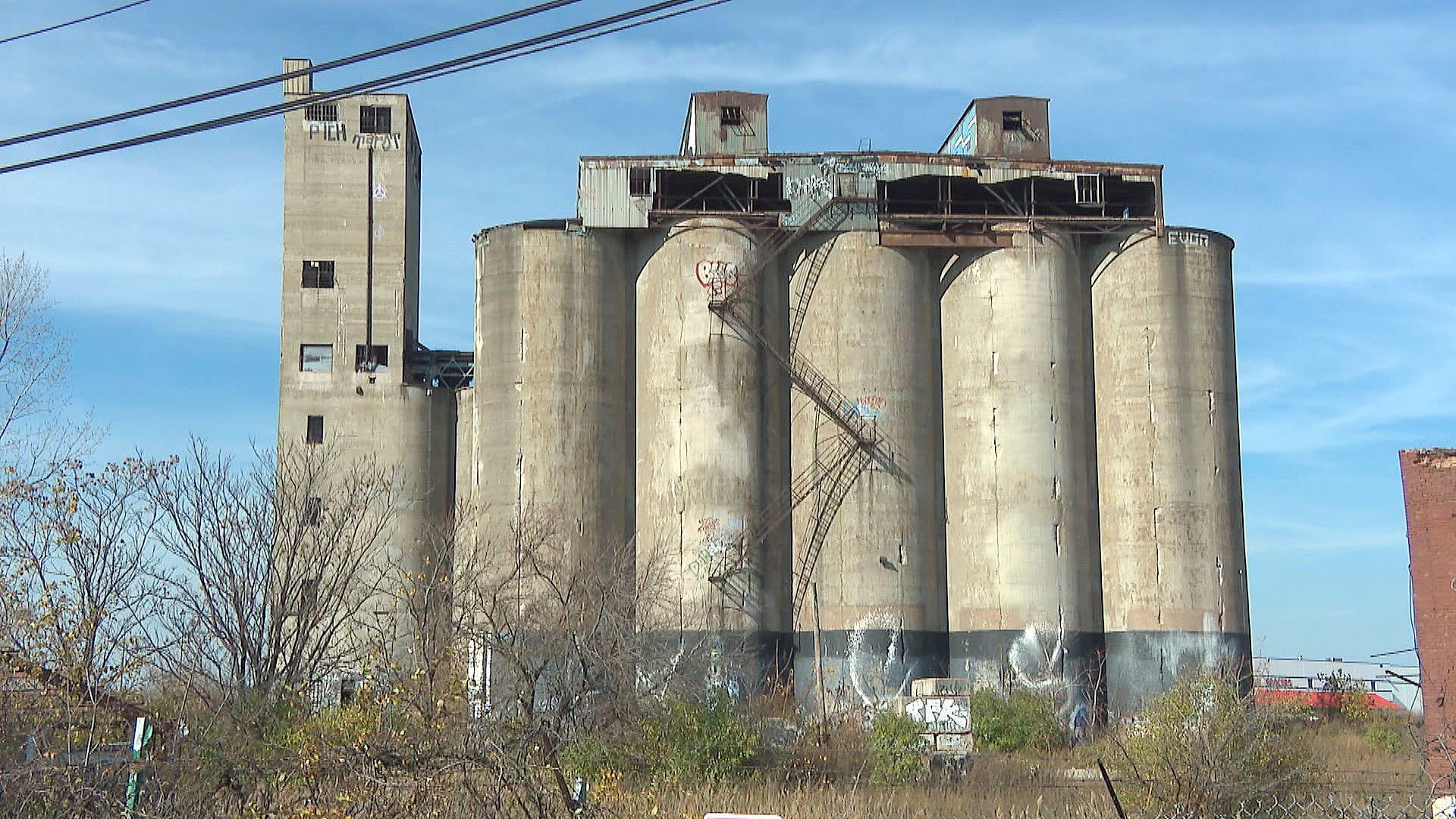 Damen Silos. (WTTW News)
Located in the Bridgeport and McKinley Park neighborhoods, the Central Manufacturing District's Original East District (CMD East) is recognized as the first planned industrial park in the United States.
In 2022, plans were announced to demolish of one of its most prominent buildings, the Continental Can Building, for the construction of a new cold storage facility. Its tower, once one of many in the CMD East, is now the last remaining of its kind in the district. 
"The demolition of this lovely Gothic terra cotta building and tower would be a terrible loss for the CMD-Original East District and, more broadly, the Southwest Side's industrial heritage," Preservation Chicago said.
The Damen Grain Silos situated along the South Branch of the Chicago River have been an iconic part of Chicago industrial and agricultural history for over a century. The silos closed in 1977 and enjoyed a second life as a film site and destination for unofficial urban tourism.
A decision by the State of Illinois to sell the Damen Silos and 23.4-acre riverfront site to a buyer with plans for demolition makes them highly threatened. 
Chicago should not lose one of the last monumental landmarks to its agricultural industrial past, Preservation Chicago said. "We recommend the consideration of the historic Damen Grain Silos as part of a larger public amenity and reuse vision, which could include a much-needed riverfront environmental restoration and recreational opportunities for nearby communities living on Southwest Side, Chicagoans across the city and tourists."
The Fisk electrical-generating station paved the way for coal-fired electrical generators, based around the steam engine turbine, enabling the "mammoth production of electricity for a rapidly growing city at a magnitude never before seen," according to Preservation Chicago. 
Sitting on a 50-acre riverfront site, Fisk is ripe for repurposing along the lines of the Tate Modern in London, a former power plant reincarnated as an art museum.
"A repurposed and revisioned Fisk Power Station could become a huge asset as a cultural and community center to the Pilsen, Chinatown, Near-Southwest side and Central Area residents," Preservation Chicago said.
Contact Patty Wetli: @pattywetli | (773) 509-5623 |  [email protected]
---