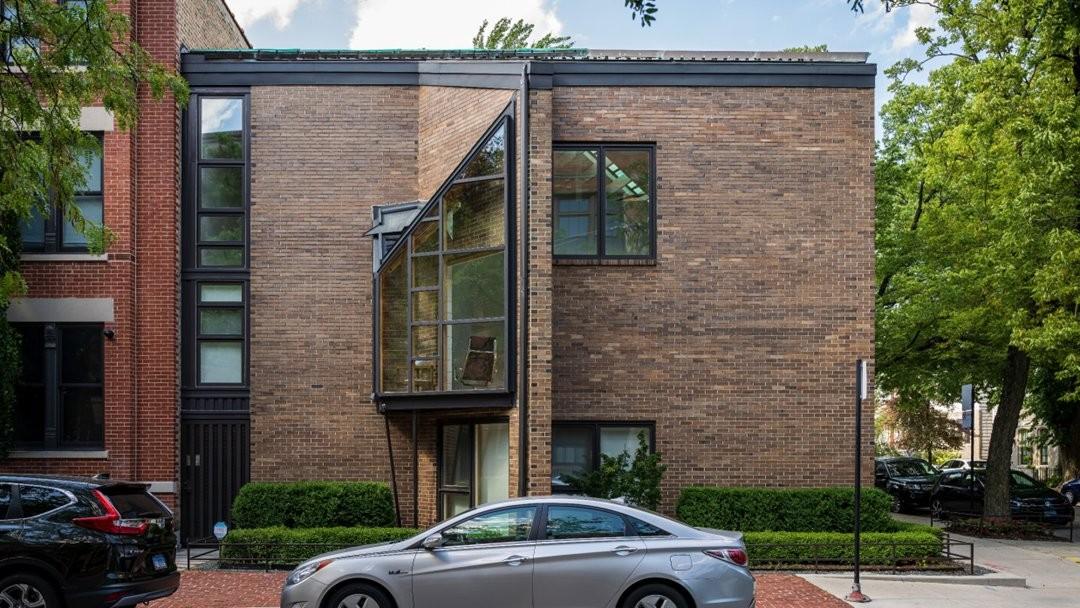 Netsch House, 1700 N. Hudson Ave. (Twitter / Chicago Department of Planning and Development)
When the Old Town Triangle District received its Chicago landmark designation in 1977, the Netsch House, at 1700 N. Hudson Ave., was only three years old. 
"We paid little mind to these modern houses," said Diane Gonzalez of the Old Town Triangle Association.
Today, 1970 is to 2020 what 1920 was to 1970 — the decade has aged past vintage and is closing in on historic itself. On Thursday, the Netsch House received preliminary landmark status by unanimous vote from the Commission on Chicago Landmarks.
"There are so many wonderful mid-century homes in Old Town," commissioner Gabriel Ignacio Dziekiewicz said. "I hope there's some way we can include them ... and to have more owners step up."
The commission's decision has implications far beyond Old Town, said architectural historian Anney Grish, speaking at Thursday's hearing. It will send a message of "how important it is to recognize Chicago's more recent past," Grish said.
Commissioners understood the ramifications of their vote.
"The preservation community is coming around to understanding the 1970s and 1980s as being historic, but it's still a very teachable moment to recognize the resources that are out there that are remarkable," commissioner Adam Rubin said. "This is an excellent precedent to be setting."
The Netsch House, located at 1700 N. Hudson Ave. in Lincoln Park, received a preliminary landmark recommendation today from the Commission on Chicago Landmarks. The home, built in 1974, is an example of architect Walter Netsch's geometrically complex Field Theory style of design. pic.twitter.com/7Jr57FpW7T

— Chicago DPD (@ChicagoDPD) January 12, 2023
---
In terms of modern structures worthy of preservation, the Netsch House is a formidable standard bearer.
Prominent architect Walter Netsch — whose work includes the stunning Cadet Chapel at the U.S. Air Force Academy and much of the University of Illinois Chicago campus — designed the house for himself and wife Dawn Clark Netsch, a glass-ceiling-shattering attorney and politician. It remained the couple's home for the next three decades, with Clark Netsch staying in the house after her husband's death in 2008, until she died in 2013.
The streamlined, box-like exterior opens to an interior that's so extraordinary that the commission made the unusual move of including it in the landmark designation. There are scarcely a dozen instances in Chicago in which the interior's specific features are landmarked along with the exterior, said Matt Crawford, the architectural historian who presented the report on the Netsch House.
"The drama is really in the interior," Crawford said, describing it as a 30-foot-tall cube from which the home's living spaces spiral out in a series of platforms.
The complex geometry is a hallmark of a style pioneered by Netsch, known as field theory. The house is a bold and highly identifiable example of the style, a style that wasn't universally appreciated or widely adopted.
In an obituary of Netsch published in Architectural Record, Chicago architecture critic Blair Kamin wrote that at least one architecture buff feared for the future of field-theory buildings following Netsch's death, saying, "their loss would be a blow to the world's architectural variety."
Fortunately, the Netsch House found the ideal buyers after Clark Netsch died.
Will Forrest and Mark Smithe (of the Walter E. Smithe furniture company) not only purchased the house but also approached Netsch's one-time firm SOM (Skidmore, Owings and Merrill) to make a few updates to the interior without altering the unconventional architecture. SOM, Forrest told Curbed Chicago in a 2019 interview, was the only obvious choice to best understand field theory and Netsch's original intentions.
Forrest and Smithe fully support the landmark designation for both the exterior and interior, Forrest told the landmark commission.
"It's a privilege to be a custodian of this incredible home," Forrest said. "We recognize this is one of many important mid-century homes in Old Town — we urge you to consider others."
Contact Patty Wetli: @pattywetli | (773) 509-5623 |  [email protected]
---