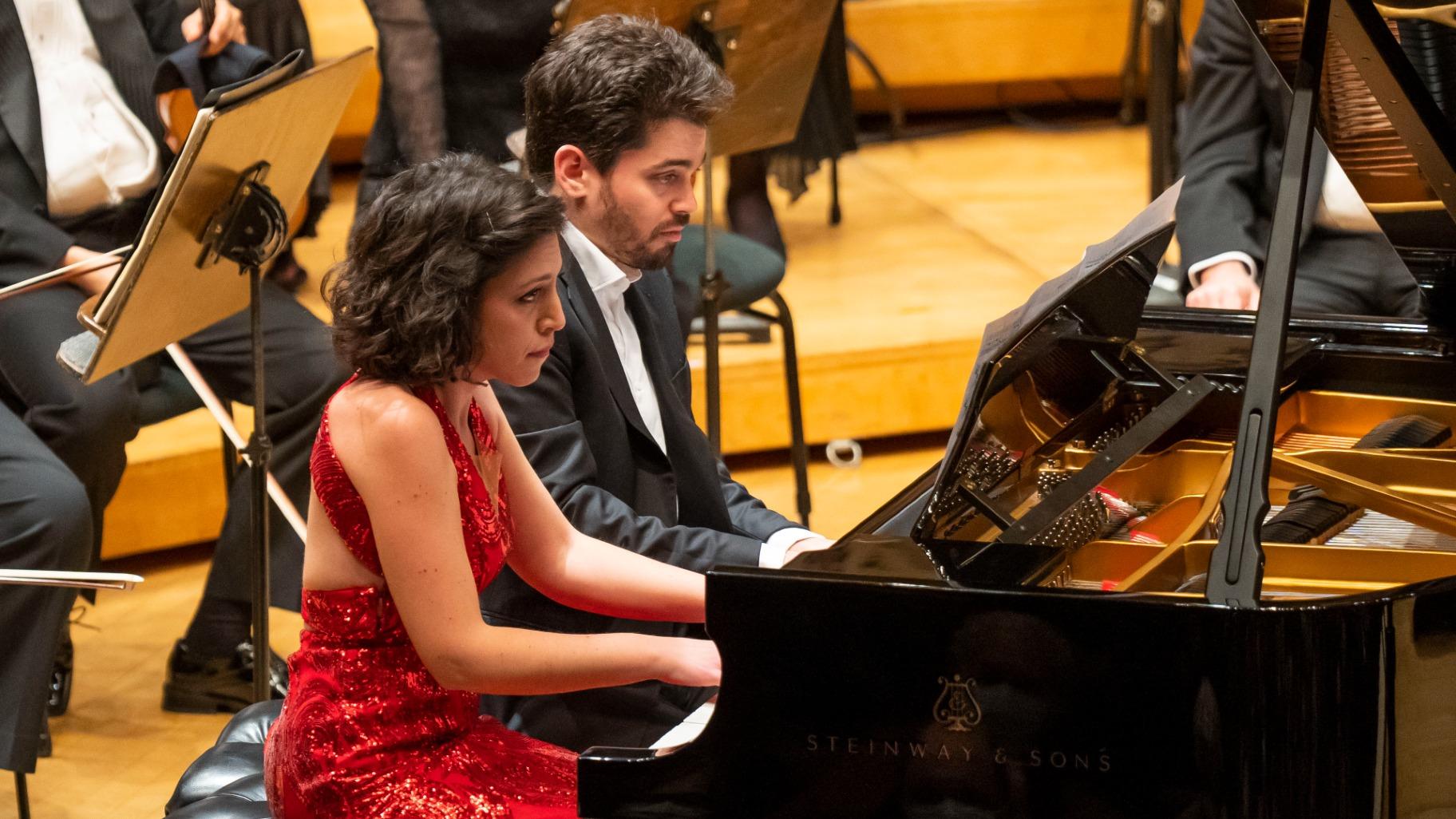 Conductor Lahav Shani and pianist Beatrice Rana perform an encore for piano four hands Rana's CSO debut on Feb. 9, 2023. (Todd Rosenberg)
It was an evening to remember at Orchestra Hall this Thursday with sublime and exceedingly fresh performances of works by two Russian musical geniuses of the first half of the 20th century: Sergei Prokofiev and Sergei Rachmaninov.
The program's three familiar and fiendishly challenging works were tackled with bravura force by the peerless musicians of the Chicago Symphony Orchestra (who were straight off their acclaimed tour to California and Canada). Adding to the fireworks was the astonishing power and bravura technique of Italian pianist Beatrice Rana and the mightily impressive CSO debut of Lahav Shani, the young conductor (and pianist) who moves with the elegance, grace and dynamic expressiveness of a highly trained dancer, much in the tradition of Maestro Muti. You could not ask for anything more. Not only did there seem to be a strong bond between the orchestra and Shani, but the response of the audience was also vivid proof of the concert's altogether thrilling impact.
Opening the program was Prokofiev's "Symphony No. 1 in D Major (Classical)," composed in 1916-17, with its 1918 premiere in Leningrad conducted by the composer. In later years he would write several ballet and film scores, but there is a wonderful theatricality at work in this much earlier symphony. It was captured from the dynamic opening movement in which the string, wind and brass sections seemed to be talking to each other in a frenzy of high-speed excitement, with bristling clarity.
The work's brief but beautiful second movement had a magical lyricism generated by the plucked strings and the shading of the winds (at their very best) and brass. It was followed by a playful gavotte that grew into a grand finale with another big burst of sound and racing energy, all ideally controlled by Shani.
Next on the program was Rachmaninov's 1934 work, "Rhapsody on a Theme of Paganini," with Beatrice Rana, the phenomenal Italian pianist who made her impressive CSO debut in 2019.
Rana arrived on stage in a stunning sparkling red gown that easily captured the exceptional dynamism of her playing in a work that, among many other things, serves as a reminder that Rachmaninov was a phenomenal pianist, as well as a composer.
The "Rhapsody" is a widely familiar work, but I have never heard it performed with quite the same intensity that Rana and the orchestra brought to it. Rana's clarity, strength, astounding speed and shading were matched by every section of the orchestra — with thrilling sound generated by the large percussion section on timpani, snare drum, bass drum, triangle, cymbals and glockenspiel. But Rana just as easily captured sections of the work's lyrical quality along with the sound of the plucking of the low strings, an exceptional clarinet riff, and the warmth of the French horns and other brass. And in a solo section, she captured an exquisite pensive quality of the work before once again heading off to the races and a wild dance played at the speed of light.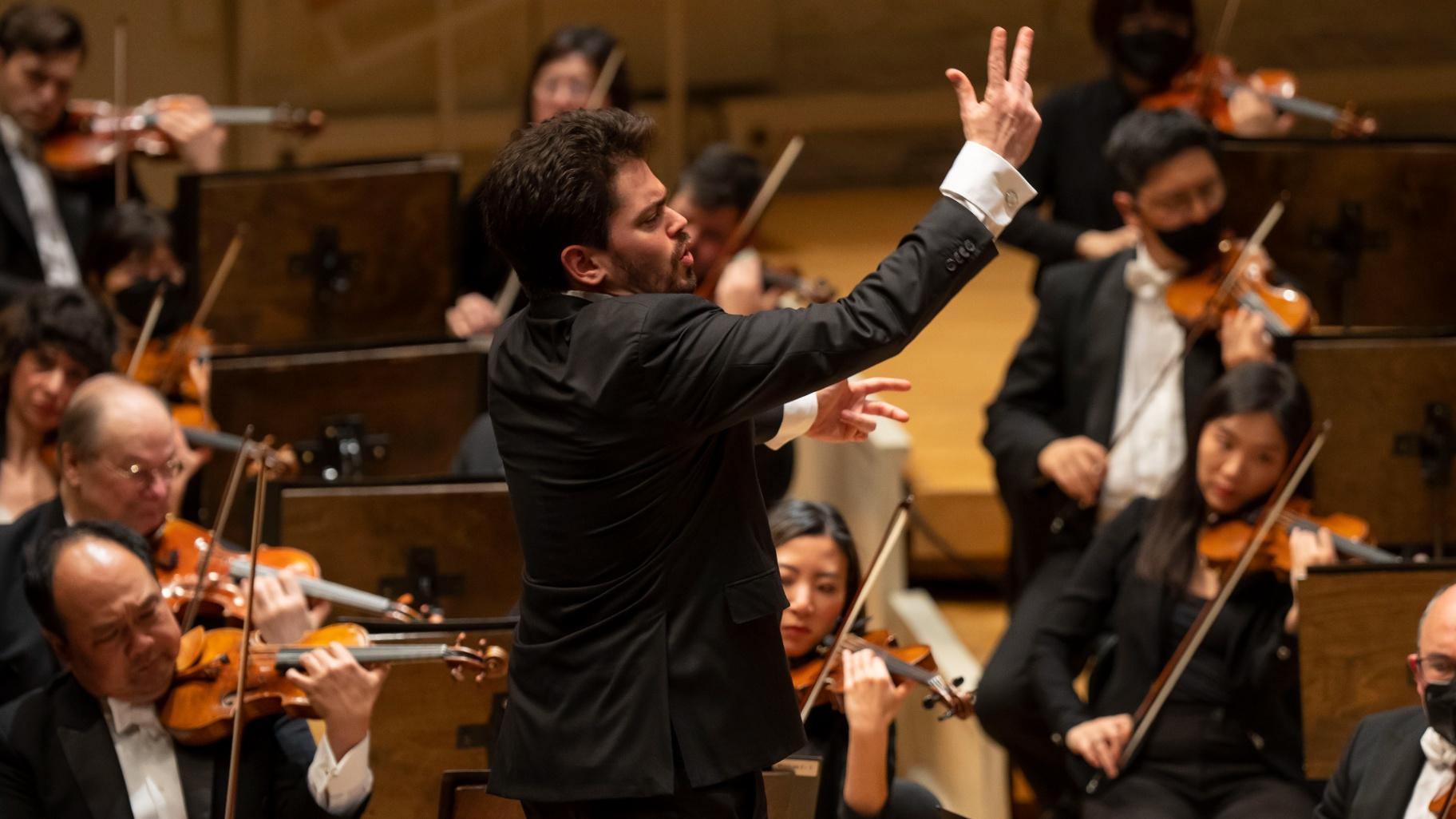 Conductor Lahav Shani made his CSO podium debut Feb. 9, 2023, leading the Orchestra in a program of works by Prokofiev and Rachmaninov. (Todd Rosenberg)
The treatment of both the work's most rapturous passages and its thrilling sound and fury were absolutely stunning, with Shani, Rana and the grand-scale orchestra in perfect synchrony.
In the wake of thunderous applause, an encore by Rana was unquestionably in order. And it came with a most winning surprise as both she and Shani returned to the stage for a delightful duet: "The Dance of the Sugar Plum Fairy" from Tchaikovsky's "Nutcracker Suite for Four Hands."
The second half of the program was devoted to another Rachmaninov masterpiece: his "Symphonic Dances," composed in 1940, a year after war broke out in Europe and he moved to the United States. And indeed, the music danced, with every section of the full orchestra in peak form as it played the work's gorgeous melodic theme; captured something haunted and haunting at another point; shifted dynamics for a period of calm; conjured a dreamy waltz; and shifted into a more heated dance sequence and stormy wildness that then shifted to lyricism.
Chimes and other percussion ceded to a romantic melody. The winds and brass made their clarion calls. Nervous energy erupted among the strings. And then came a frenzy of drumbeats, the blast of a cymbal and a dramatic silence that was the perfect ending to a thrilling evening — one that suggested Shani (currently music director of the Rotterdam Philharmonic and briefly the Israel Philharmonic) can finesse the sort of magnetic connection with the CSO musicians that Maestro Muti invariably conjures.
This CSO concert will be repeated at 8 p.m. Friday and Saturday at Orchestra Hall, 220 S. Michigan Ave. For tickets, visit cso.org or call (312) 294-3000.
Note: Shani was named chief conductor of the Munich Philharmonic, a position that is set to begin in September 2026.
Follow Hedy Weiss on Twitter: @HedyWeissCritic
---