During press interviews held after WTTW's mayoral forum Tuesday evening, challengers to Mayor Lori Lightfoot pledged to reestablish a Department of Environment — disbanded in 2011 under Rahm Emanuel — if elected.
Here's a summary of candidate responses.
Ald. Sophia King (4th Ward):
Reestablishing a Department of the Environment would be "one of the first things I would do," King said. "We can't continue to look at the immediacy of issues and not prepare for long-term sustainability. We've got to have air to breath and good water to drink, and there are certain things we haven't done as a city to address those."
She pointed to Chicago's slow pace of lead line replacement compared with Newark, N.J., where more than 23,000 lines have been replaced, at no cost to homeowners, thanks to creative funding solutions and legislation that empowered municipalities to replace lines on private property. "They had the political will and they worked collaboratively with the city council and the state in order to do that," King said.
---
State Rep. Kam Buckner:
Buckner said he is committed to bringing back the Department of Environment and would place its leader at the commissioner level, not director. The department shouldn't exist "at the whims of the mayor," he said, but should be institutionalized as part of the work of city government, with objectives ranging from decarbonization to reducing plastic usage to increasing Chicago's recycling rate.
On matters of environmental justice, "I stood with the people of Southeast Chicago during the General Iron fiasco; I stood with the people of Little Village during the Hilco fiasco; I stood with the people of Pilsen as they tried to get rid of a metal shredder that's right there in their community."
In the General Assembly, Buckner helped craft the Climate and Equitable Jobs Act and is a founding member of the Lakeshore Caucus. "This work is important to me and I've shown that," he said.
---
Paul Vallas:
Vallas was budget director for Richard M. Daley when the former mayor created the Department of Environment. Vallas said he would bring the department back and would create an advisory board of activists and experts — people who've devoted their lives to environmental and climate issues —to choose the department head. 
He would likewise strengthen City Council's committee on the environment, which should have a strong and direct relationship with the department, he said.
---
Ald. Roderick Sawyer (6th Ward):
Sawyer said the environment is too important for Chicago not to have a department dedicated to it.
Though acknowledging he's not an expert in the area, Sawyer said he would commit to having "the best person available by my side" to advise him about climate change, environmental justice and other related issues.
---
Willie Wilson:
Wilson did not directly answer a question from WTTW News about whether he — a perceived pro-business candidate — would stand up to industrial polluters.
---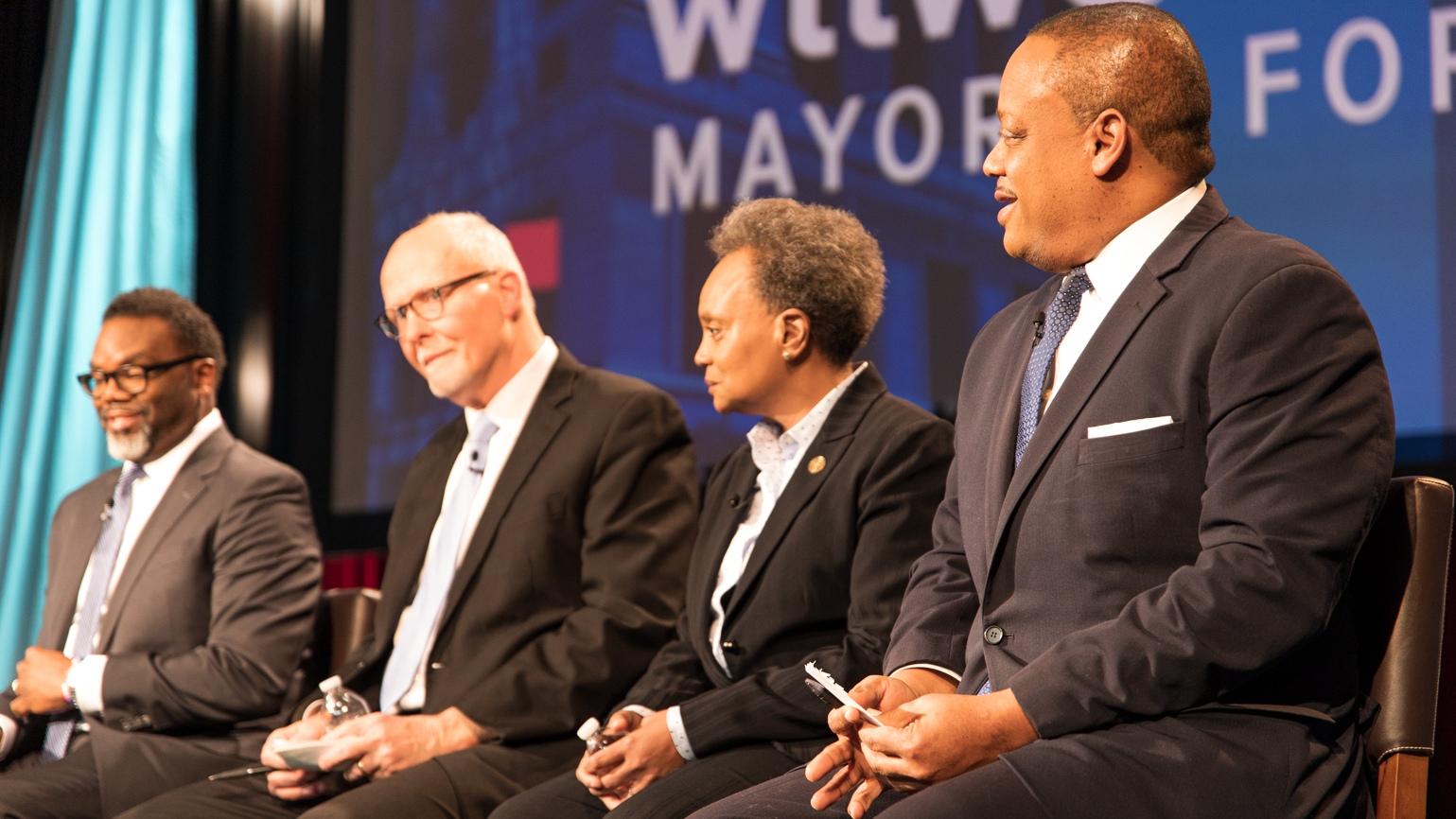 Candidates Cook County Commissioner Brandon Johnson, Paul Vallas, Mayor Lori Lightfoot and Ald. Roderick Sawyer (6th Ward) at the WTTW News mayoral forum on Feb. 7, 2023. (Michael Izquierdo)
Cook County Commissioner Brandon Johnson:
Along with bringing back a Department of Environment — and making sure it's fully funded, staffed and supported — Johnson said he would undertake, within the first 100 days of his administration, a cumulative impact study of environmental conditions in the city. "Then we can figure out what the ultimate needs really are," he said.
For Johnson, who grew up in the Austin neighborhood, the issue of air quality strikes close to home. "I grew up with asthma, I still suffer from it," he said. "We know in many communities throughout the city where asthma is still very much a problem."
Like Buckner, Johnson said he stood with residents who protested against General Iron's move to the Southeast Side and said if elected, he would "disrupt" the type of processes and decisions that led to the botched Hilco implosion in Little Village.
---
Ja'Mal Green:
Green called creation of a fully funded and staffed Department of Environment "step one."
Referencing Michelle Wu's Green New Deal in Boston, Green said his team would look at what elements could work in Chicago, and then the Department of Environment would be empowered to tackle those issues.
Green also vowed to cut ties with ComEd and create a municipal utility to provide electricity. "This is so important. We're gonna take ComEd out," Green said.
---
U.S. Rep. Jesús "Chuy" García did not participate in the forum, opting to attend President Joe Biden's state of the union address in Washington, D.C.
---
Pledging to bring back the Department of Environment is also a promise then-candidate Lori Lightfoot made during her mayoral run in 2019. Instead, she appointed a chief sustainability officer and created an Office of Climate and Environmental Equity.
The difference, critics say, between a department and office can be seen in funding — $208 million for the Department of Planning and Development versus less than $1 million for the Office of Climate and Environmental Equity — and in the ability to set and enforce policy versus making recommendations or offering guidance.
Lead line replacement, decarbonization of buildings, raising the city's recycling rate or implementing a compost program, monitoring air pollution, lakefront erosion and flooding, stormwater management — all of these issues and more could fall under a Department of Environment, but are currently divvied up under separate agencies.
In dismantling the Department of Environment and spreading responsibility for environmental issues across his administration, Emanuel argued that he was giving the environment greater visibility — taking it out of its silo and making it a focus of all city departments.
In practice, residents and community organizations have to deal with multiple city departments to get assistance with a single environmental issue, and department staff are being asked to handle responsibilities in areas outside their core expertise, according to the Illinois Environmental Council. 
In slashing dedicated environment staff, enforcement also fell by the wayside. A deep dive by the Better Government Association into the repercussions of Emanuel's decision to nix the department showed that between 2010 and 2018, hazardous material inspections fell by more than 90%, air quality inspections dropped almost 70% and solid waste inspections decreased by more than 60%.
Lightfoot administration's has been a mixed bag, dogged by controversies including the relocation of General Iron's metal shredding operation from Lincoln Park to the Southeast Side — a relocation that was halted largely due to relentless public pressure and intervention from federal authorities — but also notable for a stated commitment to creating equitable tree canopy across the city. 
In 2022, her team released a Climate Action Plan that included a number of ambitious goals like retrofitting 90% of city-owned buildings for renewable energy consumption by 2035. 
What advocates like the Illinois Environmental Council say is that the city needs a Department of Environment to match that ambition.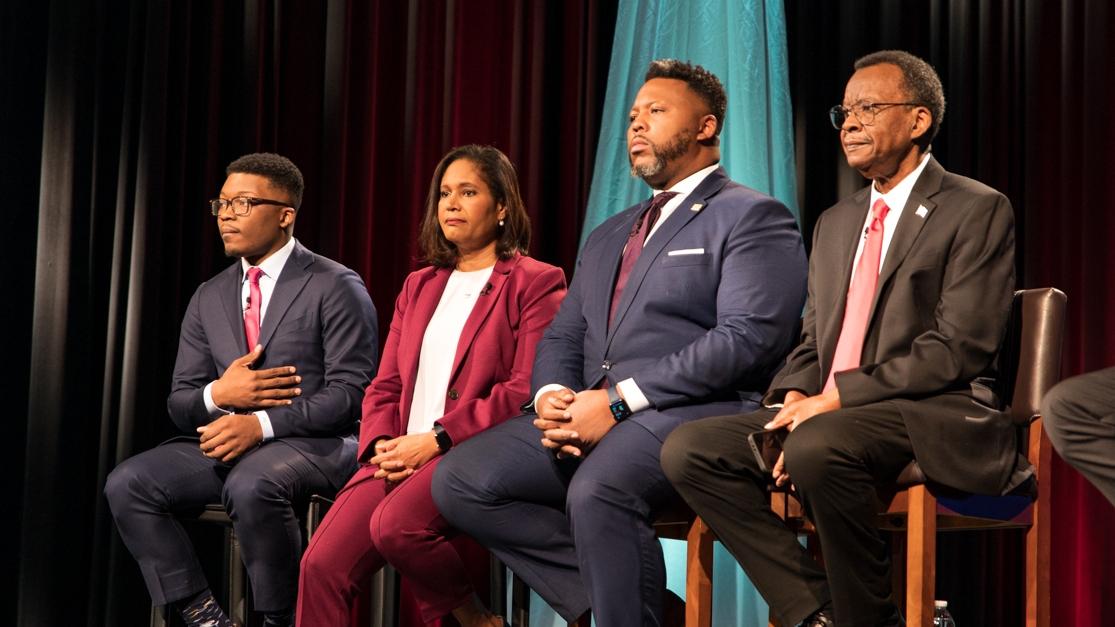 Candidates Ja'Mal Green, Ald. Sophia King (4th Ward), state Rep. Kam Buckner and Willie Wilson at the WTTW News mayoral forum on Feb. 7, 2023. (Michael Izquierdo)
Contact Patty Wetli: @pattywetli | (773) 509-5623 |  [email protected]
---